5 useful lessons from Black Mirror for small businesses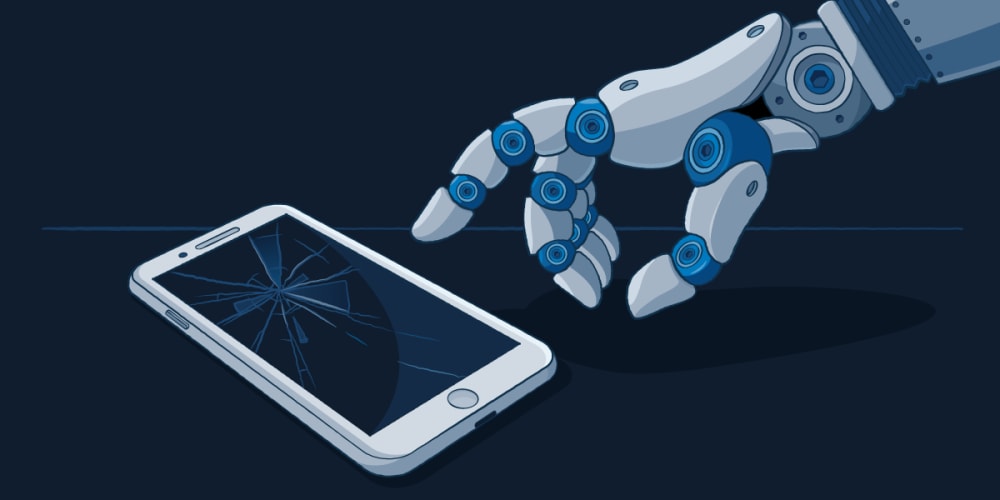 Charlie Brooker's science fiction hit 'Black Mirror' has returned to Netflix for its fifth season. The series presents a cautionary tale of the relationship between humanity and future developments in technology, from social networks to AI and dating apps. To celebrate the launch of season five, we've put together five positive lessons (really!) that small businesses can learn from the series.
1. AI: it's not just for big budgets
Artificial intelligence (AI) is a topic that often provokes anxiety ('the robots are coming to take our jobs!'), but the technology could have some benefits for your business, including more efficient customer service, hiring and data collection. So what exactly is on offer?
Well, in Black Mirror's season two episode 'Be Right Back', a young woman discovers a technology that allows her to communicate with an artificial intelligence imitating her late husband. Believe it or not, the episode actually inspired some real-life AI products, including a chatbot called Luka (the co-founder used her startup to build an online service using chat logs from her late friend). However, there's a good chance that you might fancy a more traditional chatbot (a messenger box typically seen on retail sites) to help with your customer service. Other AI options include speech-recognition technology and even market research software, offering small business owners potential ways of saving time and working more efficiently.
2. Keep your data secure
In the episode 'The Entire History of You', the characters have implants that record everything they see, do and hear. In some ways, this is similar to our use of mobile phones, social media and how we leave a digital trail behind as we browse the internet.
When we allow a service to access our data we often don't give it much thought - but once we click that button, we're placing our trust in that company to keep our personal data safe.
Data protection is arguably a small business's most valuable asset and your company should take the time to get clued up on GDPR (EU General Data Protection Regulation). GDPR can affect multiple aspects of your communications; if you have a newsletter for example, it's important that the recipients have given permission for you to contact them.
With data protection as a priority, it's beneficial for your company to invest in cyber security for protection against a potential breach. We take security extremely seriously at FreeAgent and hold our customers' personal financial data safely in some of the most secure data centres in the UK. Find out more about FreeAgent's commitment to security.
3. Quality is key for social media
In the episode 'Nosedive', Bryce Dallas Howard's character lives in a world where each person is ranked on the basis of every online interaction. This ranking affects every aspect of people's lives, from the customer service they receive to the way their colleagues treat them at work.
While we're not quite at the point of rating our colleagues, we do give each other likes and shares on social media. It's important to consider how we use these platforms when marketing a business.
'Nosedive' teaches us not to 'try too hard' when self-promoting. So here are some social media tips for your small business!
Avoid spamming customers.
Provide meaningful and authentic content (don't be someone you're not!).
Concentrate on the quality of your content, rather than just the quantity.
Remain professional with social media comment feedback.
Whether or not some customers are more profitable than others, they still deserve your best service and attention.
4. Build trust with brand transparency
Season four's 'Arkangel' tells the story of a mother, who implants a brain chip in her daughter to monitor her actions at all times. While this protects her from seeing or thinking anything that might cause emotional distress, it becomes an issue as she grows older.
So what's the lesson for small businesses?
Don't become overprotective of your brand. Many people now expect the brands they use to be authentic, transparent and socially conscious so bear that in mind when engaging with a dissatisfied client. Be ready to hold up your hands if you've made a mistake and offer up something better.
Corporate Social Responsibility (CSR), where businesses strive to be more ethical, also has a more central role to play in establishing brand loyalty. For example, by contributing to charitable causes you can enhance your recruitment, particularly among millennials who are set to make up more than half of the workforce in 2020.
CSR could also boost your profits - competing with larger companies on price can be difficult, so why not stand out from the competition with a more socially conscious brand? If you fancy promoting your small business through media relations, CSR initiatives are a clever way of getting mentioned in the local press.
5. Get the most out of your accounting software
Last but not least, the popular episode 'San Junipero' tells the story of two women who have their consciousnesses integrated into a 1980's virtual simulation after they pass away. They can now live forever, uploaded into the cloud as their younger selves.
The lesson here: why not make the most of having your business finances in the cloud and enhance your FreeAgent account with a few of the integrations on offer?
Our integration partners include 'AutoEntry' (automatic intelligent scanning technology for bills, statements and expenses) and 'Float' (cashflow forecasting software). Check out our full list of integration partners to get a better idea of how you can customise your account!