5 New Year's resolutions for freelancers & small businesses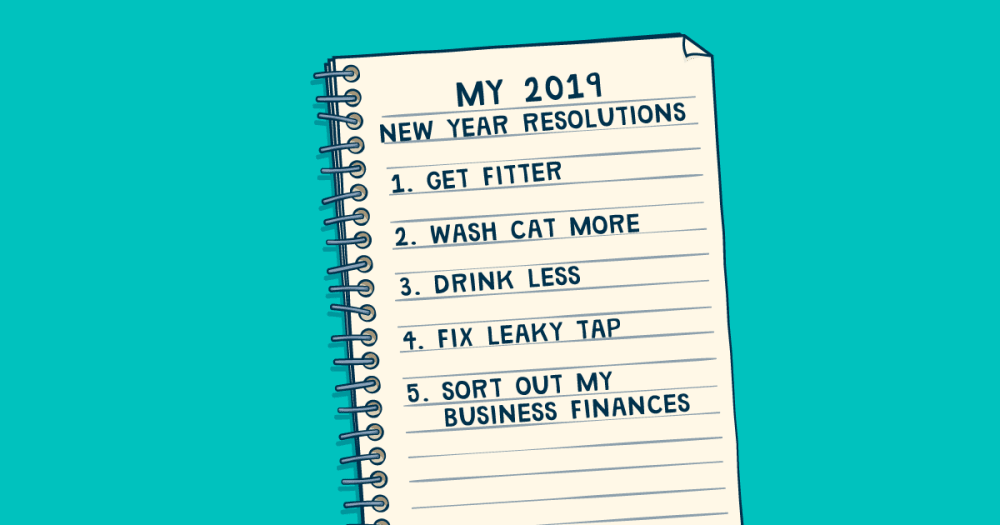 There may be a few residual pine needles and mince pie crumbs lurking around, but 2018 is well and truly over.
Although it might feel a bit clichéd, when it comes to your small business, a bit of annual reflection can be an incredibly valuable exercise.
Here are five resolutions to help blow away those festive cobwebs and kick start a fantastic new year for your business.
1. Review your processes
You probably haven't reviewed the vital documents and procedures that you initially set up to help your business run smoothly since those early days. Whether it's a template for a brief, onboarding materials for new clients, or simply the productivity tools you use, January is a great time to take a closer look at your key processes. Push past 'familiarity blindness' and make a concerted effort to analyse and review how well these key tools are working for you. Try and talk to your peers for inspiration, as well as a pair of fresh eyes! When it comes to your bookkeeping, FreeAgent can save you time by automating everything from late payment reminders to thank you emails.
2. Take action on late payments
We're sure we don't need to tell you how damaging late payments can be, with more than a third of small businesses in the UK waiting over two months to get paid. In case you didn't know, you are legally entitled to claim debt recovery costs on any late invoices. Consider adding a bit of extra gravitas to your invoices this year by putting a late payment fee clause on your invoice template. Even if your current clients are punctual payers (lucky you!), who knows when this addition might come in handy?
3. Network to get work
When you first start out as a freelancer, you might put a lot of effort into networking; forging connections that will continue to see your business well over the years. Once you find your groove, creating new professional connections might not seem as much of a priority but networking has a huge range of benefits for both you and your business, whether you're a newbie or a pro. From industry insights and local chit-chat to friendly guidance and support - you might even get some referrals out of it too! Try investigating local MeetUp groups, or opt for a relaxed breakfast event like Creative Mornings.
4. Get active
Whether you work from home, an office, or a co-working space, the nature of working for yourself can mean that you follow quite a different schedule from your 9-5 counterparts, and you might even end up working much more than them! Think about carving out time in your diary every week to get out and be active. Even if it's just the odd walk around the block, the time you dedicate to your physical wellbeing should have a positive impact on your mental wellbeing and your work life too.
5. Invest in yourself
When you're managing your own finances, it can be tempting to tighten those purse strings and cut back on spending as much as possible. Investing in your own development can easily fall by the wayside but topping up your existing skills, as well as learning some new ones, can really pay off in the long run. If you're looking for inspiration, try checking out Udemy or the Open University for flexible learning courses that will fit around you. Alternatively, there are also lots of wonderful free resources out there, like Memrise or FutureLearn.
Looking to get your bookkeeping in shape this year? Discover how FreeAgent's accounting software can help you master your daily business admin.