5 tips for adjusting to the new normal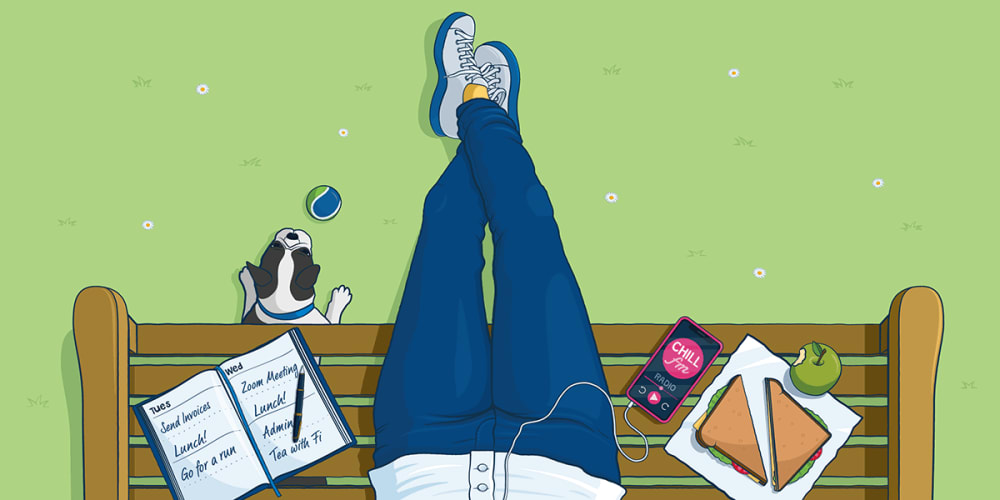 With coronavirus restrictions still in play, we're all settling into our 'new normal'. If you're one of the 5.8 million small business owners in the UK, you've probably had to adapt the way you work to align with the latest government guidelines. Whether you've found this transition a bit of a headache or a walk in the park, we've compiled a few tips to help make it easier for both you and your business.
1. Avoid spreading yourself too thin
If you're worried about your business it can be tempting to take on more work than you can handle, especially if you're experiencing pressure from your customers and clients. Try to keep a careful eye on your schedule. If you overcommit, you could find yourself stressed and overwhelmed, which could be damaging to both you and your work. Check in with yourself at the end of each week to assess how you're really feeling about your workload. If the balance is tipping away from manageable, consider stretching out any tight deadlines or taking a break from accepting new work.
2. Keep your work-life balance
When you're your own boss, it can be easy to prioritise work over your wellbeing, but it's important to remember that too much stress can result in serious consequences for your health. Make a conscious effort to keep a balance between work and home. Dedicate time to doing things that enable you to switch off, whether that's watching your favourite Netflix show, cooking up a storm in the kitchen or spending quality time with loved ones. By drawing a line between work and downtime, you'll give both your brain and body the rest they need.
3. Take plenty of breaks
It can be tempting to get your head down and plough through the workday, especially when you're busy. However, research shows that frequent breaks help revive your attention span and boost productivity. Consider structuring your workdays to include lots of little breaks - and no, eating lunch at your desk doesn't count! Research also shows that 'movement breaks' can be hugely beneficial to both your mind and body. So whether it's a 20-minute walk or five minutes of dancing to the radio, making the time to move will hopefully help you to return to your work re-energised and raring to go.
4. Reach out to others
Being self-employed can occasionally feel a bit lonely, especially during challenging times like this. If you feel like this, remember you're actually part of an enormous community! SMEs (small and medium-sized enterprises) make up 99% of the business population in the UK and many of them will have encountered all the same challenges and struggles that you have.
If you're feeling stressed and in need of support or just want to talk to someone who can relate, try reaching out to others in the small business community. There are great online communities like Leapers and industry-specific groups like ProCopywriters, where everyone is welcome. Search around online and on social media to find the right groups for you. Everyone can benefit from sharing advice.
5. Practice some self-appreciation
Don't stop reminding yourself that 2020 was quite the year and 2021 is shaping up to be similar. You've already overcome some big challenges and proven just how strong and resilient you are. As you move forward in your business, try to be mindful of how much pressure you put on yourself and remember that you're doing a great job!
Give yourself more time to focus on your small business with a 30-day free trial of FreeAgent's award-winning accounting software.