Filling in your tax return with FreeAgent software
We've looked at how sole traders can fill in their tax returns using FreeAgent. But if you're a director of a limited company, and the company uses FreeAgent to keep its books, where would you start?
Unless the company is dormant, or is a not-for-profit organization which doesn't pay you any remuneration, you have to file a self-assessment income tax return for yourself, as well as accounts and a Corporation Tax Return for the company.
We'll look at the company's accounts and Corporation Tax Return in a future article. We'll just look at how you'd use your FreeAgent company account to extract the figures you'll need for your self-assessment tax return.
Can't I send the figures to HMRC automatically?
I'm afraid not yet! We'd love to have FreeAgent talk to HMRC's self-assessment portal and populate these boxes for you, but it can't do that yet.
OK. Where do I start, then?
Firstly you need to make sure you're registered with HMRC to file your tax return online.
If this isn't the first year you've been a director of a limited company, you'll almost certainly have already done this.
But if you're new to this whole income tax return lark, then you'll need to register - and I'd recommend you do that pretty quickly, because HMRC have to send you an activation PIN code through the post as part of the registration process. That can take up to 7 working days to arrive even without a return of the snow.
I've got my activation PIN and I'm registered.
Put some time aside to complete your income tax return.
It's not a good idea to wait until this weekend (29th / 30th January), because HMRC's filing software has been known to get overloaded and not let returns through if too many people try and file at once.
This is also one time of the year where it'll come in really handy to have a second screen for your computer. That'll let you have your FreeAgent account open on one screen and HMRC's website open on the other, and you won't have to keep minimising and maximising different browser windows to see the different sets of figures, so it'll reduce the risk of mistakes.
Log into HMRC's website and put that browser window on the screen you like to use for typing, because you'll be entering figures into this browser window. I usually like to have that on my main screen, the one directly above my keyboard.
Filling in your self-assessment income tax return
Work through HMRC's online filing software for self-assessment tax returns until you reach the "Employment" supplementary pages. This is where you'll start putting in your FreeAgent figures.
Keep HMRC's online filing software open in your main browser window.
Open your FreeAgent account in a new browser window, and put that window on your other screen. You need to be able to see this but you won't need to enter any data into it.
Which figures do I need to collect?
Your income from the company will be your salary that it paid you, plus any dividends.
Your salary goes into the "Employment" supplementary pages.
The dividends are part of the main tax return and go under "Interest and dividends from UK banks, building societies etc".
Salary
Let's look at entering the salary first.
In FreeAgent, go to My Money > Payroll, and make sure you have the right user (you) and the right tax year (2009/10) selected.
The two figures you'll need are your Total Pay for the year and the Tax Deducted. You can see these here.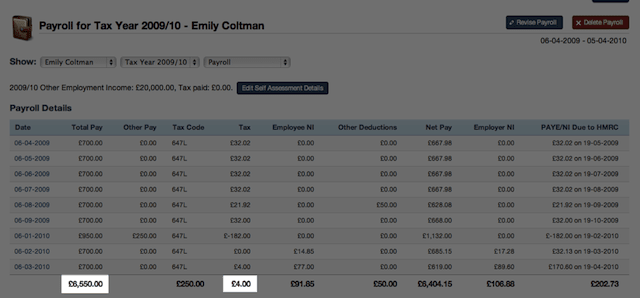 The Total Pay figure goes into box 1 of the Employment pages.
The Tax Deducted figure goes into box 2. 
Only fill in box 3 if you received any tips.
You'll also need to fill in boxes 4 and 5, with your employer's PAYE reference and name, and put a tick in box 6 because you were a director of the company. 
Then fill in boxes 7 onwards if they apply to your company.
I'm looking at box 7. What does it mean by a "close company"?
Many small companies are close companies.
Briefly, a close company is one where:
fewer than five shareholders control the company, or
all the shareholders are also directors, or,
if the company was wound up, more than half its assets (money in the bank, computers, etc) would go to either:
fewer than five shareholders, or
any number of shareholders who are also directors.
I'm looking at boxes 9 – 20. Where do I get that information from?
That would come from your form P11D for 2009/10.
FreeAgent doesn't produce these forms so you'll need to speak to your accountant or bookkeeper, or whoever runs your company payroll. You should have been given a P11D by the beginning of July 2010.
What if I had other employment in 2009/10?
You'd need to put each separate employment you had on a new set of Employment supplementary pages.
So if you've put anything for Other Employment Income under Taxes > Self Assessment in FreeAgent, you'll need to fill in at least one more set of Employment supplementary pages.
OK, that's salary. What about dividends?
Dividends from your company go in the main part of your tax return, under "Income", in box 3.
You'd need to take the figure for dividends paid out in the tax year, from My Money > Dividends in FreeAgent. Again make sure you choose the right user and the right tax year.
Here is the figure you're looking for. It's labelled "Total Paid" on the FreeAgent screen.

You don't need to put in the tax credits because HMRC's online filing software will work these out automatically. 
Do I need to put in any more information from the company?
No.
The rest of the company's accounts (sales, costs, pensions, etc) will go on the company's own self-assessment Corporation Tax Return.
So filling in your self-assessment income tax return employment pages when you trade through a limited company doesn't have to be difficult – you may only have three figures to transfer across from FreeAgent.
Disclaimer: The content included in this blog post is based on our understanding of tax law at the time of publication. It may be subject to change and may not be applicable to your circumstances, so should not be relied upon. You are responsible for complying with tax law and should seek independent advice if you require further information about the content included in this blog post. If you don't have an accountant, take a look at our directory to find a FreeAgent Practice Partner based in your local area.