6 ways to make next January less taxing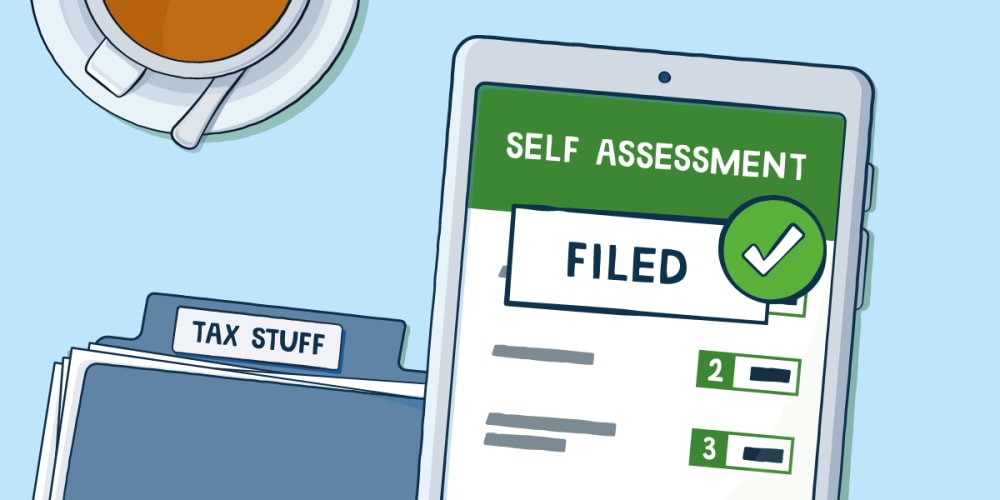 Is it just us, or did January feel especially long this year? If you found that filing your tax return didn't do much to improve your mood, then hang tight. We've assembled six straightforward strategies that you can start implementing now to make sure that next year's Self Assessment is as smooth, streamlined and simple as possible.
1. Hold on to key documents
If you had a tricky time filing this year's tax return it might have been because you had to hunt down records and receipts that you didn't know you'd need. Whether it's in a physical file or digital storage like Google Drive or Dropbox, if you're ever in doubt, make sure to hang on to those business documents that hold the key pieces of information you need, such as:
invoices
expenses
income from employment (including P60 and P11D)
rental income
partnership income
foreign income
dividends
interest received from a bank
pension contributions
payments on account
capital gains (the profit you make from selling something you own)
donations made to charity under Gift Aid
Check out our guide on everything you need to fill out your Self Assessment to find out exactly what files and documents are required.
2. Create a system
Business admin can be a pretty overwhelming task to get to grips with, but once you have a process in place things will start running like clockwork. Spend some time assessing your current setup to identify pain points and what you're doing really well! After that, decide exactly what you plan to record and perhaps even more importantly, where you're going to record it. Once you have a grasp on that, it's just a case of building your bookkeeping habit until you're really comfortable with it. For a more in-depth look check out our guide on building your own bookkeeping system or find out how FreeAgent can help simplify your accounting.
3. Make sure you're saving
It's one thing staying on top of your bookkeeping, but making sure you have enough money set aside to pay your tax bills is another kettle of fish! If you're not sure how much to put aside every month, the general consensus is that around 25-30% of your income should leave you in good standing. If you'd like something a bit more concrete to go on, HMRC has created a handy calculator to give you a rough idea of how much you should set aside each month. FreeAgent also comes with a handy Tax Timeline, showing all your key tax deadlines, as well as how much you'll need to put aside for them.
4. Open a business bank account
If you don't already have a separate bank account for your business it's well worth looking into one. Keeping your business and personal finances separate will save you from the potential nightmare of trying to untangle the two at tax time. It will also lend your business a bit of gravitas and make you look much more professional than it would to put your personal bank account details on your invoices.
If you are set on keeping your personal bank account for your business, it's worth checking the fine print on your account as some banks prohibit the use of a personal account for business purposes. Finally, it's worth noting that if you're a director of a limited company you're actually legally obliged to have a separate bank account for your business.
5. Store your HMRC logins securely
If you've ever got to January and realised that you don't have the foggiest idea what your HMRC login details are then you're definitely not alone. This login is called your Government Gateway user ID, and it's absolutely crucial to both filing and paying your tax return. Whether you store this information physically or digitally - make sure it's somewhere secure and protected. You'll also need to make sure you have your UTR (Unique Taxpayer Reference) to hand. If these details have completely escaped you, don't worry, HMRC is on hand to help recover forgotten account details.
6. Consider getting an accountant
If you don't already have one, finding an accountant who's on your wavelength can make the whole Self Assessment process feel infinitely easier. As well as their huge in-depth knowledge of the tax system, they also have heaps of experience dealing with clients just like you. As well as helping with the nitty-gritty numbers in tax returns, an accountant can also spot trends and opportunities, and generally make sure that you're making the most out of your money. If you're on the lookout for an accountant browse our directory of partner accountants to find the best fit for your business.
Hopefully, these top tips will have you well on your way to accounting nirvana come next January! If you'd like to keep all of your business accounting admin in one handy place - with smart features like your own personal Tax Timeline, invoicing, expense tracking, a handy mobile app and much more - then why not try a 30-day free trial of FreeAgent today?
Disclaimer: The content included in this blog post is based on our understanding of tax law at the time of publication. It may be subject to change and may not be applicable to your circumstances, so should not be relied upon. You are responsible for complying with tax law and should seek independent advice if you require further information about the content included in this blog post. If you don't have an accountant, take a look at our directory to find a FreeAgent Practice Partner based in your local area.