10 ways to shine this Small Business Saturday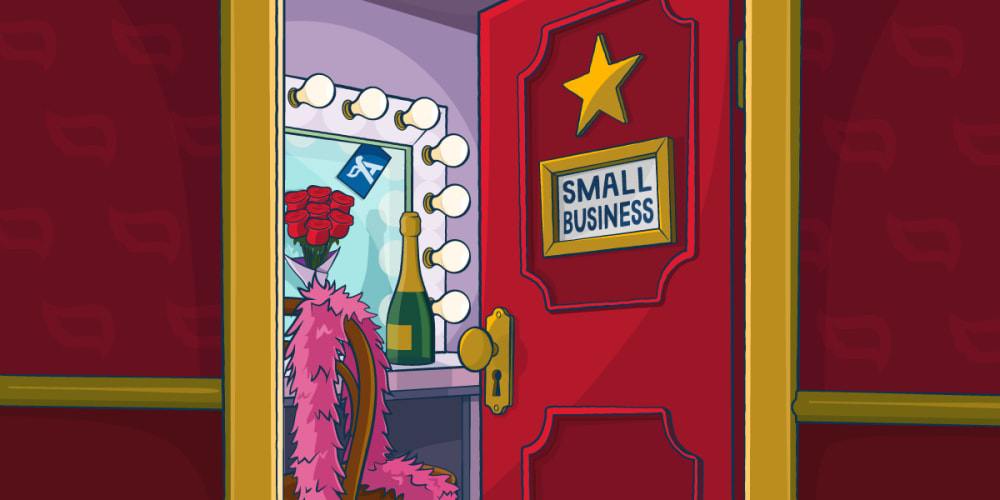 While some of the country's biggest companies take a breather after the chaos of Black Friday, 5.8 million small businesses are preparing for something much more exciting: Small Business Saturday UK.
Small Business Saturday is an annual event every December that celebrates the success of independent businesses across the UK and encourages consumers to shop locally. If you're looking for some ideas on how you can put your business in the spotlight this Small Business Saturday, check out our top 10 suggestions for a winning weekend.
1. Register with 'My Small Business'
My Small Business is a portal managed by the organisers of Small Business Saturday, and lets you advertise your company on their Small Business Finder platform for free. Sign up your business to get yourself listed and enjoy some extra visibility online!
2. Spread the word about Small Business Saturday
Even though the big day is just around the corner, it's never too late to let your customers know about Small Business Saturday and get them excited about the event.
Putting up signs and banners can be an effective way of telling your customers what you've got planned - whether it's an event, discounts, a competition or something else. You can also use the #SmallBizSatUK hashtag to help get the word out on social media.
Even if your business isn't in the retail sector, you can still make use of social media and online advertising, for example, by creating a page or banner on your website highlighting your Small Business Saturday deals. The My Small Business portal also provides a free marketing pack and official logos that you can use on your business's website and social media channels.
3. Put your small business on the map
According to Social Media Today, 46% of searches on Google are seeking local information - and the same survey revealed that a whopping 97% of people said they had used Google to find a local business!
With increased footfall for Small Business Saturday and Christmas shopping well underway, now is a great time to set up your Google My Business (GMB) listing and put yourself on the map (literally!). If you already have a GMB listing, make sure that key information about your business, such as your opening hours and address, is accurate and up to date. Don't forget that adding professional photos to your profile can help give potential customers a great first impression of your business.
4. Use a competition or giveaway to grab people's attention
Whether it's in the build-up to Small Business Saturday or on the day itself, competitions and giveaways are a great way to engage with your customers and create a buzz around your business. Whether you're hosting an online competition or simply holding an in-store raffle - prizes could be the perfect way to get people talking about your business!
5. Make happy customers a priority
Happy customers are good for business, and Small Business Saturday is a great opportunity to show them how much you care.
Nobody knows your customers better than you do, so take some time to think about what they'd love, whether it's a Small Business Saturday treat, an extra thoughtful interaction or another way of showing that you'll go the extra mile for them!
If you run a small retail business, for example, you might want to consider extending your opening hours. This could potentially let you take advantage of increased footfall during the busy shopping weekend, as well as giving you extra time to host any events you've got planned!
If you run a store then remember that it's likely to be a busy weekend, so make sure both you and any staff you employ are well rested and ready to give your customers a great in-store experience.
Discounts and gifts are also great ways to delight your customers, and simply taking the time to engage with customers online and respond to their feedback on Small Business Saturday can make them feel even more valued than usual.
6. Team up with other local businesses and charities
Partnering with other businesses in your industry - both locally and online - can help you reach a larger customer base, and also let you share your skills and knowledge with your peers.
There are lots of ways that you could partner with other local businesses to get the word out about Small Business Saturday. Teaming up to provide a joint giveaway or running an event together are both great options for businesses that have planned ahead, but there are other approaches available if you're pressed for time.
One of the simplest ways to work together with your business peers is to simply share the content created by other local businesses on social media. There's a good chance that they'll do the same in return, so this can be a great way of increasing your visibility on social media before, during and after Small Business Saturday.
As well as creating new partnerships, Small Business Saturday also provides a great opportunity to promote and raise money for local charities. Approaches to this can range from in-store collection boxes and social media competitions, to even giving a percentage of your takings to a chosen charity, so there's plenty of scope for you to get creative.
7. After the big day, analyse what went well
Small Business Saturday is often a hectic day for small business owners, so once you've had the chance to catch your breath afterwards, it's a great idea to take a step back and reflect on how the day went. Regardless of the type of business you run, you could learn a lot by looking at which approaches were successful and thinking about where you could improve in the future.
8. Keep the momentum going over Christmas
Small Business Saturday may only last 24 hours, but the imminent festive period is one of the busiest times of year for many small business owners. Once you've analysed what went well (and what didn't) over the Small Business Saturday weekend, you can incorporate these discoveries into your Christmas plans and beyond!
9. Start planning for Small Business Saturday 2020
It's never too early to start planning for next year! In addition to planning how you might replicate any success you had this year, take the time to think about new approaches you can try out for future Small Business Saturdays and start building them into your planning for next year's event. If you use a calendar to plan your business activity, why not get your Small Business Saturday 2020 activity in the diary now?
10. Don't forget to take a break
Earlier this year we surveyed 1,000 small business owners on their hopes for the future*. We discovered that 51% of small business owners said that they had experienced burnout as a direct result of working too hard on their business. Small Business Saturday is likely to be a busy day, so with Christmas just around the corner don't forget to give yourself a break, reflect on 2019 and recharge your batteries ahead of 2020.
FreeAgent's online accounting software is designed to help take the stress out of managing your small business finances - and give you more time to relax! Why not try a 30-day free trial today?
*FreeAgent surveyed over 1,000 small business owners in Jul-Aug 2019.