How FreeAgent can help you meet the Self Assessment deadline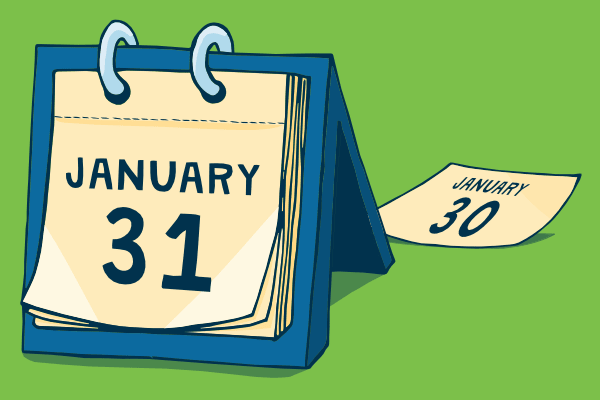 That sinking feeling hits!
You're in business as a sole trader and you need to do the accounts for your Self Assessment tax return, which you've been putting off all year – but you've suddenly realized that tax return must be filed online with HMRC by the end of this month!
You have a bag / box / bundle of receipts for the tax year to 5th April 2010, and not much else.
You've no idea whether you actually have any tax to pay, even.
And you've seen warnings of fixed penalties of £100 for anyone who doesn't file their tax return online by 31st January. HMRC statistics say that almost one in ten people miss that deadline and incur the penalty every year.
Where do you start?!
Firstly, register with HMRC to file your tax return online. You do now have to file your tax return online, rather than using a paper form, unless you meet very specific HM Revenue criteria, since the deadline for filing a paper tax return passed at the end of October.
And don't wait to register because HMRC have to send you a PIN to activate this service, and it can sometimes take 7 working days for that PIN to arrive, because it's sent by snail mail.
OK, I've registered with HMRC. What should I do about my accounts?
FreeAgent can help you catch up quickly!
I'm not using FreeAgent yet!
Sign up now for a free trial and you still can use it to help you!
Here are a few ways you can use FreeAgent to help you catch up with your historic bookkeeping, to produce a set of accounts that you can then copy on to your tax return.
1) Upload your bank statements
Because FreeAgent is designed to handle bank statements uploaded from online banking, you won't have to key in each bank transaction one by one.
You can upload your statements, and then tell FreeAgent what each transaction is.
If you start from the beginning, then as you go through the year, FreeAgent learns what the different transactions are.
For example, if you went to Staples and bought a pack of box files for your business on your debit card in May 2009, you'd tell FreeAgent that was a payment to buy some stationery.
If you had another payment to Staples later in the year, you can then set FreeAgent to recognize similar transactions – so it would put that payment to stationery too.
That will save you a lot of time if you're catching up with your bookkeeping.
2) Import your contacts
You can import all your contacts, customers and suppliers together, from your email programme such as Outlook or Google Mail.
Then you don't have to spend ages typing in people's names and email addresses and can get started with inputting invoices and bills… BUT…
3) Quickly record income
…you may not need to input all your invoices!
It is very quick to create invoices in FreeAgent. But if you have several hundred to catch up with for a previous year, that's not going to make you want to rush to your computer and put them in, no matter how user-friendly the system is.
Don't worry though, you don't have to!
You can explain the money your customers paid you as sales income, rather than inputting historic invoices, to save you time.
But be careful! The only situation where this wouldn't work would be if you were VAT-registered and invoice accounting for VAT. Then you would have to enter each invoice, otherwise the VAT returns on FreeAgent won't match the VAT returns you filed with HMRC.
And also, you need to remember to post journal entries for money your customers owed you as at the end of the year. Accountants call this money "trade debtors".
Why do I need to do that?
Because in the UK, there's no option to prepare accounts for a business on a "cash basis". You have to include all the income your business earned and all the costs it's due to pay, whether or not that money's come in or been paid out.
OK, tell me how to work out those journal entries.
First you'd need to add up all the invoices that you'd not been paid for as at the end of your accounting year.
If you're VAT-registered, you'd need to add them up net of VAT, and inclusive of VAT – and add the VAT up too.
Then post the following three journal entries, all dated as at the end of your accounting year (that's 5th April for a lot of sole traders):
Debit code 681 Trade Debtors with the amount including VAT
Credit code 819 VAT Charged with the amount of VAT only
Credit the sales code (normally 001 Sales unless you've set up new categories) with the amount excluding VAT
Let's take an example.
Jack is an IT contractor. He's used the quick method to explain his income for the previous year – but as at 5th April 2010, two of his customers owed him £500 + VAT each. That's £587.50 including VAT for each customer, because the VAT rate as at 5th April 2010 was 17.5%.
So he's owed a total of £1,175, of which £175 is VAT.
Jack would post:
A debit of £1,175 to code 681 Trade Debtors
A credit of £175 to code 819 VAT Charged
A credit of £1,000 to code 001 Sales
4) Quickly record costs
As well as not having to post invoices, you don't have to post bills either.
You can just explain your costs when you pay them from the bank.
Remember though, that you need to post journal entries for any bills you hadn't paid your suppliers for, as at your year end.
The codes to use are:
Credit code 796 Trade Creditors (this is what accountants call unpaid bills) with the amount of all the bills you owe, including VAT
Debit code 818 VAT Reclaimed with the amount of the VAT on the bills you owe
Debit the code for the category where the bill will go, with the amount excluding VAT
So for example, if Jack owed £235 (£200 + VAT) to his accountant as at 5th April 2010, he would post journal entries as follows:
A credit of £235 to code 796 Trade Creditors
A debit of £35 to code 818 VAT Reclaimed
A debit of £200 to code 285 Accountancy Fees
5) If you use a personal bank account for your business
As a sole trader, you may well pay for business costs using a personal debit card, or cash out of your own pocket, rather than using your business bank account debit card, or a business cheque.
You can enter these personally-paid costs into FreeAgent in two different ways.
One is to post them as expenses and the other, if the payments mostly came from a personal bank account, is to create that bank account in FreeAgent, make sure it's ticked as personal, then upload your bank statements for that account as you would a business account.
If the account is ticked as personal in FreeAgent then you don't have to explain each and every transaction. You can just leave non-business transactions unexplained.
This time of the year can be worrying when you suddenly realize you have a potentially complex form to file with HMRC. But FreeAgent can help you collate your figures and speed up the process so that you can be sure the accounts you put into your tax return are correct.
Disclaimer: The content included in this blog post is based on our understanding of tax law at the time of publication. It may be subject to change and may not be applicable to your circumstances, so should not be relied upon. You are responsible for complying with tax law and should seek independent advice if you require further information about the content included in this blog post. If you don't have an accountant, take a look at our directory to find a FreeAgent Practice Partner based in your local area.