6 signs it may be time to try a co-working space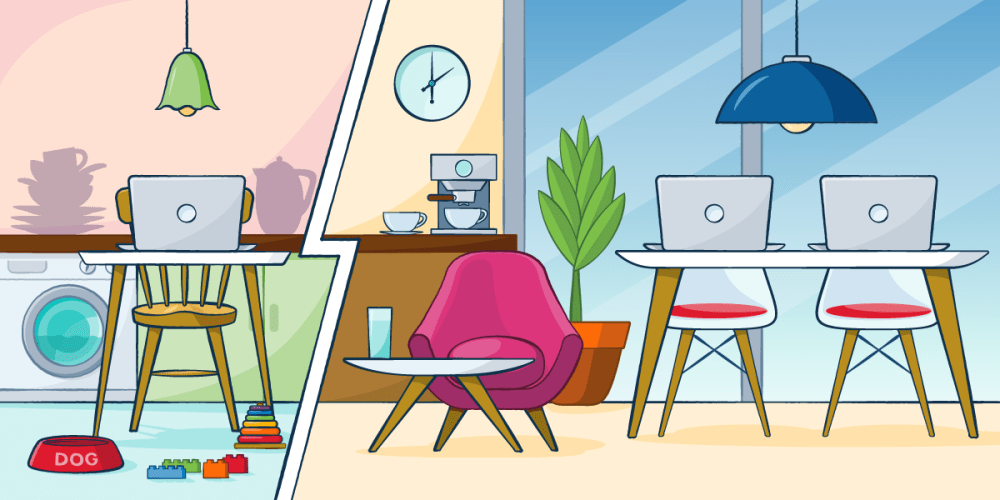 For some business owners, making the move to working from home is paradise. There's more flexibility, office overheads are drastically reduced and daily commutes become a thing of the past.
But what if you find working from home less paradise, and more paradise lost? The inability to concentrate, the constant pressure of distracting household chores and a general dissatisfaction with your working environment are just some of the challenges you might face when working from home day in, day out.
Here are the tell-tale signs it may be time to ring the changes and try working from a co-working space.
1. You don't have room for a dedicated work space at home
Some business owners are able to fill their home offices with stand-up desks, multiple monitors and filing cabinets. Some home workers even install offices in their garden, like Roald Dahl, who penned many of his stories in his "writing hut".
If you don't have the space to install a dedicated office, however, working from home may be less attractive. Working from the kitchen isn't ideal when you're answering emails in the shadow of a pile of dishes. An important call with a customer is great in the comfort of your living room, but it could be seriously disrupted if you have the misfortune of stepping on a Lego brick mid-conversation!
Choosing the right co-working space could give you the space and facilities you need to do your best work - a proper desk, fast internet, a tidy environment - while allowing your home to once again be a place for rest and recreation.
2. You miss the social aspects of being surrounded by colleagues
While some freelancers find their social life enriched by working from home, with regular coffee mornings and conferences filling their social calendar, others find it a lonelier experience. Depending on the type of business you run, you might rely on chance encounters, whether it's chatting to colleagues on coffee breaks or eating lunch with a group in the canteen, for social interaction during the day.
If working from home is starting to feel like you're in a cocoon and your social butterfly is yearning to break free, a co-working space could be the answer.
3. You could benefit from having more networking opportunities
While there are many networking opportunities for small business owners, many struggle to find the time to attend dedicated events outside of working hours. Networking within a co-working space offers a more time-efficient and organic way to network with other business owners.
Remember that networking isn't always about meeting new clients. At a co-working space you could meet someone who has great insights into your industry or you might find yourself sharing an office with an accountant who can help with your business finances.
4. You're desperate for a change in working environment
There are many reasons you may want to change your working environment. Maybe you work in a job that requires you to be creative, and your house is failing to inspire you. Maybe you're getting cabin fever from spending all your time in your flat. Whatever the reason your current home work environment isn't doing it for you, a tidy and productive co-working space just might provide the jolt of inspiration you need.
5. You're enticed by the perks that local co-working spaces offer
In a bid to attract more customers, many co-working spaces have gone all-out on the perks they offer. For example, Neo in Manchester offers its customers free coffee, entrance to free events, discounts to the local gym and use of a meeting pod made from a converted Range Rover!
Other co-working spaces aim to help business owners with their parental duties. Co-working crèches provide childcare for working parents and the opportunity to work mere metres away from their little ones. Cuckooz Nest, Entreprenursery and Third Door are just a few examples that have hit the market with slogans such as "where work and family grow together".
It's worth speaking to co-working spaces in your local area to see what perks they offer.
6. Your business takes you up and down the country
If you regularly travel for work, you should consider taking out a hot desking package at a co-working space. Often payable by the day, hot desking grants you access to a purpose-built space for work whenever you need it.
This is particularly useful if you want to get away from the noise, slow Wi-Fi and stress that often comes with working from a hotel room or coffee shop.
Wherever you choose to work, FreeAgent can make managing your small business finances a breeze!