5 tips for creating creative meetings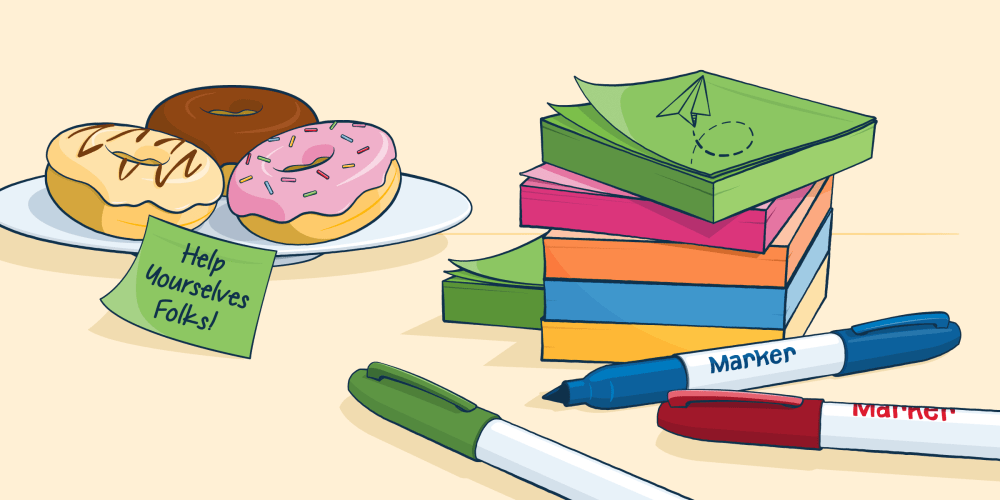 Meetings can take on many different shapes and forms, from a formal client business meeting to a relaxed brainstorming session with your peers. No matter what type of meeting you find yourself in, it's always important to have a purpose, a plan and a pinch of creativity!
Here are our five top tips for injecting a little imagination into your meetings.
1. Switch up your environment
If your meeting allows for it, why not try out a change of scenery? If you have nice weather, take advantage of it and relocate your meeting to the great outdoors. The change of setting will hopefully help spark some new ideas!
Alternatively, you could try making a change from your usual office. If you haven't already, check out your local co-working spaces. Many of them have beautifully designed meeting rooms that you can rent on an ad-hoc basis. New areas, and even the people occupying them, can have a really positive effect on everyone in your meeting!
2. A meeting on the move
Not only is walking a healthy habit, it can also help you be more creative! Walking meetings have a whole range of benefits, from making conversations flow a little more easily, to providing a mood-lifting boost of endorphins to keep everyone energised.
What if the weather isn't cooperating and a walking meeting is out of the question? One option is to try to find a meeting space with standing desks, which encourage blood flow and are a healthier alternative to a long meeting spent sitting in a chair.
Another way to keep your meeting active is to try and incorporate simple movements into the session. If everyone is comfortable with the idea, you could introduce quick warm up and cool down stretches or even try encouraging people in the meeting to stand up when they're speaking.
3. Brainstorm!
Looking for that big idea for your next project? Then why not try a brainstorming session with sticky notes? Set a topic, give people a limited time to write their ideas on sticky notes, and then ask them to share and discuss them when the time is up.
You could also try a different approach: brief the concept and ask people to present their most outrageous ideas! This might seem counterintuitive but something a bit 'out there' like this can allow people to have fun, loosen up and start thinking creatively. And who knows? One of those 'outrageous' ideas might even provide a spark of inspiration that could lead the group to the right solution.
4. Boost everyone's mood with food!
Meetings can happen at any point during the day and, particularly around meal times or during long meetings, you might find yourself competing with people's rumbling stomachs for their attention! Providing participants with food can help keep everyone happy, relaxed and able to focus on the task at hand. If you're stuck for ideas on what to provide, check out these healthy meeting-friendly treats.
5. Embrace your inner child
As we get older, sometimes we forget that we can play too! Playing really stretches the imagination and can help make people open up and feel more relaxed and energised - all of which can contribute to a successful meeting.
Here are a few quick and simple icebreaker activities to help you get your meetings off to a playful start:
Two truths and a lie: ask each person to write down or think of two truths and a lie about themselves, then get each person to present them and ask the group to pick out which one is the lie! This game gets the imagination working right away and is perfect for helping people in meetings to get to know each other.
The paper plane game: give everyone a sheet of paper, ask them each to write one interesting fact about themselves on it and then fold it up into a paper plane. When everyone is ready, fly the planes around the room for around 30 seconds. Each person should then pick one plane up and take turns reading the interesting fact written inside it. The group should then try to guess who each plane belongs to.
Not every meeting will allow you to play quite like this but there will always be some kind of way to bring a bit of fun to it!
We know how much time and effort it can take to run a small business. Keep your schedule free for many more creative meetings by using FreeAgent to manage your small business finances. Try a 30-day free trial today!