Inspired by Wimbledon? How to compete as a freelancer and win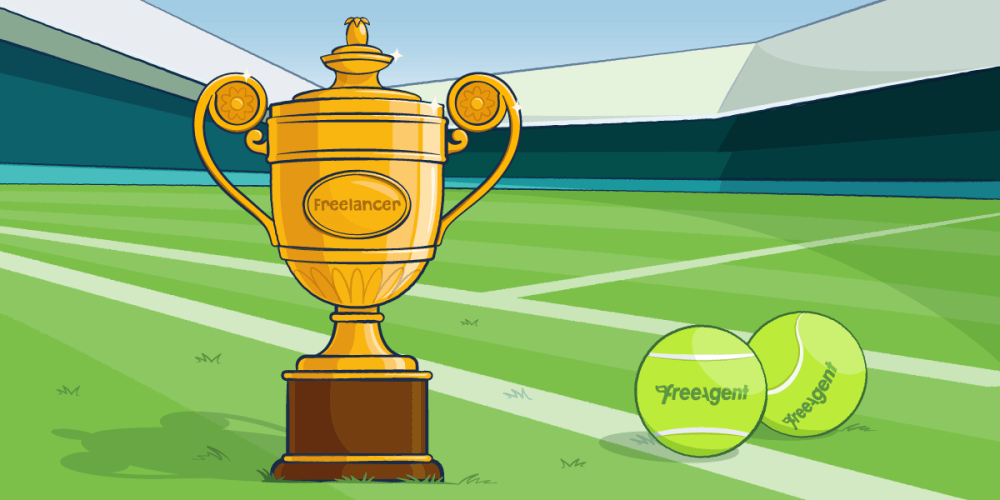 With over two million freelancers currently working in the UK, how do you go about distinguishing yourself from the competition? Perhaps the tennis world can serve up some smashing advice.
Tuck into some strawberries and cream and peruse our top tips on becoming the Roger Federer or Serena Williams of freelancing!
Work hard, train hard
Freelancing appeals to a lot of people but it's easy to be put off by the financial risk. Without the prospect of a guaranteed income, the stakes can feel pretty high and everything rests on you putting in the work, winning projects and bringing in the right amount of revenue.
Pricing your work fairly is an important piece of the puzzle and it's vital to take into account the time and effort a project will require before presenting clients with an estimate. Encourage them to reveal their budget early on to help you determine whether a job's worth your time before agreeing to take it on.
Once you've delivered a piece of work, it goes without saying that you need to make sure you get paid! Unfortunately late payment is a common problem for many freelancers.and it can seriously damage your cashflow - so it's important to be prepared and arm yourself with some tactics for dealing with late-paying clients. FreeAgent's invoicing feature makes the perfect doubles partner in these situations, chasing late payers for you with automated emails to help you get paid faster.
As well as putting in the work, make sure that you continue to learn and improve your game. Think of building your skillset as an essential part of running your business.
What makes you ace?
Everyone brings a unique set of skills and strengths to their field. To stand out from the crowd, it's important to know your Unique Selling Point and build a personal brand that truly serves you. Depending on the industry you work in, that might mean presenting examples of your work in an online portfolio, proudly displaying your qualifications or credentials on your website, or simply injecting a little bit of your own personality into your business's Twitter bio.
Remember that your customers and former colleagues will also be able to tell the world about what makes you great, so don't be afraid to ask! You can request a recommendation from your LinkedIn connections to display on your profile page or website. Testimonials and success stories highlight your strengths and act as proof to prospective customers that you can deliver quality projects.
Whatever you excel at, make sure your personal brand truly serves you.
Rally a fan base
While the prospect of working wherever you like and being your own boss may have tempted you into freelancing, you will inevitably still need to work with others. In fact, building relationships is a crucial skill for freelancers, whether it's to win new business or keep your existing customers happy.
Building a fan base from scratch might feel like an intimidating prospect but remember that you'll win your clients' support by keeping your promises and delivering on time. Meanwhile, being active on social media, asking happy customers to recommend you and attending networking events can all be great ways to cast your net a little wider and connect with prospective new clients.
Are you ready to smash it?
It's no secret that freelancing can be hard so it's helpful to maintain a positive mentality. Of course it's still important to be realistic, but negative thinking will only put you off your game! Build up a support network and remind yourself of the benefits of being a freelancer: setting your own hours, being your own boss and choosing your clients.
Life as a freelancer is full of ups and downs. You'll almost certainly go through quiet periods or encounter difficult clients, but if you embrace the rough as well as the smooth you'll build resilience and strengthen your position among your competitors. Why not try a 30-day free trial with FreeAgent today to help you get that match point and win the game?