Full house: 5 tips for working from home when you're not alone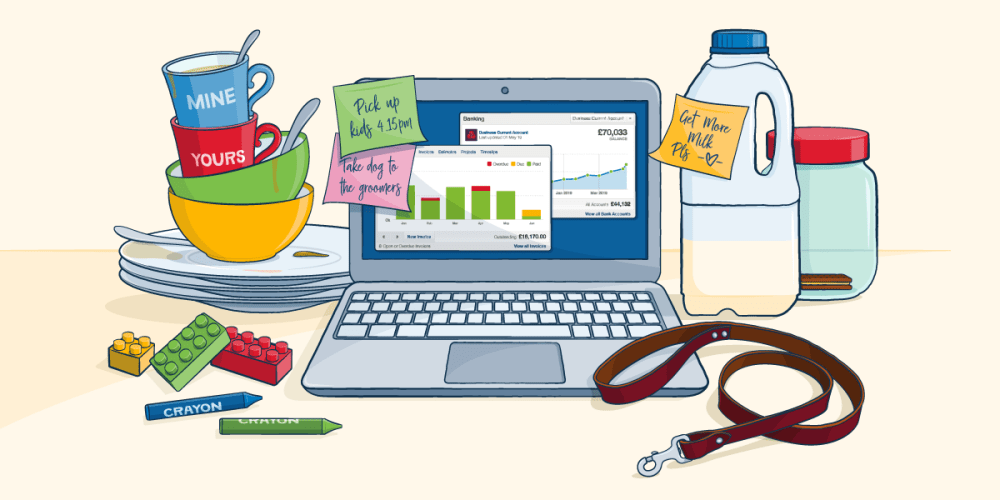 Working from home solo can sometimes be great; you control the radio, your coffee breaks and your schedule - not to mention being able to wear your comfiest tracksuit bottoms. However, if you don't have the luxury of having your house to yourself while you work, finding that perfect work-life balance can be a bit trickier!
Here are our top tips for simultaneously achieving professional and domestic bliss:
Office space
Arguably the most crucial element of successfully working from a shared home is having your own private workspace. Ideally, you'll have your own office or study to lock yourself away in for some undisturbed peace and quiet. If you aren't lucky enough to have a designated working room, try to find another "low-traffic" room in the house that you can lay claim to during working hours.
By creating your own space (and making it known that you'd like to keep it that way!) you can try to banish distractions and give yourself the freedom to focus on your projects. Don't be afraid to politely request to be left undisturbed by the other occupants of the house. After all, you wouldn't barge in unannounced to someone working in an office, and your working hours and space are just as important!
Take a break
If you've been working remotely for a while, you'll know that one of the downsides of having so much freedom can be the lack of structure that comes with it. Make a point of taking set breaks every day, whether that's for a morning walk with your pooch, lunch with your housemate or even just a stroll to the nearest coffee shop. If you stick to the same break times every day, you'll build a healthy routine for yourself (and hopefully the other occupants of your home will catch on and won't pester you until they know you'll be free). As well as giving yourself some quiet time to get on with your work, this will also give you some valuable downtime between tasks.
Work vs housework
You might not miss office life, but at least it provides some kind of escape from household chores! When you're working from home, you might find the burden of housework looming over you much more than usual. You might even find that your partner or housemate might expect you to pitch in during your working day. To avoid potential disagreements, try allocating each of your chores before the start of the working day. It might feel like overkill, but this way everyone will be on the same page about what's getting done, and you'll be free to choose a time that works for you to do them - even if that happens to be the end of your working day.
Tune it out
A full house isn't usually the quietest, which can sometimes make getting work done pretty difficult. Whether it's a talkative pet, a pestering family member or your housemate's dubious Spotify playlist, sometimes you just need to block out the distractions. Provided that any dependent members of the household are being well taken care of, investing in some sturdy headphones could set you on the path to home working zen. Even if your headphones aren't entirely noise-cancelling, some well-placed background noise can do wonders for your productivity. If you find music or podcasts too distracting, try Coffitivity for some soothing sounds that won't take you away from your work.
If it gets too much - get out!
The hardest part of working from home in a busy house can be knowing when to call it a day. If you find that you're losing the battle to get stuff done at home, then take advantage of remote working (if you're able to!) and pack a bag to take your work elsewhere. It might feel like admitting defeat at the time, but if a change of scenery helps you get more done, it could be the perfect tonic to a tumultuous day of working from home. If you don't have any suitable cafes nearby, a co-working space might just be the solution you're looking for. Good luck, and happy home working!