Get set for stress-free Self Assessment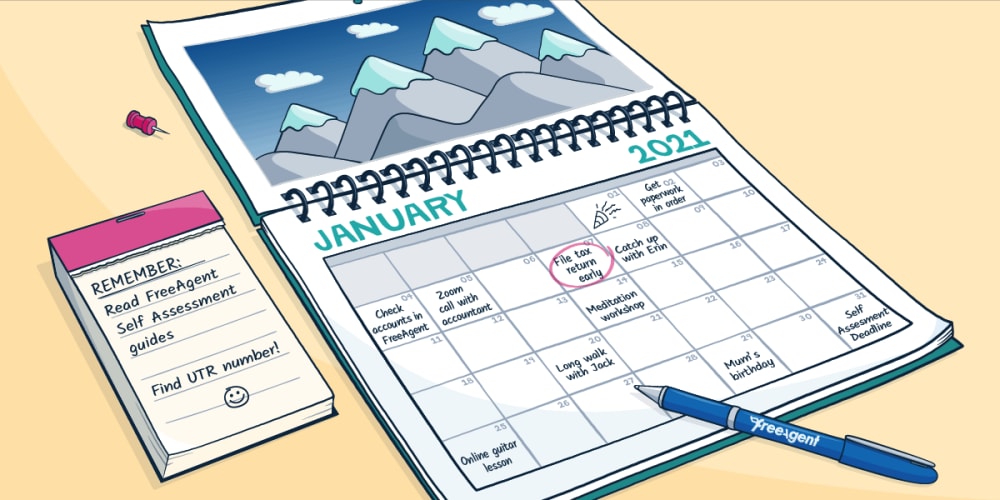 It's supposed to be the most wonderful time of the year but is the looming Self Assessment deadline bringing out your inner Grinch? Preparing for the 31st January tax return deadline shouldn't ruin your festive season. Why not give yourself the gift of a stress-free Self Assessment season with these top tips?
1. Gather your paperwork
Get off to a good start by gathering all the information you need for your 2019/20 Self Assessment tax return. Depending on your circumstances, this might include:
If you're a limited company shareholder, you'll also need to provide proof of any dividends received during the tax year. No-one wants to be rummaging for files at the last minute, so here's a handy list of everything you'll need to make the process as smooth as possible.
2. Keep your accounts up to date
If you use FreeAgent, it automatically fills in some of your Self Assessment tax return for you - all you have to do is keep your accounts up to date throughout the tax year. If you're a little behind, just sign in to your FreeAgent account to find out what information you still need to enter. Watch this video to learn more about how FreeAgent can help you complete your Self Assessment tax return.
No matter which system you use, keeping your accounts in order throughout the tax year should help you to avoid having to rush to meet the deadline for filing your tax return.
3. Get to grips with the lingo
Tax terminology can sometimes be a bit confusing, to say the least. Before you prepare your tax return, why not get to grips with some key Self Assessment terms? From capital assets to taxable profit, our helpful guide on Self Assessment lingo defines many of the terms that you might come across when completing your tax return.
4. Check out our library of helpful Self Assessment guides
Still feeling a bit daunted by Self Assessment? FreeAgent has a wide range of clear and comprehensive guides that take you through each step of the Self Assessment process. If you're a FreeAgent user you can also use our handy live chat feature to get in touch when you have a question.
Ready to prepare your Self Assessment and put your feet up for a hassle-free January? Try a 30-day free trial of FreeAgent's online accounting software.