Moving on: an announcement from our CEO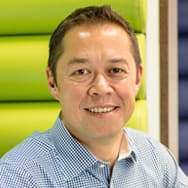 A lifetime ago (well, back in 2007) Olly Headey, Roan Lavery and I registered a new company called FreeAgent Central Limited. We knew that there was something really unsatisfactory about the way we, as contractors and freelancers, were equipped to manage our finances, and we thought the time was right to do something about it.
Fast-forward to today and we've grown to a team of 260 amazing people and help more than 100,000 businesses truly take control of their finances with our software. It's the glowing feedback from our customers and our accountant and bookkeeper partners, and the everyday buzz of our team that energise us all at FreeAgent. I'm immensely proud of what we've achieved together.
Like any growing business, the journey of the intervening years has been more akin to a rollercoaster than a rocketship. Customers won and team members lost, investment raised and returned and mistakes aplenty! But not a day has gone by where we haven't learned something new and we've felt like we were still really on to something.
It's difficult, I think, for any company founder to know when it's time to move on. But I decided a few months ago that the time had arrived, and we started working on what should happen next. After nearly 15 amazing years spent immersed in every facet of FreeAgent, I've done everything I want to do as CEO and now is the time for new challenges. I can now confirm that I will be stepping down as CEO of FreeAgent on Friday 16th July. I'm very happy to announce that my friend and co-founder Roan will then take on the role of CEO.
If anything, I'm now even more excited about the future of FreeAgent! I have no doubt that Roan's ideas, energy and relentless customer focus will ensure that FreeAgent stays at the forefront of our industry as it grapples with accelerating change, as banking and accounting converge and as software gets smarter and more connected.
So a big heartfelt thank you from me to all of our customers, partners, investors and, of course, our team members over the years.
Onwards and upwards, FreeAgent!