The 5-step guide to local SEO for accountants and bookkeepers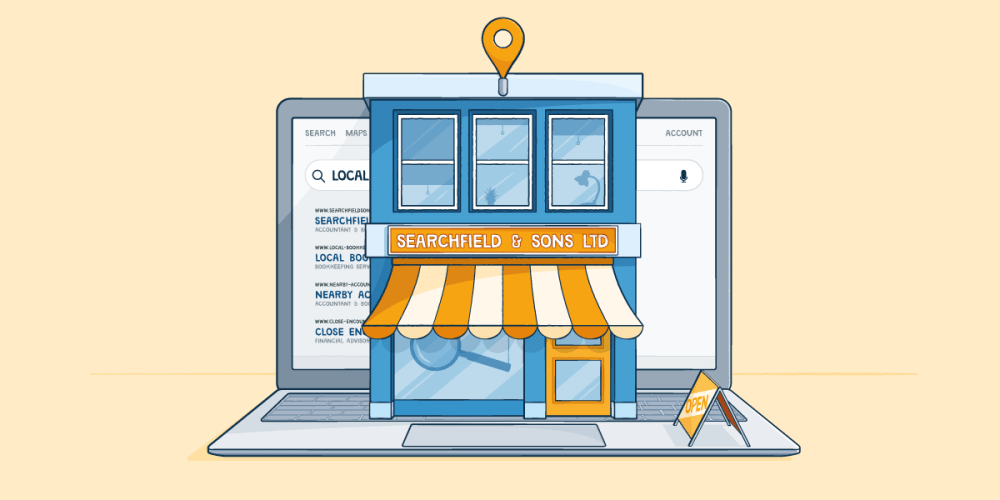 'SEO' stands for search engine optimisation. It's the practice of improving your online presence so that people are more likely to find information about your practice when they're searching online. Search engines like Google and Bing use hundreds of factors to determine how and where they display the pages of your website and the job of an SEO professional is to improve a business's website according to these factors so that it gets more visitors.
Many larger businesses have a dedicated team working on an SEO marketing strategy or a digital marketing agency that provides SEO services but if you don't have these resources at your disposal, don't worry - you can still take advantage of local SEO.
A local SEO strategy involves targeting search queries (the words people type into search engines) with a location-based focus, rather than targeting more popular generic terms. A local approach to SEO requires less time and resource than a full-blown SEO strategy but it still enables you to drive relevant traffic to your practice's website.
Ready to get going? Follow the steps below to get started with your very own local SEO strategy.
1. Put your practice on the map
When you look at the search engine results page (SERP) for a local search query in Google, you'll notice that the page displays a map, along with the details of three local businesses . This is called the 'local three pack' and it's relatively simple to get listed on it. Simply fill out a Google My Business directory listing as fully as possible and anyone searching nearby for local terms will stand a chance of seeing your business listing.
2. Encourage clients to leave reviews
Online reviews can determine how search engines place your business in their search results. Google rewards business owners who respond promptly to reviews as it's a clear signal that the business values customer feedback, so make sure you check the reviews on your business listings regularly. High-quality positive reviews are likely to increase the visibility of your listing, so it's a good idea to send a link to your reviews page in your emails to clients or post it on social media to encourage clients to write a review.
3. Build links and mentions
The more quality and trustworthy information that search engines can find online about your practice, the more visible your website will be in the search results. Google looks for links coming to your website from other quality websites in the accountancy industry. It also looks for mentions of your practice in local news sites and listings in directories to determine how well known your practice is and how prominently it should display the website in its search results.
It's well worth spending a bit of time to see if you can get a link to your website from the partners you work with and local news websites, as well as listing your practice in online directories.
4. Take NAPs seriously
Sleep is important but we're not talking about getting 40 winks here! NAPs in local SEO refer to your business's name, address and phone number. Search engines look for consistency in these details across the web so you should ensure that they are the same everywhere your practice is listed. The Local Business Listings Scanner from Yell can help you find every location where your practice is listed and highlight what you need to fix. The tool will also help you to find quality directories to list your practice with.
5. Optimise the pages of your website to target local search queries
To improve your website's ability to rank for local queries further, simply adding your location to the title and wording on your homepage could help. You should also add your practice's 'NAP' (name, address and phone number) to help search engines verify these details.
If your practice targets a few different geographic locations you should ensure your website has separate pages for each location. You should also add all these separate locations to your 'Google My Business' listing to ensure all locations stand a chance of appearing for local searches in their immediate area.