3 ways you can support small businesses this Christmas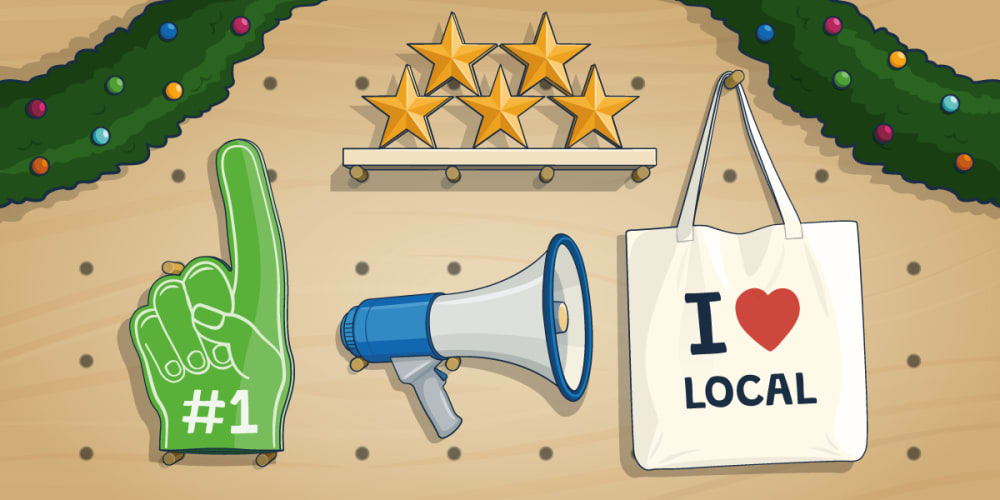 It can be tempting to tick off your entire shopping list via a single online department store this Christmas, but instead, why not take the opportunity to support independent business owners? Here are three meaningful ways to make a big difference to the UK's smallest businesses this festive season.
1. Shop for gifts from independent businesses
By now, local independent retailers should be fully stocked for the festive season, so why not head to your local high street for your Christmas shopping? 
If you'd prefer to skip in-person shopping this year, you could Google your favourite local shops to see if they're selling online. You can check out independent seller directories like Etsy, Trouva, and Not On The High Street to search for specific gifts and browse hundreds of independent shops across the UK, all from the comfort of your sofa. 
The gift-giving season is also a great opportunity to support local hospitality. A voucher for your favourite local coffee shop or restaurant can be a great (and delicious) gift, and will be greatly appreciated by the independent businesses in your community.
2. Spread the word and share the love
Every business owner knows that marketing can be time-consuming and challenging, especially during winter when we're bombarded by festive advertising. That's why nothing is quite as valuable to a small business as word-of-mouth marketing. 
Show your appreciation and champion the small businesses that you shop with over the festive season, whether they encourage you to or not. Recommend them to your friends and family, rave about them on social media (just don't forget to tag them!) or write reviews. If you aren't sure how best to show your support for a business, just ask them. 
3. Think beyond gifts 
The festive party season is back! Whether you're decking the halls with boughs of holly or counting down to the New Year with friends, skip the stress of busy supermarkets and high streets and source your decorations and food from local artisans and neighbourhood shops. 
The added benefit of shopping for food locally is that it can be a fresher and more sustainable choice. Supply can be more limited given the popularity of shopping locally, though, so you may need to place orders in advance for your festive celebration needs.  
Finally, once the festive season is behind us, remember that supporting small businesses should be for life, not just for Christmas. Continue your independent shopping habits into the new year and beyond and you'll be making a whole world of difference to small business owners everywhere.