What safety certificates do landlords need to have?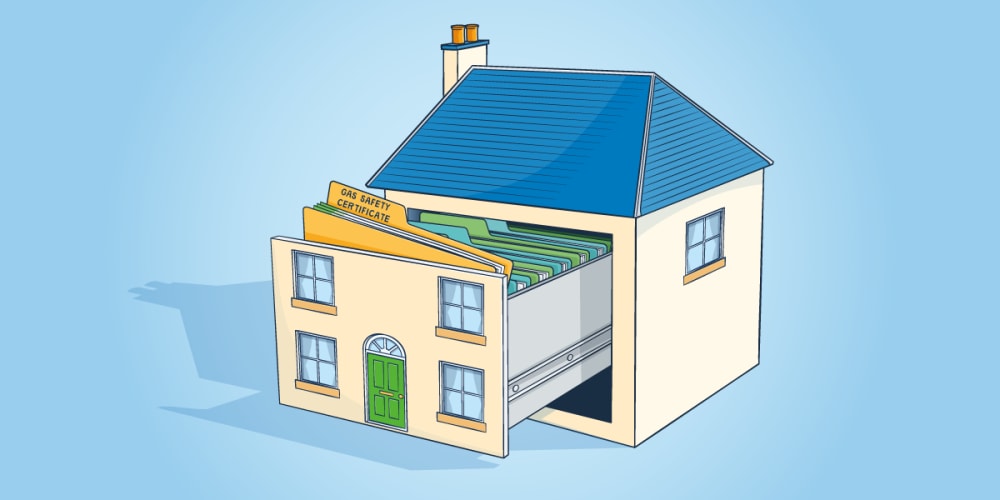 When you're letting a property you have an obligation to make sure that it's safe for your tenants. Landlords are legally required to obtain certain certificates to help ensure the safety of tenants and the security of the property, as well as for their own protection.
With that in mind, here's an overview of some of the most important safety certificates that UK landlords usually need. Before taking any action, please be aware that the required certificates can vary among the different UK nations, so you should double-check the legislation that applies in the region where your rental property is located. If you use a letting agent to manage your property, you might want to consider checking whether they provide any of the required certificates as part of their package.
Landlord Gas Safety Record
A Landlord Gas Safety Record document shows that a Gas Safe-registered engineer has carried out work at your property. This work could include checking the boiler, gas pipes and any gas appliances to ensure that they meet safety standards. It's a legal requirement for landlords to get an annual gas safety check on all gas appliances in the rental property. The result of these checks are recorded in your Landlord Gas Safety Record documentation and a copy will be sent to you. 
When you have received your Landlord Gas Safety Record, you should provide a copy to your current tenants within 28 days of the gas safety check. For new tenants, you'll need to provide this at the start of their tenancy. You can find out more about your responsibilities as a landlord when it comes to gas on the Gas Safe Register website.
Electric Installation Condition Report (EICR)
Landlords have an obligation to make their rental properties electrically safe and it's recommended that fixed electrical installations in rental properties are checked by a qualified person, such as a registered electrician, at least once every five years. The electrician will examine everything from the plugs and sockets in the property to the light switches and fuse box, and will issue an Electric Installation Condition Report (EICR) following the inspection. The report will either declare the installation safe for continued use or highlight areas for improvement or urgent repairs that need to be made.
Landlords must supply a copy of the EICR to existing tenants within 28 days of the inspection and to new tenants before they occupy the premises. If the report highlights a requirement for remedial work or further investigation, landlords must provide their tenants and the relevant local authority with written confirmation that the work has been carried out.
You can find out more about these legal requirements on the UK, Scottish and Welsh government websites. 
Portable appliance testing (PAT)
If there are portable appliances in the property, such as a fridge, kettle, microwave or lamps, the UK government recommends that landlords arrange for an electrician to carry out regular portable appliance testing (PAT), and supply tenants with a record of any inspections carried out. The electrician will provide a PAT report, which will detail the test results and include a visible pass or fail label for each appliance. The report will also include the inspection date, when the next test is due and the inspector's signature.
Energy performance certificate (EPC)
Energy performance certificates show how energy efficient a property is, based on a simple scale of 'A' to 'G', 'A' being extremely efficient and 'G' being the least energy efficient. All rental properties must have a rating of at least 'D'. Energy performance certificates remain valid for 10 years but if you undertake work that's likely to have a major impact on the property's energy efficiency, like upgrading from single to double-glazed windows, you might want to obtain a new certificate to reflect the property's updated rating. To find out more, take a look at the government's guidance on energy efficiency requirements for domestic rented properties and non-domestic rented properties.
Legionella risk assessment
Legionella bacteria can cause Legionnaires' disease, a serious lung infection caused by inhaling bacteria that can be found in pipes, vents and air conditioning units. It's important that landlords conduct a risk assessment for legionella bacteria before letting a property. While it's not a requirement to record the findings of any assessment and steps taken, the Health and Safety Executive says it's a good idea for landlords to do so for their own purposes.
Houses in multiple occupation (HMO)
A house in multiple occupation (HMO) is a property with shared facilities that's rented by at least three people who are not from one 'household'. If you want to let your property as an HMO there are extra requirements you will need to consider. These could include additional certificates relating to emergency lighting or fire regulations. In some cases you may need to apply for an HMO licence. You can find out more about HMO licence requirements in England and Wales, Scotland  and Northern Ireland on the UK government's website   
As HMO legislation is a complex area, you should check the specific legal requirements that apply to your rental property and the area in which it's located with the local authority. The government's guide to private renting is a good starting point for information.
How to manage tax as a landlord
If you're wondering how to manage your tax obligations as a landlord, then FreeAgent can help. We've built a new version of our award-winning accounting software that's designed specifically for landlords. FreeAgent for Landlords will help you manage your property finances and submit Self Assessment to HMRC. Find out more.
Disclaimer: The content included in this blog post is based on our understanding of tax law at the time of publication. It may be subject to change and may not be applicable to your circumstances, so should not be relied upon. You are responsible for complying with tax law and should seek independent advice if you require further information about the content included in this blog post. If you don't have an accountant, take a look at our directory to find a FreeAgent Practice Partner based in your local area.