9 inexpensive marketing ideas for your small business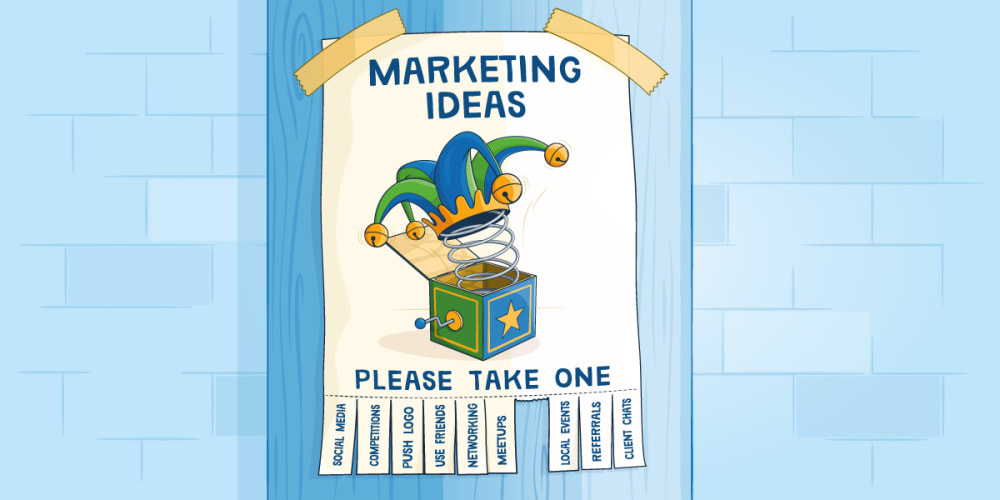 On a tight budget to promote your business? Here are some creative, low-cost marketing ideas that won't break the bank.
First, get some basics right
Before you get started, it's worth taking the time to make sure you've got the basics of your small business marketing in place.
Understand your Unique Selling Proposition
Your Unique Selling Proposition (or USP) is the attribute that makes your business stand out from the crowd. It may be a special feature or service that only you offer, or just an approach to working that sets you apart. Here are some examples of USPs:
A carpenter with a unique 10-year warranty on their work
A web designer who specialises in e-commerce businesses
A bakery that sources all of their ingredients from local organic farms
Once you know what your USP is, you can build it into everything else that you do, including your elevator pitch!
Perfect your elevator pitch
An elevator pitch is your answer to "so, what do you do?" - it's a quick, compelling description of your company that highlights your USP and will hopefully invite interest and further conversation. For example, an elevator pitch may be:
"I own a bakery called Lovely Cakes that creates organic celebration and wedding cakes - all of our ingredients are 100% organic and bought at a sustainable price from local farms. Have you heard of Reed farms? That's where we source our eggs."
Just make sure it doesn't sound too rehearsed.
Once you have these basics in place, you may be surprised at all the places you can use your elevator pitch and USP online and offline. You can use modified versions for your social media profiles, for advertising copy and for any flyers or business cards that you're creating, and they'll serve as a great foundation for the rest of your marketing activities.
9 low-cost marketing ideas
1. Do something great on social media
Time is money, so if you don't have enough time to create a range of new social profiles or strategies for your business, why not just find one simple, awesome thing that you can do well on social media. For example, this attic conversion company posts videos of all their completed projects.
2. Run competitions or donate a prize
Everyone loves to win something, so a great, inexpensive way to get your brand out there is to run a competition for something that people really want - whether that's a free product or service from you, or just a popular prize. If you get people to do something in return for their entry (such as liking and sharing your page, subscribing to your newsletter or just giving you their email address), you'll reap the benefits without breaking the bank.
3. Get your logo out in the real world
Online recognition is important, but don't forget to get your brand out in the "real" world, too! Print advertising, business cards, magazine/newspaper features and corporate branding at events are all great ideas – and they don't have to be expensive. Try a few low-cost offline guerilla marketing ideas to get your brand out there.
4. Rope in your family and friends to be advocates of your business
Friends and family aren't just a valuable source of advice; they are also a great, free resource for building your brand. Arm them with business cards, flyers and any other tools they might need to promote your business to the people they meet and deal with every day. It's a great, inexpensive way to widen your circle and introduce your company to people who might not have known about it otherwise.
5. Go to networking events
Using social media and building up your digital networks is important, but don't forget about traditional "face-to-face" networking as well! You don't even have to look at pricey, membership-only groups as there are a host of smaller, more affordable events on sites like meetup.com to consider. Attending a networking event can be a great way of growing your reputation, building relationships and finding new business opportunities, so bring a stack of business cards and become one with your elevator pitch before you go. And check out some of our top networking dos and don'ts to get prepared in advance.
6. Hold a meetup or a coffee morning for your clients
Networking isn't just a great thing for you to do - it's also super-important for your clients. So why not make it easier for them to network with each other by hosting your own, low-budget meetup or regular coffee morning? Open up your office, find an affordable space to rent or just meet at a cafe for an hour or two, invite your clients, lay on the espresso and pick a topic for everyone to talk about. Then make it a regular event for everyone to put in their calendar, and consider alternating hosting duties to keep the costs down.
7. Create a refer-a-friend scheme
Customer recommendations are gold dust for your business, so why not encourage people to tell their friends about you. Setting up a dedicated referral scheme could help you make more sales in the long run and create a strong buzz around your services. Just make sure you factor in the amount that you'll have to absorb for those discounts and make sure your business can accommodate it!
8. Enter industry and local competitions
Awards can also be a great way to strengthen your credentials and spread the word about your business. So look for award competitions in your industry, and don't forget local or regional awards as well. Remember that even if you only make the shortlist and don't win, you can still feature that nomination in your marketing materials and on your website to raise your businesses profile, which could be more than worth the entry fee.
9. Look out for fairs, special events or shows
Trade events aren't just for the big players with cash to burn - there's plenty of scope for smaller businesses to benefit, too. Keep an eye on what's happening in your area and, if you can afford it, try to get a table or exhibition space at one where you can show off your wares. Local shows and fairs will cost a lot less to exhibit at than national ones and may be a better match with your business. If cost is an issue, you may find cheaper exhibitor rates if you wait until the last minute - or you could team up with a complementary partner company and split the cost. And even if you can't afford to exhibit, you can still attend as a member and use it as a great networking opportunity. Just remember to pack a big stack of business cards!
Get FreeAgent for free
Did you know that you could get FreeAgent's award-winning accounting software free of charge?
If you have a business current account from NatWest, Royal Bank of Scotland or Ulster Bank, you can access FreeAgent for free for as long as you retain your account (optional add-ons may be chargeable).