Top tips for managing your practice's tech stack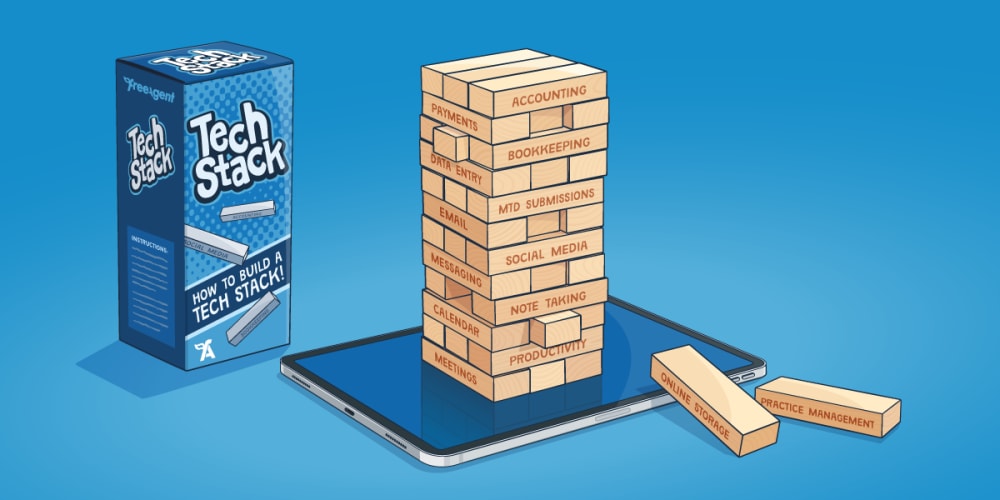 With so much technology out there, it can be difficult to know which tools to adopt for your accounting or bookkeeping practice. You'll want to make sure you have everything you need to deliver the best service for your clients, particularly ahead of the introduction of Making Tax Digital for Income Tax Self Assessment (MTD for ITSA). 
If you're keen to automate more of your admin so that you can focus on advising your clients and growing your business, here are some tips for getting the most out of your practice's tech stack.
What is a tech stack?
A technology stack or 'tech stack' is a set of digital tools you can use to build, run and grow your practice. Different accounting and bookkeeping practices will need different tech stacks, but they typically include accounting software, practice management software and business staples like Google Workspace or Microsoft Office 365.  
A tech stack equips you with the best tools to help you boost revenue, improve client engagement and run your processes more smoothly. Automating your daily admin could help you to get your work done faster, leading to a better work-life balance and letting you spend more time on other important areas, such as winning new clients.
How to optimise your practice's tech stack
Before you begin to build and manage your digital toolkit, ask yourself what problems you're trying to solve. Since the answer is different for every practice, every tech stack will be unique. Once you understand the areas of friction in your practice processes, you'll be better prepared to choose the appropriate technology solutions. 
Start with the basics
It's a good idea to keep your tech stack simple when starting out, and focus on covering the primary needs of your practice. One of the core components of a practice's tech stack is often MTD-compatible accounting software, like FreeAgent. This will be more important than ever when the MTD for ITSA rules take effect, requiring affected clients to keep digital records and make quarterly submissions to HMRC. 
Accounting software can also increase your efficiency by enabling time-consuming tasks to be completed in bulk. And if your practice adopts FreeAgent, you can add the mobile app to your tech stack, which lets your clients snap photos of receipts and record their expenses on the go.
Another common addition to a tech stack is accounting practice management software such as AccountancyManager or Senta, both of which can be integrated with FreeAgent. Practice management software can help to break down projects into step-by-step tasks, so every member of your team has oversight of their responsibilities. Having a clear view of deadlines could also help you keep on top of preparations for MTD for ITSA. 
It's also important to also consider the software you'll use for everyday communication and document editing. Depending on the size of your team, it may be beneficial to adopt messenger apps like Slack or Teams for internal communication. This can help to minimise email clutter - if you have a crowded inbox, it's easier to miss an important email from a client. 
Learn by trial and error
You should review your tech stack regularly to ensure you're making use of the best options to reduce friction in your practice processes. Don't be afraid to take a chance on new apps and software, as trialling multiple tools could help you to make a more informed decision for your practice, which could in turn give you an edge over the competition. 
It could also be helpful to bring up the subject with your clients, as there may be a small group that would be happy to test out the latest technology with you.
Automate your admin 
One of the greatest benefits of technology is the ability to automate simple and repeatable jobs, helping you to reduce mistakes and cut down the time you spend on these tasks. With accounting software like FreeAgent, you can explain bank transactions in bulk, generate dividends automatically and run reports across your whole client base. You can also set up alerts to notify you that a client's VAT return is due or that their Open Banking consent is about to expire.  
Adding a payment solution like Tyl by NatWest to the mix can help to simplify card payments so your clients can get paid quicker. Tyl also integrates with accounting software, so you will have oversight of your clients' sales, refunds, chargebacks and fees. You may also consider data collection software like Dext, which enables you to automate data entry. 
Pick the right tools to grow your client base
Whether you work alone or have a growing team, marketing can be the key to your success. Using social media can be a great way to market your practice at a low cost, so consider using platforms such as Facebook, LinkedIn and Twitter. Generally, LinkedIn is a good 'business to business' channel, whereas Facebook is a 'business to consumer' one - take a look at our social media tips for accountants and bookkeepers to find out more. 
Another way of retaining or growing your client base is to reach out via email automation tools. There are many options that can help you create one-off emails, campaigns and newsletters, as well as tracking their performance.