6 things to look forward to at MTD Week 2022
Important: This blog post was published before the government announced that MTD for ITSA will be delayed until 2026. Some of the information below is no longer accurate.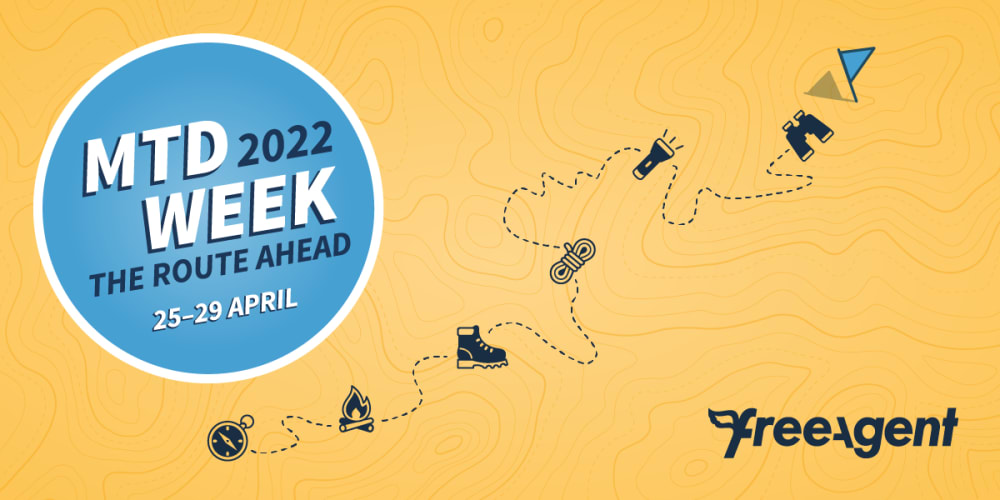 With the next stages of Making Tax Digital (MTD) fast approaching, there's a lot to consider when preparing for the road ahead. That's why from 25th-29th April, we're hosting a series of virtual events designed to set you and your clients up for MTD success. Here's what you can look forward to at MTD Week 2022.
1. The latest updates from HMRC
On Monday 25th April, FreeAgent's Tony Stevenson will be joined by Melanie Hume from HMRC to discuss all the latest updates on MTD legislation. Hear about the background of MTD for Income Tax Self Assessment (ITSA) and what you and your clients need to do to be MTD compliant, as well as our tips and tricks for reducing the burden of MTD submissions. 
You'll also have the opportunity to clear up any of your burning questions in our Q&A with Melanie at the end of the session. 
2. The art of effective client communication
Getting your clients up to speed with all the latest updates may seem like a daunting task. On Tuesday 26th April, you can hear directly from the owner of FairBalance Accounting, David Ross, on how he's approaching MTD with both existing and prospective clients. He'll be discussing the first steps to creating an effective communications plan as well as the most common challenges he's encountered when tackling the topic with his clients.
This first-hand account will help you plan your next steps for engaging with your own clients and may give you some thought-starters on how to demonstrate your practice's value as we head into this new era. 
3. The lowdown for landlords
MTD for ITSA isn't just set to be a landmark change for sole traders, but for landlords as well. Prepping your landlord clients in advance will be crucial to ensure they're MTD compliant when the legislation comes into force in 2024. 
FreeAgent's Accountancy Group Product Manager, Jon Martingale, will be leading a session on Wednesday 27th April specifically focused on MTD for landlords, discussing the current state of the market, why this matters to accountants and clearing up any questions you might have about the new developments. We'll also be previewing some exciting new FreeAgent features.
4. Top tips for getting clients started with digital record keeping 
Helping your clients understand the ins and outs of digital record keeping will not only set them up for MTD compliance, but also free up your valuable time. 
On Thursday 28th April, FreeAgent's Gem Malek will host a practical workshop on all things digital records, including what's expected and required by HMRC, followed by a closer look at some best practices and ways to get your clients to buy in to keeping records digitally. 
5. Expert advice on building your practice's tech stack
Also on Thursday 28th April, if you're a FreeAgent Partner, you'll have exclusive access to this session hosted by Will Farnell, author of The Digital Firm and co-founder of App Advisory Plus. 
He'll cover a comprehensive review of your practice tech stack, with an overview of the best tools to help you boost revenue, improve client engagement and reduce friction in your practice.
6. Our final thoughts with an all-star panel
To round off the week, on Friday 29th April, our Head of Practice Education, Kevin Lord, will be joined by a panel of experts to reflect on the key themes from MTD Week 2022. 
Our guests include Jessica Pillow, Founder and MD of Pillow May, as well as Kevin McCallum, COO of Bright, who will be discussing how to implement all of the learnings from the week into your practice.