How to write a business plan in 10 easy steps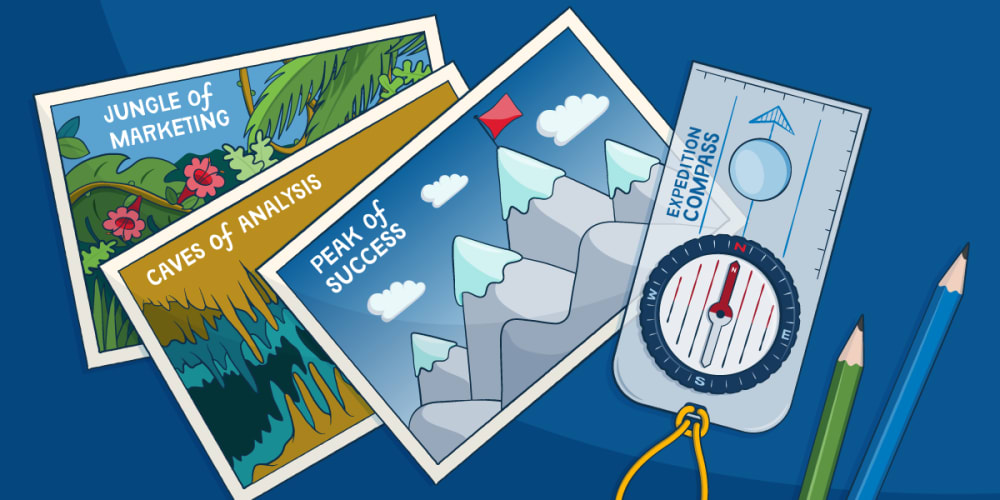 Does writing your first business plan sound a bit daunting? You're not alone. Many startups struggle with this essential step in getting a small business off the ground. If you need a helping hand with writing a business plan, we've broken it down into ten easy steps.
Before we get started, let's understand why writing a business plan is such an important ingredient in the recipe for startup success.
What is a business plan?
A business plan is a document where you record everything you plan to achieve, state how you're going to do it and detail the resources you'll need to succeed. It includes information about your vision for the business, the products or services you plan to provide and financial projections.
From outlining your goals and organisational structure to explaining your marketing strategy, your business plan should keep you on track and help you avoid potential pitfalls. The document doesn't have to be complicated but it does have to be well thought through and based on strong research.
Why do I need to write a business plan?
Writing a business plan is the first step to startup success. Research shows that business owners who write a business plan are more likely to succeed than those who don't.
But why? How can a single document make so much difference?
Writing a business plan helps you think through every element of your business in advance, so there should be no unexpected surprises to derail you along the way.
Referring to your business plan during your first year of trading can help you stay on track, prioritise your resources and measure progress against your goals.
A business plan is essential if you hope to secure startup funding, such as a Start Up Loan or other investment.
How to write a business plan
Ready to get stuck in? Use the ten sections below to write your business plan and you'll be one step closer to starting your dream business.
Before you start, remember, your business plan needs to be a living document: something that articulates your vision to potential investors and employees. So keep it simple and don't use complicated jargon.
Most importantly, be realistic. Base your plan on market research and sensible financial projections. Underestimating costs or overestimating demand will only harm your chances of success, and it will undermine your credibility with potential funders.
With that in mind, let's get started.
1. Cover page and contents
Despite the saying 'don't judge a book by its cover', it's best to be on the safe side! Prepare a smart cover page that includes your company name, a high-resolution image of your logo, your name and contact information.
Once you've completed your business plan, you can insert a contents page in between the cover page and executive summary to list key sections and page numbers.
2. Executive summary
The executive summary communicates the key points of your business plan. This may be the only part of your business plan that someone will read, so it needs to summarise the rest of the document in a single page and encourage them to read on.
Potential funders are busy people, so get straight to the point and use concise paragraphs. Cover the headline news about your business, namely:
What your business does
Your products or services
What makes you unique (your USP)
The target market and projected demand
A brief financial overview
As this section is an overview of everything else in your business plan, you should write this last, once the rest of the content is finalised.
3. Mission, vision and goals
Why does your business exist and what do you want to achieve? You can answer these questions with your mission, vision and goals.
Mission
Your mission statement is a short and inspiring summary of why your business exists. It's a way to communicate what you do and provide a focus for your business activities. It can even help you plan and prioritise, by reminding you of your core purpose.
For example, a commercial cleaning business might have the following mission: 'To make businesses a better place to work by providing high-quality commercial cleaning that goes above and beyond the industry standard.'
For more inspiration, take a look at these examples of mission statements from successful businesses.
Vision
Your vision is how the world will look if you're successful in your mission. Consider the ultimate benefit your business will bring to its customers. How do you want people to see your business?
Express the dream scenario, whether it's to be the leader in your market or to make a difference in your customers' lives.
For example, our cleaning company's vision might be 'Higher standards, healthier workplaces, happier staff'. This communicates the company's USP (higher standards) and the benefit they bring to their customers (healthier workplaces, happier staff).
Goals
Goals are an essential part of your business plan. These aren't just guesses about what you might like to do. Strong business goals are based on what you need to deliver in your first year of business and how you plan to achieve that.
Remember, goals always need to be SMART: specific, measurable, attainable, realistic and time-bound.
For example, our cleaning firm might have a goal to recruit 24 new clients in their first year. That's a great start because it's definitely SMART.
Next, they'll need to break that down into smaller, more manageable goals, to help them achieve it. For example:
To have a basic website in advance of launch, and online booking within three months
To grow a social media audience comparable to their nearest competitor within the first six months
To distribute flyers to 250 local businesses each month and follow up with a phone call within two working days
Each of these goals could be broken down even further to create a month-by-month work plan for the business. This makes it much easier to stay on track and prioritise time effectively.
4. Products and services
Next, it's time to talk about what your business is actually going to sell. Whether that's products or services, describe them in detail. Consider information like:
What the product or service is
Unique features
Customer need
Whether you're filling a gap in the market
Why customers will choose you over competitors
Where customers will buy it
Where customers will use or experience it
Pricing strategy (what you plan to charge and why)
You want to paint a clear picture of what you're selling, why people will choose to spend their money with you and what benefits they get as a result. Thinking this through will really help when you start to promote your business.
5. Market analysis
This, alongside your financial projections, is the most important part of your business plan. It's where you'll record the results of any market research you've conducted. And if you want to have a successful startup, market research is a must!
Below is a quick rundown of basic market research. Once you've conducted it, use what you've discovered to demonstrate the potential of your product or services. Use graphs and charts to make it easier to digest.
Identify your target market
Firstly, you need to decide who your target market is. Who exactly will buy your products or services? Are they individuals or businesses? Where are they based? What income group do they belong to? This will help you plan effective pricing, marketing and sales.
For example:
Young professionals aged 21-35 in the Liverpool region
UK-based food manufacturers
Cost-conscious fashion fans in north-east England
Assess the size of your target market
Next, you need to work out how many people there are in your target market and how many, realistically, are likely to become customers. There are lots of sources of information to help you, including census information and commercial reports.
Survey your target market
Market research with your target customers can provide valuable insights that will help hone your business plan. For example:
Do they like the product?
What would they be willing to pay?
Who else might they buy from?
There are lots of ways to solicit opinion: from online surveys to in-person focus groups. Find out about different market research techniques and choose what's right for you.
Identify your place in the market
Once you've researched your target market, you need to understand your place within it. Who are your competitors? What are your strengths and weaknesses? Market analysis typically includes:
SWOT analysis - looking at your strengths, weaknesses, opportunities and threats
PEST analysis - political, economic, social and technological factors that might impact your business
Competitor analysis - who you're competing against and how you compare
6. Marketing plan
Once you've completed your market analysis, you're well equipped to write your marketing plan.
Marketing is made up of different elements which are sometimes referred to as 'the four Ps':
Product: what are you selling and what's the USP?
Place: where will you sell your product to maximise access to your target market?
Price: what will you charge for your product to appeal to your target market?
Promotion: what's your strategy for reaching your target customer?
Your marketing plan should explain how you'll combine these different elements to stand out and maximise your appeal to your target market.
Consider your budget and how you will measure success. If you'd like to know more, check out this beginners' guide to startup marketing.
7. Operations
This is where you go into detail about what you'll need to deliver your product or services.
For relatively simple businesses, such as offering freelance services, this might be uncomplicated. But for other businesses, such as manufacturers or retailers, it can require more advance planning. Consider factors like:
This will prepare you for the reality of setting up your business, the relationships you'll need to develop and the potential costs you'll incur.
It will also help funders understand how you plan to spend their investment and have confidence that you understand what you're proposing.
8. Organisational details
This is where you record information about how your company will be structured and run. This section should provide clarity about different roles within the business. It should also give any investors confidence in your ability to deliver.
Include information like:
Your business structure (limited company, sole trader or Limited Liability Partnership)
When you were established and began (or plan to begin) trading
Your management team, their roles, qualifications and experience - even if it's just you!
Any actions you've taken as a business so far, such as registering patents or copyright
Your registered address and contact details
9. Financial plan
Now it's time to outline your business finances. Investors will be reading this section carefully, so make sure to double-check your figures.
Many startups fail because of poor financial planning - such as failing to understand the impact of cashflow on a fledgling business - so this stage is really important.
As a new business, you're likely to incur startup costs before you start making any sales, so you'll always need enough money in the bank to keep you afloat.
A financial plan typically includes:
Profit and loss (income statement) - the income statement allows your reader to see your revenue and expenses. If you've only just started your business, this can be a forecast.
Cashflow statement - this is an estimate of what you expect to spend and receive over a period of time.
Balance sheet (assets and liabilities) - outline what you own and what you owe.
If you're unclear on any of the above, it's worth speaking to a bookkeeper or accountant.
Software such as FreeAgent can help you keep an eye on your business finances and prepare for Self Assessment.
10. Appendix
The appendix is a section where you can include additional information to support your business plan. It lets you provide extra detail for people who are interested, without making the body of your business plan too bulky.
Here, you can include numbers in more detail, your CV, legal agreements and any additional product information, such as market data, imagery, copy and designs.
What next?
Congratulations, you've made it. You've written your business plan, gone back to complete the executive summary, and you're ready to share it with the world.
If you're going to use your business plan to apply for funding, it's a good idea to print a copy and professionally bind it, so it looks smart and credible.
Even if it's just for your reference, keep a copy of your business plan to hand and refer to it regularly. Think of it as your roadmap to success.