Payroll software that's fast, not furious!
File HMRC-recognised payroll for your clients in next to no time with our integrated payroll software that's built for accountants and bookkeepers.
Talk to us about FreeAgent
Fully integrated at no extra cost
No need to import numbers from another system, just run your clients' payroll and their books update automatically.
HMRC-recognised payroll software for UK accountants and bookkeepers
Submit RTI directly to HMRC
Automatically generate payslips, P60s and P45s
Handles Employment Allowance
Support for student loans, maternity and paternity pay
No extra cost - payroll is built in for free!
Run your clients' monthly payroll in bulk through FreeAgent in two clicks
File their PAYE and NI straight to HMRC in real time or prepare payroll for client review before submitting it to HMRC.
Payslips, P60s and P45s
Automatically generate payslips for all your clients each month; view these online or print off as PDFs. At the end of the tax year, generate P60s for all clients.
When an employee leaves your client's business, automatically generate a P45 and either view online or print off.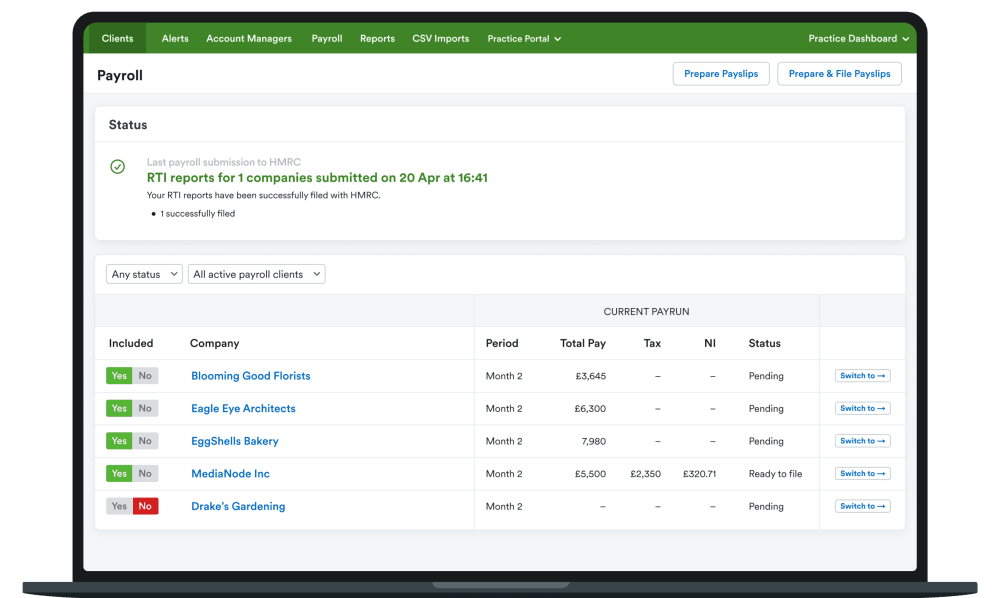 Don't just take our word for it!
We're so proud of how much our accountant and bookkeeper partners love our software:

Tom Buckley
Walker Smith Global
FreeAgent's bulk payroll functionality will save our practice almost 2 days a month over our 300 clients.

Catherine Bourne
Cogent Accountants
We have been running FreeAgent's bulk payroll and RTI submissions in one easy step for over a year now. We find that it is not only proficient but also extremely time saving.