IR35: where are we now?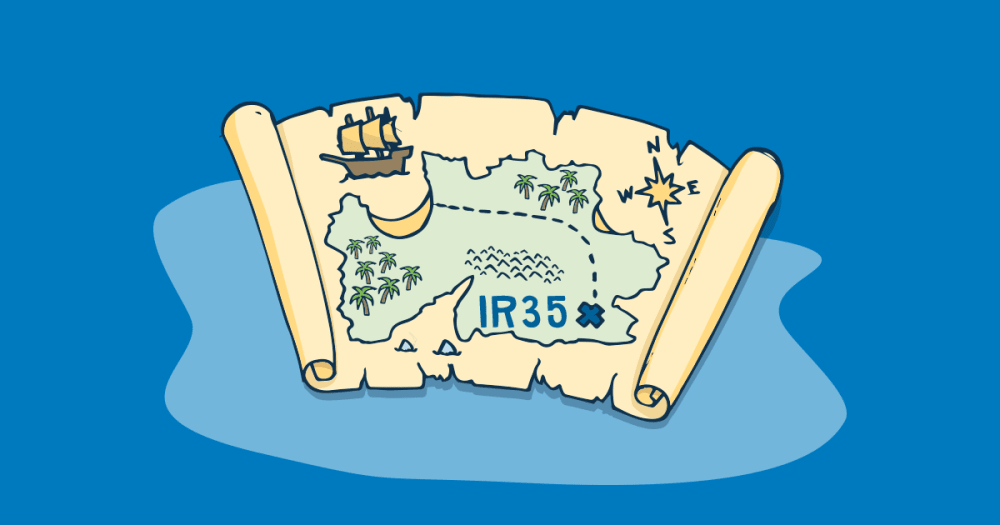 Important:
The information in this guide relates to IR35 legislation dated before 6th April 2021. We will be updating the guide shortly to include
new legislation
that was introduced on 6th April 2021.
It's been over 18 years since the IR35 intermediaries legislation was first implemented. Designed to tackle the issue of "disguised employment" among contractors, and the resulting loss of revenue for HMRC, the legislation has changed dramatically since its introduction in April 2000.
The IR35 saga is still unfolding. In October 2018, it was announced during the Autumn Budget that new IR35 rules —similar to those brought into the public sector in 2018— would be introduced for medium and large-sized clients in the private sector. New rules introduced into the public sector in 2017 sent shockwaves through the contractor ecosystem. Now, announcements from the October 2018 Autumn Budget have revealed that similar rules are also coming into the private sector. To help you understand the context of IR35 — and what you need to know to help your clients — here's the story so far.
Public sector rollout
The biggest change to IR35 since its inception has been the introduction of the intermediaries regulation to the public sector in April 2017. This affected workers who carry out work for public authorities through a limited company or another intermediary, such as a partnership. HMRC refers to these intermediaries as personal service companies (PSCs).
Rather than the worker certifying themselves as being outside the scope of IR35, the regulations put the responsibility of classification on the public authority. When a worker using a PSC is caught within IR35, they are considered to be an employee for tax purposes. Therefore, the public authority must deduct Income Tax and National Insurance contributions (NICs) before paying the worker through their PSC.
The announcement of the new regulations sent ripples through the public sector. Transport for London (TfL) sent out an internal memo saying they would issue a blanket ban on the use of limited companies by their thousands of contractor workers. While the organisation later retracted its policy, it was enough to force many contractors to choose to stop working with TfL altogether.
Today there is still no route for contractors to appeal the decision of a public authority and with work for the public sector looking far less fruitful and more uncertain, the public sector risks losing a lot of skilled contractors.
The CEST debacle
Unfortunately, HMRC has done little to clarify the uncertainty felt by the public sector and the contractors who wish to serve it. In particular, there have been problems with the Check Employment Status for Tax (CEST) tool.
CEST is a digital tool that comes in a quiz-like format. It was designed for public authorities to help them decide if workers fall within or outwith IR35. In theory, CEST should be a quick, easy and automated digital solution to relieve public authorities of a large administrative burden.
However, HMRC's first iteration of CEST strayed quite far from that. Significantly, it failed to include the Mutuality of Obligations test (MOO) in its questions. MOO exists when employers are obliged to provide work and employees are obliged to accept the work provided. This is one of the three cornerstone tests used by the courts when interpreting the law in IR35 cases. By failing to include the MOO test, critics accused CEST of being out of touch with the law and likely to produce inaccurate decisions.
Julia Kermode, the Chief Executive of the Freelancer and Contractor Services Association (FCSA), branded the tool "fundamentally flawed by ignoring case law". Along with the ICAEW, Ms Kermode called for the new off-payroll regulations not to be introduced to the private sector until CEST became fit for purpose.
In what may be seen as a response to the criticism, HMRC released an updated version of the CEST tool in November 2019.
October 2018: New private sector reforms announced
Before October's announcement, minutes published from an IR35 forum and a public consultation indicated that the Government was considering introducing new off-payroll rules to the private sector. This was confirmed in October 2018 as the Chancellor, Phillip Hammond, delivered the Autumn Budget and advised that new rules for IR35 would be brought into the private sector in April 2020. This was subsequently delayed until April 2021 following the Covid-19 outbreak. Furthermore, the rules will only to apply to "medium or large" businesses that engage contractors. While no definition was given for this, Emily Coltman FCA, Chief Accountant at FreeAgent suggested the definition could follow the Companies House thresholds. These define a small business as one that has at least two of the following characteristics:
annual turnover (sales) not more than £10.2 million
the balance sheet total not more than £5.1 million
the average number of employees no more than 50
A medium-sized business is one that has at least two of the following characteristics:
annual turnover (sales) not more than £36 million
the balance sheet total not more than £18 million
the average number of employees no more than 250
And a large business is one that does not meet the criteria of either of the above.
Preparing your clients for the future
Now more than ever, your contractor clients need to be ready for the consequences of IR35 legislation. To prepare your clients for April 2021, you may want to consider taking steps to educate them about how their working practices may leave them inside or outside the scope of IR35.
First off, you may want to assess contracts that your clients have with engaging companies. The contract is the first place that HMRC will look when trying to determine whether a piece of work falls inside or outside the scope of IR35. Within the contract, look for elements of "control". If a contract stipulates, for example, that your client must be in work for certain times and adhere to a certain dress code, you may wish to advise them to renegotiate the terms of the contract.
Trying to explain the legal tests which govern IR35 can be difficult: they may come across as rather abstract! To bring the conversation with your client back down to earth, you may wish to provide examples of situations that could indicate that they fall within the scope of IR35. A list of examples you could show your client might look something like this:
A contractor could fall within the scope of IR35:
If the contractor isn't able to bring a substitute to replace them when they're ill or on holiday. By not being able to have someone who can carry out services when they're not available, contractors may fail the "substitution" test. That said, many industry and technical specialists have skills that can't be replicated by a substitute.
If the contractor is being paid on the basis of time spent. Contractors being paid on the basis of time they spend working, rather than on a project basis, may look more like full time employees in the eyes of HMRC.
If the contractor is given set working hours. Getting told what time you need to come to work and what time you need to leave might indicate an employee/employer relationship.
If the contractor only has one client and they work for that client five days a week. There may be exceptions to this rule if the contractor is being brought in for a big job over a short period.
If the contractor is not only told what projects they have to do, but how they have to do those projects. A key element of "control" is that contractors still have a say in the way they work. While the engaging company sets the objectives of the work, they shouldn't be telling the contractor how to carry it out.
If the contractor attends staff parties or meetings. Attending staff parties or team meetings or eating in the staff canteen could all indicate that a contractor is an employee rather than a contractor.
You may wish to emphasise to your client that no single situation is likely to determine whether the work falls inside the scope of IR35. All the merits of a case must be considered and the case itself is decided on an individual basis.
With a greater understanding of what falls inside and outside the scope of IR35, your clients should feel more prepared to make decisions about future contract work.
Find out how FreeAgent can help you keep your small business and contractor clients on track.