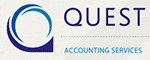 Quest Accounting provides professional accounting services, with the aid of computerised and Internet technology. Currently Quest Accounting's client portfolio consists of doctors, media, graphic design, IT contractors, consultants, small limited company businesses and self employed individuals across a variety of industries, who rely on Quest Accounting to resolve their issues and concerns in the ever changing environment of tax and accounting, meetings can take place at you premises any where UK.
---
Visit website · Telephone: 01296688798
FreeAgent will use your personal details to inform the accountant. FreeAgent will not use your personal information to contact you. Note that FreeAgent does not guarantee the service of any one of the listed accountants. By submitting this form you indicate that you have read and agreed to FreeAgent's
Terms of Service
and their
data and privacy policy
.