4 FreeAgent features to help you win the battle against late payments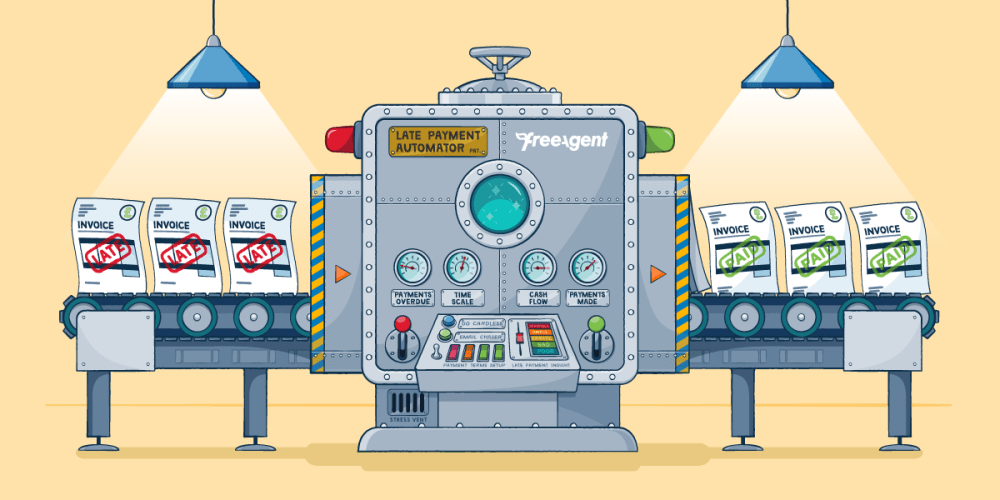 One of the greatest struggles for any small business owner is maintaining healthy cashflow. What can make it even more challenging is that this task is often out of your control. When you're self-employed, being paid late (or worst case scenario, not at all) can have a huge impact on not just your finances, but your general wellbeing.
As part of our mission to make small business finances as easy as possible, we've created a treasure trove of innovative features in FreeAgent to help you tackle late paying clients and get paid faster.
1. Invoices that chase themselves
One thing that has saved me with all of this is @freeagent . I cannot recommend them enough. Making, chasing and tracking invoices is a pain and takes up more time than you think. With @freeagent a lot of that becomes a matter of a few clicks. – @markdrew
Chasing clients for unpaid invoices can be both time-consuming and a little awkward. That's why FreeAgent has automatic reminder emails that you can set up for each client, which lets your invoices chase themselves and gives you time back to focus on more important things. Depending on the client, you can also customise the timing and wording of the reminders, so you can take a slightly stronger tone with your late payers when needed. On the opposite end of the spectrum, you can also set up automatic thank you emails that send to clients once you have been paid. There's a lot to be said for a bit of positive reinforcement!
2. Insights into your clients' habits
Knowing which of your clients generally pay latest can help eliminate some of the uncertainty of your cashflow forecasting, as well as help you identify the worst culprits. FreeAgent's late payment Insight does the heavy lifting for you by identifying your five slowest paying clients based on their late payments over the past year. As a bonus, our Insights feature also suggests actions you can take to help encourage those tardy clients to pay a little faster in the future.
3. Payment terms tailored for each client
You may have standard payment terms for reliable clients that constantly pay on time. But for those that are more unpredictable – or have been flagged by our late payments Insight – there are ways to encourage them to pay faster. One particularly popular FreeAgent feature is the ability to set payment parameters tailored for a client, depending on how late they pay. For example, if you have a client who pays an average of 10 days late, you can change the terms on your invoice from 30 days down to 20 days. As people can be creatures of habit, they might well still pay late, but this time you've given yourself a buffer so they actually meet your original terms.
4. Automate the payment process
Depending on the payment service you use, you may be in a position to streamline the payment process for your clients even more. Many of these services allow you to set up direct debit mandates with clients, which guarantees that you get paid on time. These are particularly useful if you have ongoing or duplicate work. If you use the GoCardless integration with FreeAgent, you can set up automatic payments for the work you do (up to £10,000) so that you'll automatically be paid on the date the invoice is due. In some cases, a client might favour this option as they don't have to do anything to process payment.
GoCardless and PayPal also offer a fantastic service where they insert an online payment link right into your FreeAgent invoice. This super handy integration leaves your clients with no excuse for losing your bank account details ever again!
If you'd like to find out for yourself how FreeAgent's late payment battling features could help your small business, sign up for a 30-day free trial.