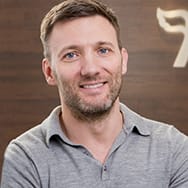 Roan Lavery
CEO, Co-founder
The redesigned FreeAgent interface is now live for everyone.
Wow, did I just say that?
Initial work on redesign concepts started two years ago, and development has taken over a year, so it's been a real labour of love. In that time we've also shipped a slew of other features, and improvements, but the redesign has been bubbling away throughout.
Naturally, we're all incredibly excited about what people will think, but a bit nervous as we know how polarising interface redesigns can be. We've posted a number of articles as the redesign came together, which explained the rationale behind the project as well as the details, but we know it'll still be a shock to some.
Getting up to speed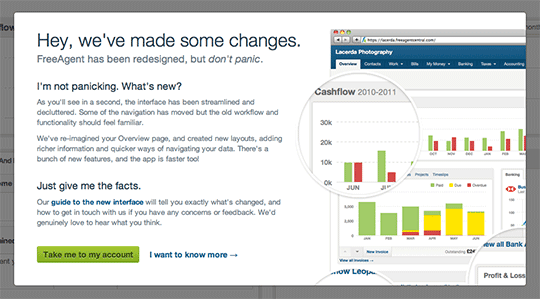 I know how frustrating it can be when you've spent months (or years) learning a particular system, only for it to change, leaving you feeling like you're back at square one again.
Fortunately, I think you'll find this isn't the case with the new interface. Yes, it looks different, and a helluva lot nicer, but the workflow of the app remains largely the same. The navigation has moved position but the underlying organisation is very similar, so you shouldn't have any problems getting up to speed, and we think you'll find it much more efficient.
New Features
It's not just about how it looks. We've also added new features too, including:
A completely re-imagined Overview page
A new cashflow reporting panel on said Overview page
The ability to see account balance charts totalled over all bank accounts
A new contact summary screen with useful data around client/supplier performance
New charts , replacing the Flash ones throughout the app (meaning they now work on iPhones and iPads)
Better navigation for switching between data, including switching to the relevant Contact or Project when viewing an invoice
Better printing of accounting reports from the browser
New invoice languages: Icelandic, Dutch (Belgian) and Polish thrown in for good measure
There's lots more but we won't spoil all the surprises so log in and see for yourself!
Dude, where's my logo?
You will notice that your company logo has disappeared from the header. This means the app will load faster and brings key information further up the page. If you do want to see your logo in the header, you can add this back in from the Settings > Company Logo page, where you will see a new Upload a header logo option.

Your existing logo will continue to display on invoices and estimates of course.
Over to you
Getting to this point wouldn't have been possible without the help of our beta testers. Their feedback has been invaluable in helping us shape the new design and we made a number of changes based on that, so thank you all - you know who you are!
We've no doubt that there will be some strong opinions about the decisions we've made. It's as much your app as it is ours, so we want to hear what you think: what's good, what's bad and suggestions for improvements.
With bated breath,
Roan & The Team at FreeAgent.