How recycling can save your small business money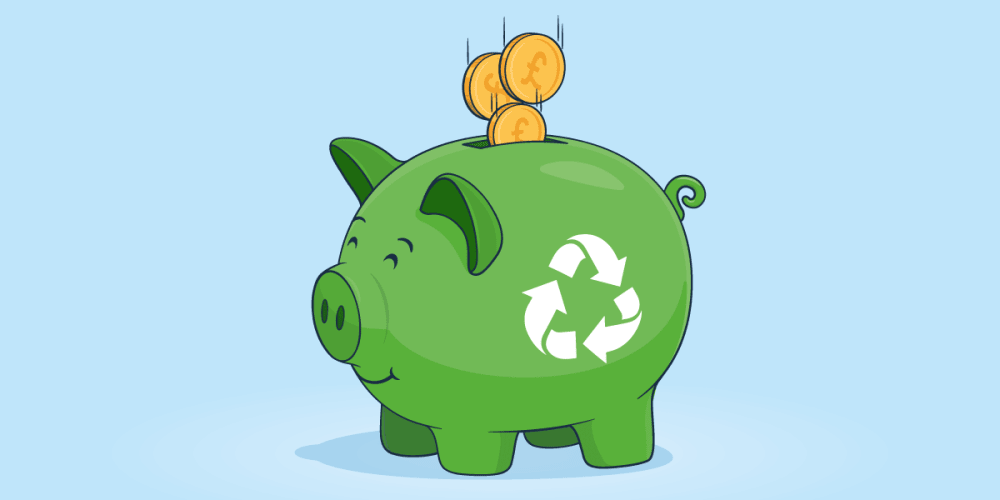 Increased energy costs and rising inflation mean that many small businesses are seeking ways to reduce their costs and improve profitability. Implementing energy saving tips may be one of the first cost-saving measures that many business owners consider, however a company's waste disposal and recycling strategy could also help reduce running costs.
Here, we share how recycling could help your business save money and generate extra income while enabling you to work towards a more sustainable future.
Reduce your waste collection costs
Business owners are responsible for arranging and paying for the disposal of their commercial waste. Any waste that comes from a commercial activity is considered to be business waste, even if that activity takes place in your home. The exact costs associated with disposing of commercial waste will vary significantly according to factors such as your location and the volume of rubbish and recycling you produce. But waste disposal costs can amount to between 4% and 5% of a business's turnover according to the Chartered Institute of Procurement and Supply, so the potential savings could be considerable. 
By establishing an efficient recycling strategy with dedicated recycling bins, you may be able to reduce the number of waste pick-ups required and therefore lower your collection costs. You could even consider arranging a waste audit with a recycling specialist to ensure your business is recycling as effectively as possible.
Some businesses may also be able to recycle items within their community and further reduce uplift costs. For example, cafes could offer coffee grounds for composting, retail businesses could offer boxes and packaging to home movers and offices could donate waste paper to nurseries for creative projects.
Turn old tech into cash
Efficient recycling can go beyond saving your business money. There are ways that it could even generate some additional income. Selling technology that you no longer use, including phones, tablets and laptops, could bring in some extra revenue. There are numerous websites that specialise in recycling devices including Envirofone, Mazuma Mobile and Music Magpie. Simply input the details of your old device into your chosen recycling company's website to find out what you could earn. You may wish to use a comparison site or shop around to ensure you receive the most competitive price for your devices.
Sell valuable materials
Some recyclable materials have cash value so you may wish to carry out an audit of the waste your business generates to see if you could create revenue from your rubbish. Profitable items might include ink cartridges, aluminium cans which can be collected and sold to metal merchants or some recycling centres, and old cables or leads which can contain valuable metals such as copper. If you're wondering what your waste could be used for, check out this article which covers everything from clothes to toilet rolls. 
Reduce business expenses
You may be able to reduce some of your regular business expenses by moving away from single-use items in favour of reusable options. For example, by replacing products such as plastic cutlery and disposable cups with washable alternatives, or swapping paper towels for a hand dryer, you may be able to lower your monthly costs. Opting for reusable items will also limit the amount of waste and recycled materials your business produces, which could lower your disposal costs.
Avoid paying penalties
All businesses are required to dispose of their commercial waste and recycling responsibly. This includes using a registered waste carrier, completing a waste transfer note for all waste leaving the premises and retaining a copy of these documents for two years. Failing to comply with legislation around the disposal of business waste may be considered a waste offence which could result in fines or prosecution. Reviewing your recycling practices and ensuring they align with the current guidance could help you avoid making a costly error. Bear in mind that the exact guidance and legislation may vary between the different countries of the UK.  
Boost your environmental credentials
In addition to saving your business money and protecting the planet, a robust recycling strategy could help you tap into a key consumer trend. As the climate crisis deepens, consumers are placing greater importance on the environmental credentials of the brands they choose to engage with. A study by Deloitte found that 34% of consumers had stopped purchasing certain brands or products because of concerns about ethics or sustainability.
By building efficient and effective recycling policies into your business's sustainability strategy, you can show that your company is taking proactive steps to secure a greener future. This may resonate with your existing and potential customers and make your brand stand out from your competitors. Sharing the details of your recycling policies could also be important to prospective employees and investors.
Not using FreeAgent yet? Try a 30-day free trial today and see how our award-winning software's insights and accounting reports can help you make smarter business decisions.