How to prepare for a festive break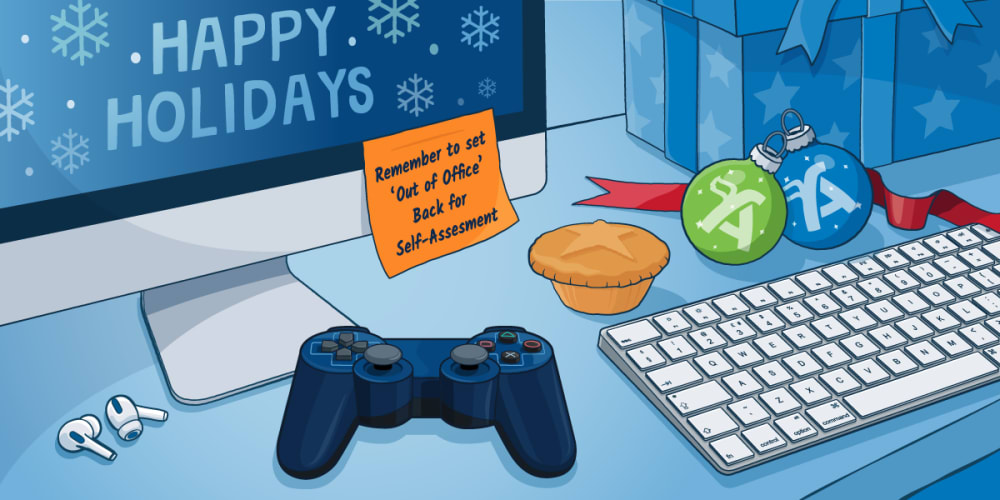 It's that time of year again for mince pies, festive jumpers and, hopefully, plans to rest and reset before the Self Assessment season begins in earnest in January. We've pulled these tips together to help give you some peace of mind as you wind down for the festive period.
1. Contact your clients
Set your holiday dates and make sure that your clients are aware of them well in advance. Create an email to send to your client list with your holiday dates and consider adding links to content on your website that might answer some of those frequently asked questions while you tuck in to your Christmas dinner.
Taking this step should help to set your clients' expectations about when they can reach you over the festive period and it may help to reduce the number of emails and calls that come in while you're trying to take a break.
2. Send a Self Assessment reminder
To prevent any last-minute scrambling, it may be worth giving your clients a gentle reminder that Self Assessment is on the horizon. This might be a good time to suggest that they start preparing their paperwork to submit to you, if they haven't done so already. 
If you use FreeAgent to work with your clients, remind them to make sure that all their transactions are up to date and that their bank feeds are active and don't require re-consent before they take their own Christmas breaks.
3. Set helpful alerts
If you still like to keep an eye on things while you're enjoying a well-earned rest, FreeAgent allows you to set alerts for important events, such as when your clients need to reconnect their Open Banking bank feeds or if the amount in their directors' loan accounts becomes too high.
FreeAgent will post an update on your Practice Dashboard if an alert is triggered. You can also export your alert reports when you're back at work to get a full picture of all the alerts that were triggered during your break.
4. Make a post-holiday plan
Take some time before you finish up to think about what you want to tackle in the new year. Making a list of inspiring ideas that you can get excited about exploring further should make your return to work much easier and help you avoid those dreaded post-holiday blues.
5. Switch on your 'out of office'
When it's finally time to log off, remember to set an 'out of office' message on your email and voicemail to remind clients that you're taking a break. Consider updating your business hours on your website and social media channels too.
Once you've completed these steps, it'll be time to put your feet up and begin your well-deserved festive break. Enjoy!