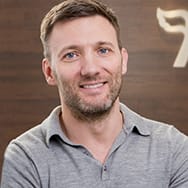 Roan Lavery
CEO, Co-founder
Forget retrospective navel gazing. Put your best foot forward and go forth and sell, you captains of industry, with our new Stock Management facility!
If you're in the business of selling stuff as opposed to yourself (ahem) then keeping track of stock is something you'll likely appreciate.
The new, simple stock management facility ties in nicely with your existing Price List. Simply add your stock items and track sales and purchases through invoices, bills and expenses.

See the Knowledge Base for more details on managing, buying and selling Stock.
Aged debtors and creditors
New Aged Debtors and Creditors reports have been added to the Accounting section, which let you see exactly who owes you, and who you owe.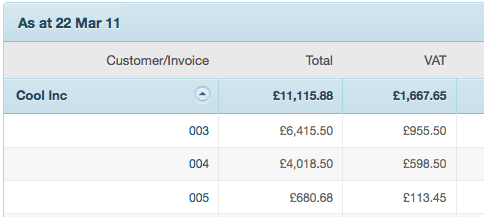 Think of Aged Debtors as a handy hit list of targets when it's time to send the boys round.
Conversely, Aged Creditors shows who you owe money to. Especially useful if it turns out you need to go 'on the lam' at short notice!
Not that we'd condone breaking kneecaps or doing a runner you understand.
Chrome web store
Our benevolent overlords at Google recently launched the Chrome Web Store, an online marketplace for web apps.
You can now install FreeAgent for Chrome via the Chrome Web Store, which will let you quickly access your FreeAgent account, just by selecting the icon on the new tab screen.
If you could see your way to adding a review or rating on the web store we'd be most grateful.
iPhone apps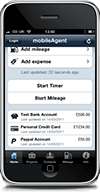 Like the first flowers of spring, we love watching the developer ecosystem around FreeAgent blossom, as demonstrated by the growing number of FreeAgent compatible iPhone apps.
Out of Pocket lets you capture expense receipts and upload them into FreeAgent, while mobileAgent also lets you quickly add timeslips.
The new kids on the block are iAgent and InvoiceAgent. Due out soon, both of these apps look fantastic, offering even more mobile features.
Now, who's going to make an Android app?
Other improvements sneaking in
You can now show Unbillable Time on your client Timesheet Reports. Which should make a few people happy :)
The bank statement upload "guess bank transaction explanations" checkbox now remembers its previous state.
If specified, the Billing Email will now be used by default when sending invoice emails. If it isn't specified, we'll use the standard contact email instead.
If you're feeling particularly reckless you can now Clear out all Data in your account, from a new section in Settings! Probably best to stay away from here if you've had a few drinks :)
When creating multiple journals, the form will now be pre-populated with sensible values.
Until next time,
Roan & The Team at FreeAgent.