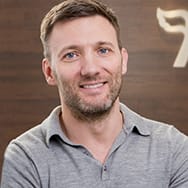 Roan Lavery
CEO, Co-founder
It's all about speeding up your workflow, with some new time saving features winging your way and a faster interface for building invoices and estimates.
All new invoice and estimate building
Some of you have said it takes too long to build estimates and invoices. For these 'time poor' individuals we've improved the way invoice and estimate items are added , speeding up the process considerably.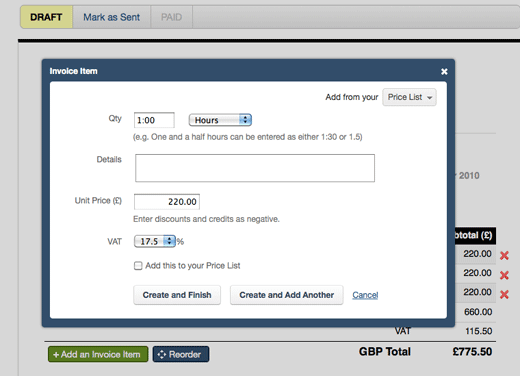 You can now add or edit invoice items via a pop up , or delete items directly from the invoice preview. We've run a battery of tests, independently adjudicated by Carol Vorderman, and can confirm that the billing process is now 4.35 times faster than ever before. Go try it!
Introducing your Price List
If you tend to sell the same product and service again and again, you'll find the Price List a real life saver. Simply define the items that you commonly sell (think 'Web Hosting', 'On-Site Training' or even 'Kitchen Sinks'), and these can be added instantly to your estimates or invoices.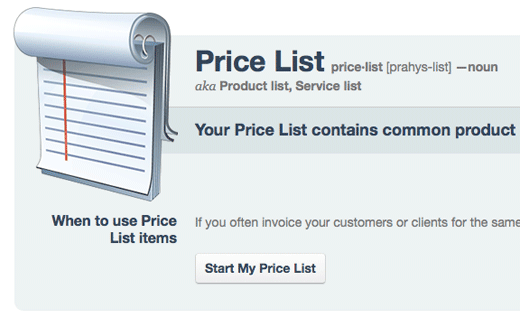 You can add items to your Price List as part of the normal Invoice creation workflow or view all Price List items from the Settings > Price List section.
Contact Statement of Accounts
We know how long some people have been waiting for this, so we're delighted to be able to finally release it: Statement of Accounts for Contacts.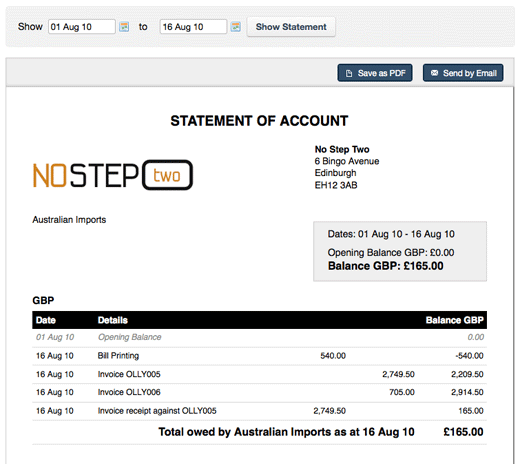 When you view a Contact you'll see a new Statement of Account tab. Just select the date range you want the statement to cover and we'll build the Statement of Account, which you can print as a PDF or send by email.
The statement covers invoices you've sent and any bills that are owed, and we even handle the weird and wacky situation where you've billed a client in multiple currencies. Worth the wait we hope.
Online VAT filing
After a successful trial period we're pleased to enable Online VAT filing with HMRC for our UK users.
Full details can be in our File your VAT Online article on the Knowledge Base.
Anything else?
Well, now you ask:
You can now add your Project name automatically to Estimates
You can now add an expense from the Project details page
We've added a referral notification system , but it's a secret and you'll need to find it out for yourself :)
We replaced your old referral links with shorter, snappier ones , which will make pimping your discount code that bit easier. Thanks for all the suggestions on Twitter everybody!
We've added support for Chartered Bank of Singapore CSV, the new Co-op CSV format and German iBank QIF format
We've added support for the Turkish Lira
And Finally
A huge thank you to everyone who nominated us in the .net magazine Awards 2010. FreeAgent made the shortlist in the Web App of the Year category , and we'd love your vote if you're that way inclined. Thanks!
Until next time,
Roan & The Team at FreeAgent.