FreeAgent Update - Accept Paypal Payment, Invoice Sequencing and More...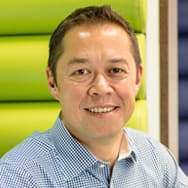 Back from our Hols!
OK, so probably we should have let you know we we're planning to take a short break from our normal release schedule. Sorry to those of you who felt unloved briefly.
But we're back now, refreshed and raring to go!
Here's what's new in Release 'Gattinara':
Accept Payment via Paypal
If you have a Paypal account in FreeAgent, you can now include a clickable link in your invoice emails to allow your clients to pay you more easily. Even if they don't have a Paypal account themselves, they'll be able to pay using a credit or debit card online.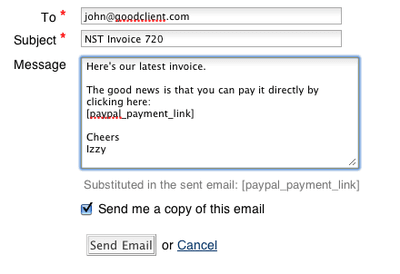 Just include the text [paypal_payment_link] in the email text and it'll automatically be substituted with a link to take the client directly to a paypal payment page for your company. As you can see from the screenshot above, FreeAgent reminds you what that text should be underneath the form itself.
This is what your client will see: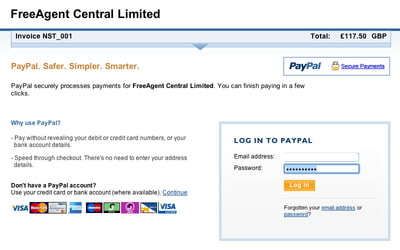 That transaction will be included of course in the statements you download from Paypal.
Watch this space to see FreeAgent introducing even more streamlined ways of working with Paypal. 'Nuff said…
Flexible Invoice Sequences
By wildly popular request, we've improved the way FreeAgent generates invoice reference sequences for you.
Previously we assumed that you usually used project-specific sequences, but we now support a company-wide global sequence, client-level sequences and project-level sequences. You can even run simultaneous sequences at different levels if you want to.
To achieve this, there is a new checkbox in the client details for client-level invoice sequencing and in the project details for project-level invoice sequencing.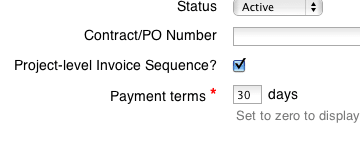 If you choose project-level sequencing, FreeAgent generates a reference for the next project invoice you create based on the latest dated one for that project, or suggests the start of a sequence for you (which you can edit of course).
Client-level sequencing operates across all projects for that client which don't already have project-level sequencing selected. If neither are selected for a given client/project combination, a company-wide global sequence is used.
You can start each sequence however you like - so for example if you edit your first company invoice to be 00234 then the global sequence will start from that point. That's handy if you don't want to let on you've just got up and running, or if you're following on from invoice references you used before FreeAgent.
You should note that global sequencing is now the default , since that's what advice from accountants tells us is most likely to keep the tax inspector happy. It's also the way most of you are currently doing it, despite us making it hard for you previously!
You can do what you like, though, as long as it's consistent at each level, and so if you do want to get automatic client- and project-level sequencing you'll just need to go in to tweak the details of the relevant client or project.
Manual VAT/Sales Tax Amounts
You can now specify the actual amount of sales tax or VAT in your bank explanations or expenses, which is useful if you've paid for a mixture of items which attract different rates of tax.
Just select 'Amount…' from the Rates drop-down list and enter the appropriate sales tax amount in the box which appears.

## Friendly Time Formatting
FreeAgent now shows you tracked time in a much more friendly HH:MM format, so you now see 1:15 rather than the decimal 1.25.
You can still enter time in the decimal format if you like, and actually you can also enter '3h30', '25m' or use phrases like '15 mins' if you want - it's all automatically converted.
Invoice items with units of Hours on your invoices also use this new display format.
Kibbles'n'Bits
Added 'Select All' and 'Select None' links for the Client Import screen.
Updated to the latest version of the software framework we're using to build FreeAgent, which will make the app even faster.
Tidied up our Excel Data Export (Home > Export) to correctly format dates and numbers.
Fixed a problem with the wrong user (from the same company) appearing in the Accounts.
Fixed a problem where cached accounting calculations were not removed when certain expenses were entered.
Fixed a problem where PAYE/NI account balances would be wrong if a transaction occurred on the last day of the previous period.
Removed the empty 'Cheque Number' box from the Dividend voucher - it was so, like, 20th Century (thanks Nigel)!.