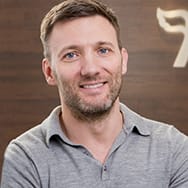 Roan Lavery
CEO, Co-founder
Managing your books just got a whole lot easier with the automatic import of bank transactions into your FreeAgent account.
Sometime back in the late Cretaceous period we announced that development had started on Bank Feeds. Since then, tectonic plates have shifted, civilisations have risen and fallen, and all the while, work has continued inexorably on Bank Feeds.
The year is now 2013 and the great news is the coming of Bank Feeds is now upon us. But is it such a big deal?
Yes, this is a big deal!!!*
Bank Feeds automate the process of importing bank transactions from your bank into FreeAgent. Instead of downloading and uploading electronic statements, just connect FreeAgent to your online bank account and we'll automatically import your transactions every day. It's a truly massive time saver, and one that removes a huge source of friction when managing your accounts.
We've actually had a link with Barclays Bank for some time, and the feedback we've had from people using this has been amazing.
To enable a wider wave of Bank Feeds we've partnered with Yodlee, one of the leading global providers of online banking solutions, who enable us to provide feeds for many different banks at a stroke.
Getting started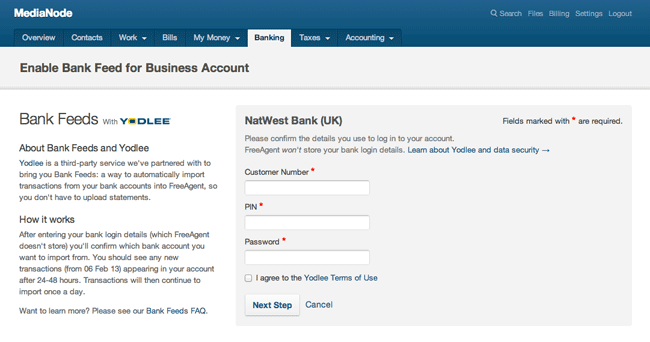 From your Bank Account page just select the Enable Bank Feed button.
When you set up a new feed you will need to enter your online banking login details. FreeAgent doesn't store these but Yodlee will securely store them in order to regularly import your transactions. It's important to note that this is all Yodlee are able to do with the credentials - there's no access to any other online banking functions.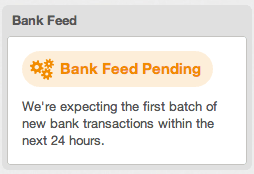 Depending on the bank you might be asked some security questions (like your cat's maiden name), and that's pretty much it. The setup procedure can take a while - up to 5 minutes - so there's time to watch the finale of Dirty Dancing again. Treat yourself.
Once that's done, you'll be notified that the feed has been enabled and you should start seeing transactions, going forward from today, imported into your account within 48 hours. You'll see a notification of the current status of the Bank Feed in the right hand column.
Which Banks are supported?
For the initial release we'll be supporting about 40 UK and US banks:
UK Banks
US Banks

Bank of Ireland - 365 online
Bank of Scotland
First Direct
First Trust Bank
ICICI Bank - Business
ING DIRECT Bank
Lloyds TSB Offshore International
NatWest Bank
NatWest Business Bankline
Post Office - Savings
Royal Bank of Scotland - Business Bankline
Royal Bank of Scotland - Business Digital
Royal Bank of Scotland
Standard Life
The Woolwich
Ulster Bank - Business
Ulster Bank

Bank of America - Bank
Bank of America - HRA & FSA
Burke & Herbert Bank and Trust
Burke & Herbert Cash Management Account
Chase Bank
Citizens Union Bank
First Trade Union Bank
HSBC Bank USA
ING DIRECT Bank
JP Morgan Private Bank
Regions - Cash Management
SunTrust Bank
The Union Bank Company
Union Bank (Vermont)
Union Bank and Trust (MN)
Wells Fargo (Commercial Electronic Office)
More will be added over time so if yours isn't listed then don't panic.
And now the bad news - if your online bank uses one of those password gizmos (called multi-factor authentication in the trade) then we won't be supporting these for the time being. This includes HSBC, but we're working on this.
Any questions?
Of course you do - that's only healthy, which is why we've put together a bunch of Knowledge Base articles describing how to set up Bank Feeds, and details about what is actually happening behind the scenes.
Take a good look through before you set up your feed.
Is this thing turned on?
If you can't see the option to enable Bank Feeds then don't worry. We'll be rolling this out gradually over the next few weeks, just to make sure everything is humming along nicely. So if you can't see it today then it will be coming soon, as we add more people and new feeds.
Until next time,
Roan and the team at FreeAgent
* And I'll use exclamation marks with reckless abandon to prove it.