Hack to the future: how hack days inspire creativity at FreeAgent
If you're not familiar with the concept, hack days are when everyone in a tech company takes a short break from their usual schedule to work together on exciting, ad hoc projects that they're passionate about. At FreeAgent we have hack days twice a year, as they're a great opportunity for the team to work with people they might not normally work with, on fun, creative projects.
This year we had a record number of projects - 34! Everyone from engineering, design, product management, business development, support, people ops and comms, banded together to form highly skilled hack teams.
With projects ranging from Bitcoin support, to a 'Weakest Link' style product training quiz, it's safe to say that all of the projects were pretty impressive, but only three could scoop the coveted prizes on offer.
Founder's Award 🏅 Scott & Marcus - rebrand
Two of our super talented Comms Designers Scott and Marcus teamed up to play around with FreeAgent's branding. They experimented with evolving our current logo by using shapes inspired by data and charts. For just two days of work, it's pretty impressive stuff! Now that they've done this early exploratory work, we have some great ideas for a potential new lick of paint in the future.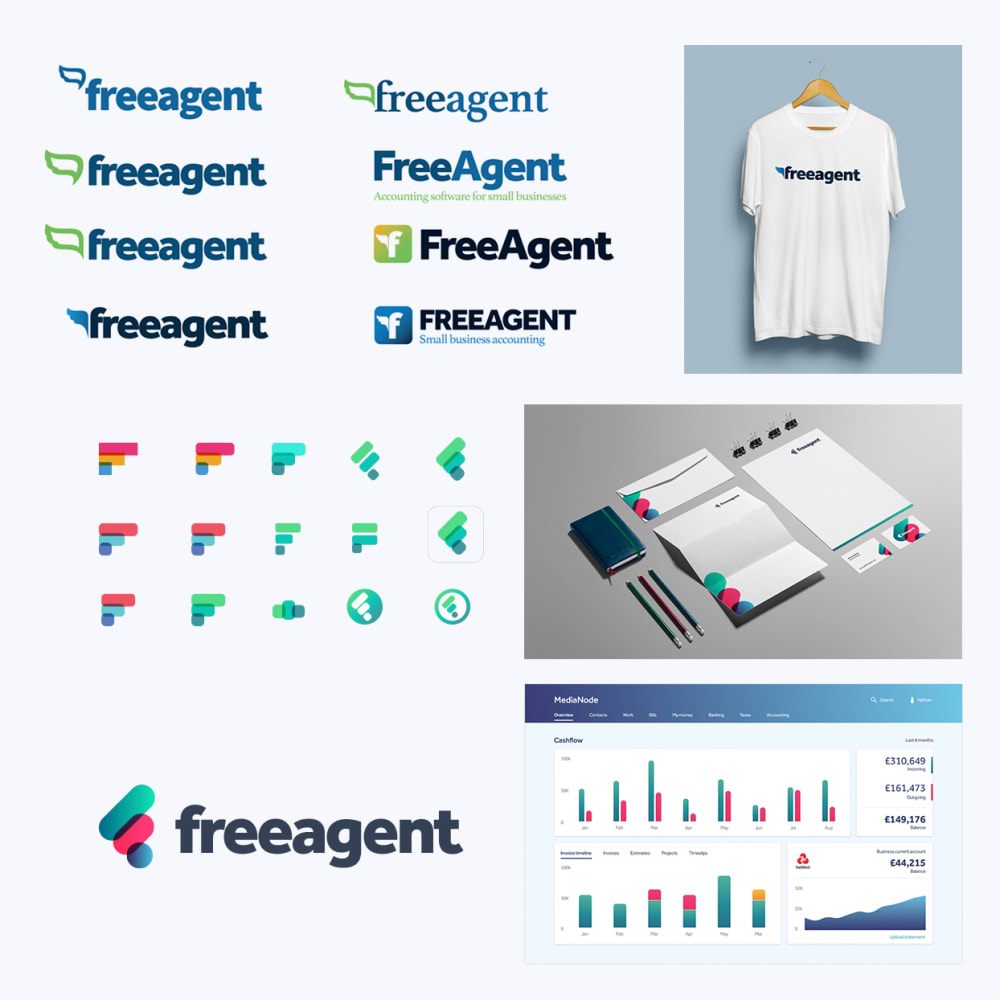 Best Presentation 🏆 Hayden & Andy - chatbot
This "best presentation" prize-winner featured a pretty hot topic - using machine learning to create a FreeAgent chatbot!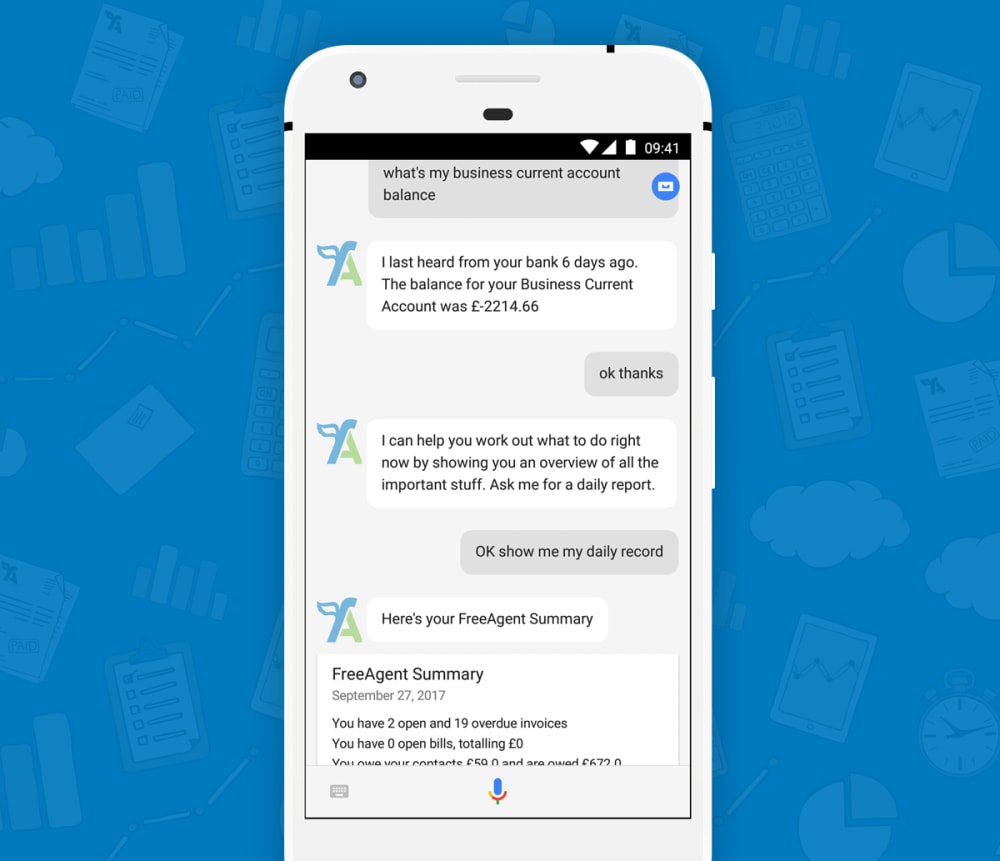 Software Engineer Hayden and UX Designer Andy teamed up to create a FreeAgent virtual assistant, to experiment with how our users might interact with the FreeAgent app through voice or instant messaging. Hayden used a third party API to assist with phrase recognition, and Andy undertook user research on Twitter.

Following this feedback, Andy defined three basic categories of interaction: basic ("What's my bank balance?") report (aggregating data) and above & beyond ("Has Laura paid her latest invoice?"). They also had fun with different tones of voice - how could they make FreeAgent sound fiscally authoritative, yet playful and friendly? Who knows, you might find a spookily sentient FreeAgent bot giving YOU financial advice one day soon…
People's Choice Award 🏅 Adrian, Tom, Karen, Aleks & Victoria - late payments video
Last but not least came the coveted People's Choice Award (measured by a very scientific applause-o-meter, if you must know). Adrian, Tom, Karen, Aleks and Victoria brought their blend of comms and design expertise together to create this fantastically funny video about late paying clients. They used some recently acquired stats around the toxic late payment culture that's currently affecting freelancers. In only two days, they drafted a script, sourced images, a soundtrack, a voiceover artist (that might have been Adrian…) and edited the whole lot together - pretty impressive!
They're currently hard at work putting the finishing touches to this hastily assembled project - so keep your eyes peeled on social media for this wartime-inspired (future) classic.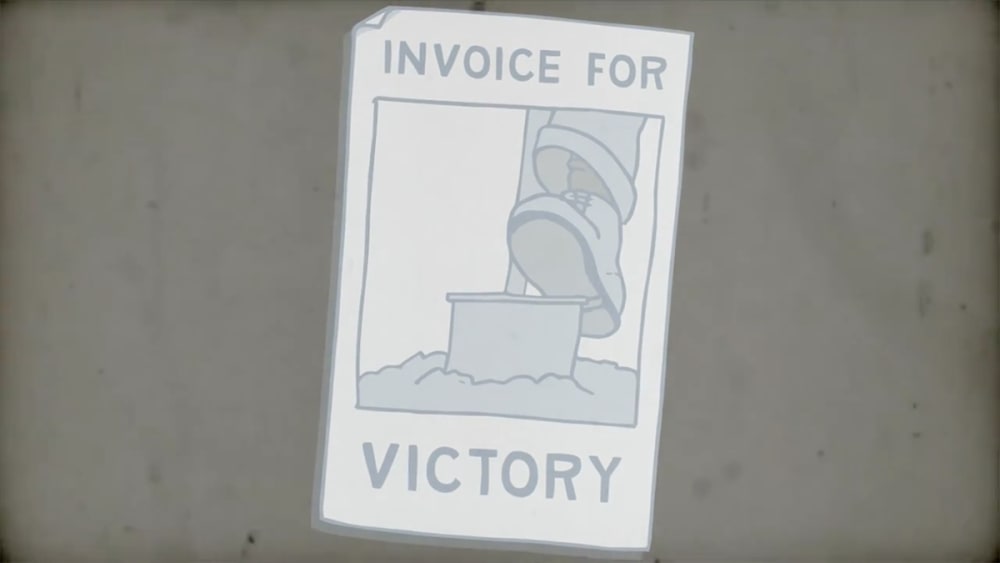 That's a wrap! 🗞
Now - this might not strictly be a hack days project - but myself, Alex and Rory found that our original hack days projects wrapped up much sooner than we had planned. After some quick thinking, we decided to use the skills we had learnt in our video training workshop with the marvellous Erin Maguire the previous week. In the time we had left we shot and edited a short film, trying to get across the spirit of the office here at FreeAgent, and how much fun both hack days, and working here in general, are!