Making Tax Digital software explained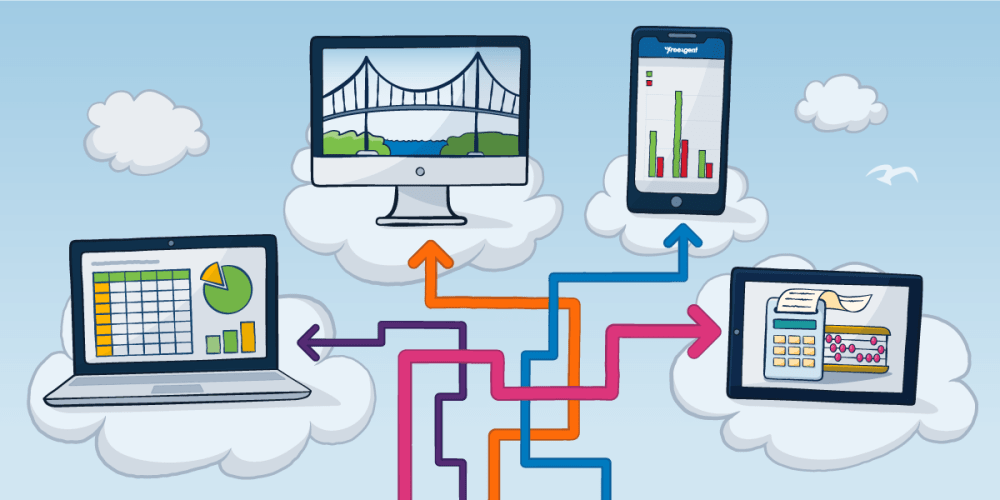 If your business has VATable sales above the VAT threshold, you're likely to be busy making sure that your first VAT return for the quarter starting on or after 1st April 2019 complies with the new Making Tax Digital for VAT rules. The main thing you need to do is transfer your business books to MTD for VAT-compatible software - but do you know what your choices are?
This post looks at the available options for affected businesses and explains why cloud accounting software like FreeAgent is the best Making Tax Digital software solution for small businesses like yours.
Why do you need MTD software?
If your business is VAT-registered with VATable sales above the VAT threshold, your first VAT return for the quarter starting on or after 1st April 2019 will have to comply with the new Making Tax Digital for VAT rules. You'll also need to store any records of transactions affected by VAT digitally and maintain a digital link between your VAT accounting records and HMRC's systems.
MTD for VAT is the first stage of the government's Making Tax Digital initiative which aims to digitise tax affairs for everyone in the UK. Income Tax and Corporation Tax are next on the roadmap and could come under the scope of the initiative as early as 2020.
Spreadsheets and Making Tax Digital
Many UK businesses still manage all their finances using basic spreadsheets. While spreadsheets are great for some tasks, they're not the best tool for managing something as important as your business's bookkeeping and accounting. On top of that, when MTD for VAT comes into effect in April, spreadsheets simply won't be a viable option for VAT-registered businesses.
On their own, spreadsheets are not compatible with Making Tax Digital as they can't submit your business's financial records relating to VAT in a way that's compliant with MTD legislation. MTD for VAT requires businesses to file VAT returns directly to HMRC via a digital link – with a basic spreadsheet this is impossible.
You may have heard that spreadsheets can be compliant with parts of the new legislation, but this is only true if the spreadsheet is combined with specialist 'bridging software' that enables relevant data to be passed to and from HMRC.
Bridging software and "MTD spreadsheets"
Simply put, bridging software creates a digital link between your spreadsheet and HMRC. This link allows the VAT data in your spreadsheet to be submitted digitally. However, bridging software does not fulfil the other requirements of MTD, such as digital record keeping and maintaining digital links between your accounting records and HMRC. You may also have to do some extra work to get your spreadsheet data into the format required by the bridging software.
MTD-compatible accounting software
The only solution that will ensure your business's VAT affairs are 100% compliant with the new legislation is to use accounting software that HMRC has recognised and pre-tested with their new MTD systems.
At FreeAgent we've been working closely with HMRC to ensure our software is ready and we've already made over 200 successful MTD VAT submissions as part of HMRC's MTD pilot programme. Back in July 2018 we were delighted to be announced as one of just a handful of accounting software suppliers supporting MTD for VAT, which came as no surprise considering we've been submitting VAT returns to HMRC on behalf of our customers for the last eight years!
The best Making Tax Digital software for your business
It's up to you to find the best MTD software solution for your business before the deadline. Why not start with a 30-day free trial of FreeAgent to see if it's the right fit for you?
Disclaimer: The content included in this blog post is based on our understanding of tax law at the time of publication. It may be subject to change and may not be applicable to your circumstances, so should not be relied upon. You are responsible for complying with tax law and should seek independent advice if you require further information about the content included in this blog post. If you don't have an accountant, take a look at our directory to find a FreeAgent Practice Partner based in your local area.