What's it like working in the FreeAgent support team?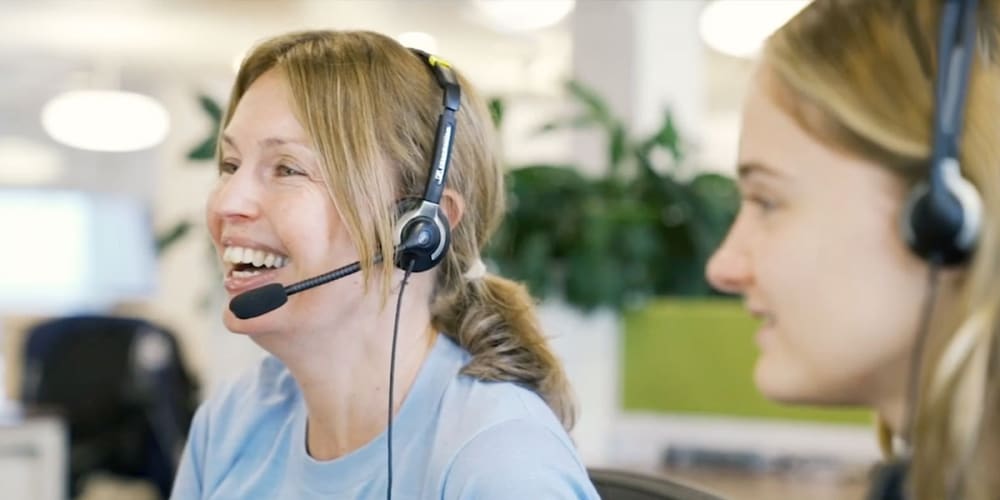 If you've ever spoken with FreeAgent's support team, you'll know that they're not quite like any other support team. Not only do most of the team have professional expertise in accounting or bookkeeping, but they also go above and beyond to help FreeAgent customers (just take a peek at our TrustPilot reviews to see what we mean).
We sat down with one of our talented support team members, Kirsty Robertson (pictured on the left), to find out more about her role at FreeAgent.
Hi Kirsty! What do you do at FreeAgent?
I'm a Senior Support Accountant, having joined FreeAgent as a Support Accountant a few years ago. I help our users with any questions they have about using FreeAgent from how to categorise their utility bills to understanding their Corporation Tax.
What did you do before coming to FreeAgent?
A complete mixed bag! I have a Textile Design degree, but after I graduated I moved to France and spent seven years working in a ski resort. In between ski seasons, I would work for a financial data company.
Then I moved back to Scotland and bought a hotel, complete with pub and restaurant. It was while running my own business that I started bookkeeping, which led to me becoming a self-employed bookkeeper.
Do you have any accounting qualifications?
Prior to joining FreeAgent, I didn't have any accounting qualifications, but I did learn a lot whilst running my own business and working as a bookkeeper. When I started at FreeAgent, they sponsored me to study for my AAT Level 3 qualification and doing this really helped both my knowledge and confidence. Currently, I'm studying for AAT Level 4, again sponsored by FreeAgent. There's no pressure at all on the support team to study, but the opportunity is there if you want it, which is great!
What attracted you to apply for a role at FreeAgent?
I was relocating to Edinburgh and wasn't really sure where I'd fit into the job market here. I had a fairly even split of customer service and accounting experience but, as one of the recruitment consultants I spoke to said: "You're the least accountant-y accountant I've ever met", so I suspected I wasn't quite the right fit for working in a practice!
Then I met a recruitment consultant who said he thought I would be a great fit for FreeAgent. He told me about the role and about the culture, and I couldn't quite believe my luck. It seemed like the perfect combination, bringing together the customer service and accounting aspects of my previous experience.
The more I heard about the role, and the company, the more I wanted to be a part of it. When I came for my first interview I was completely sold. The culture here, and the office environment, is great. Everyone is so friendly. There's a real sense of pride in the work and I wanted to be a part of that.
What do you enjoy most about working at FreeAgent?
Definitely the people. Everyone at FreeAgent is lovely and it's great being a part of such a nice, supportive team. 
I also love the fact that we're encouraged to continue to develop career-wise but without feeling any pressure to do so. Opportunities are there for the taking, if you want them.
Additionally, there are lots of benefits and perks, ranging from private healthcare to free fruit, snacks and, of course, the beer fridge! Overall, FreeAgent as a company cares about each employee, and that's great to see.
Any advice you'd give to someone considering applying for a role in the FreeAgent support team?
Working in the support team is challenging but really rewarding. We have a great team of people here and we all work together to ensure that FreeAgent users have the best possible experience when contacting us. We all take pride in our work and continually strive to maintain a fantastic level of service. If you love learning and get a lot out of helping other people, then this might just be the perfect job for you. 
If you're interested in joining FreeAgent's support team, check out our current vacancies.