9 tips for eliminating time-consuming tasks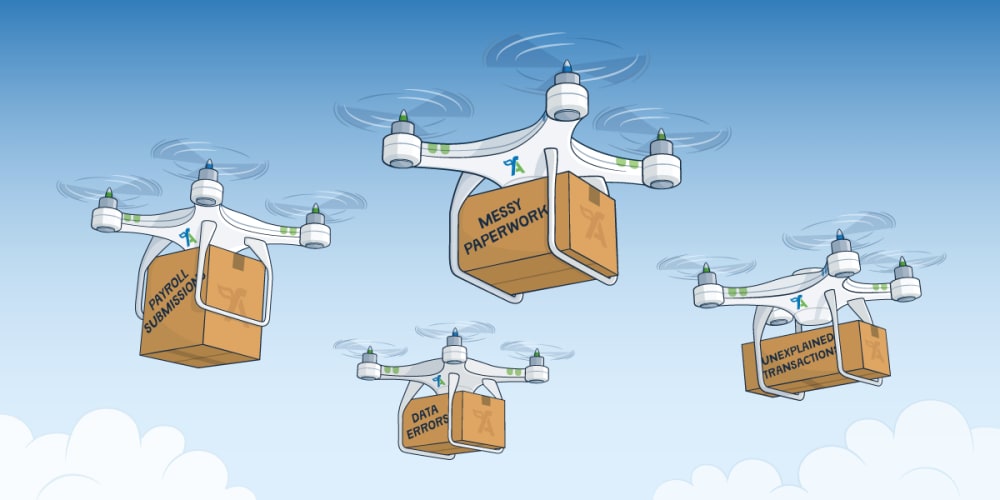 From analysing bank transactions to chasing client information, there are some tasks that just seem to absorb more time than others. While you may want to dedicate more hours to helping your clients grow their businesses, it's all too common to find that your schedule is full of day-to-day bookkeeping and admin tasks.
The good news is that by implementing the right technology and updating your processes, you may be able to reclaim some of those hours. Here are our top tips to help you eliminate some of your most time-consuming tasks and save time on others so you can focus on what's most important to you and your clients.
1. Review your processes
Investing time in creating efficient processes for recurring tasks could reduce how long you spend on them in the future. Workflows and checklists for tasks such as client onboarding could help you streamline the processes and make them easier to repeat next time.
2. Avoid email tennis
Regular client contact is a wonderful thing but batting emails back and forth can really eat into your day. If a client needs additional information or support, consider setting up a meeting to help with their queries. A quick video chat could be far more time-effective than a lengthy email conversation. Alternatively, consider setting regular 'deep work sessions' during which you avoid checking emails and focus on completing key tasks instead.
3. Consider outsourcing some of your tasks
If you find that the day-to-day bookkeeping and admin work makes it difficult to focus on the services you want to prioritise, it might be time to consider outsourcing certain tasks. For example, if your social media channels have become an important source of new business and require a greater investment of time, you may wish to think about hiring a social media expert to maintain them for you.
4. Say goodbye to messy receipts
Cloud accounting software can make dealing with receipts a less messy process. Using 'Capture for Later' on the FreeAgent mobile app, clients can snap and save their receipts while they're on the go so that you can deal with them later - no more waiting for hard copies.
5. Pinpoint data-entry errors accurately
Correcting errors that clients have made in their accounts is an unavoidable task, but a comprehensive record of your clients' changes can make the process less time-consuming. The FreeAgent Audit Trail report allows you to see a history of the changes that have been made to certain transactions so that you can find and correct any mistakes quickly and easily.
6. Keep Open Banking open
Open Banking makes it easier to import financial data into accounting software, but clients need to reconnect and re-consent their bank feeds every 90 days. The task of reminding your clients to do this could cost you precious time - but FreeAgent can help.
As well as making it easy for clients to see when the deadline is approaching, the FreeAgent mobile app allows your clients to re-consent their bank feeds on the go. Even better, clients who re-consent their Open Banking bank feed via the mobile app can do so using facial or fingerprint recognition instead of having to re-enter their bank details.
7. Make unexplained bank transactions a thing of the past
Encouraging clients to use the FreeAgent mobile app to explain their bank transactions while they're on the go could save you some serious time. Our data shows that practices have to explain just 14% of bank transactions for clients who use the mobile app, compared to 47% of bank transactions for clients who don't.
If you explain bank transactions for your clients, FreeAgent can help make the process quicker by allowing you to assign transactions to a nominal code in bulk.
8. Run payroll in a single click
If running payroll is a drain on your time, FreeAgent could help. You can submit payroll for multiple clients at the click of a button from within your FreeAgent Practice Dashboard. Once you've checked the figures, simply click 'Prepare and File Payslips' to run payroll and submit RTI to HMRC in minutes.
9. Cut out the chase
Chasing client information can be hugely time-consuming. In our 2020 survey, 51% of accountants said it was the least enjoyable part of their job*. While it might not be possible to eliminate the task of chasing client information entirely, you may be able to reduce how much time you spend on it.
Set deadlines with clients well in advance and follow up with automated email reminders. Cloud accounting software like FreeAgent can also help to reduce the time you spend chasing details. As well as making it faster and simpler for clients to share their data with you, it gives clients access to their financial information from wherever they are.
Find out more about how FreeAgent can help you save time on day-to-day tasks and focus on your client relationships.
*Statistic from FreeAgent's Accountant Monitor Report 2020