Keeping Records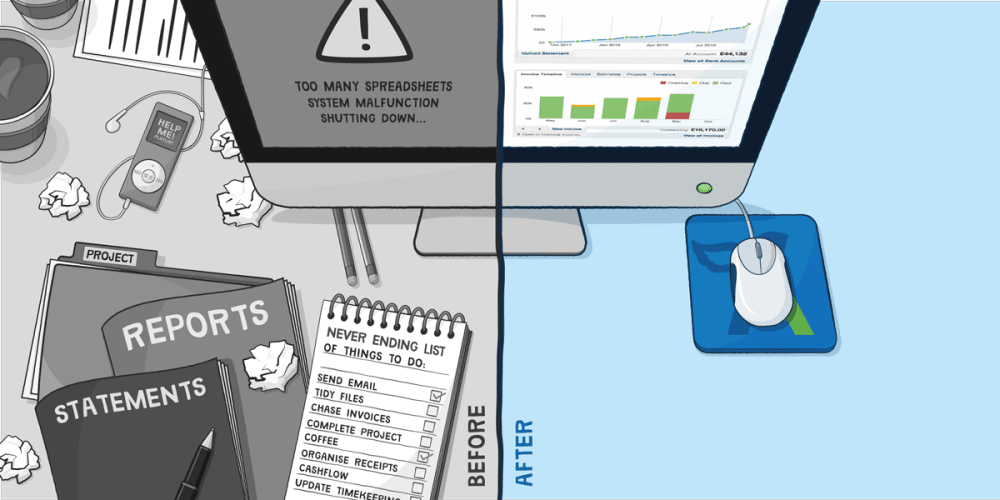 Being a freelancer conjures up images of running with abandon through summer meadows, the wind in your hair. Right?
Alas, reality crashes in. Usually within the first month of getting started. Being your own boss is the only way to be, but you do find out what those people in HR and accounts used to get up to before you went solo.
This is nowhere more true than when it comes to keeping business records.
Although there is a threat of a fine of up to £3,000 from HMRC if you fail to maintain adequate records, in practice this is only likely to be incurred if you are a persistent offender or deliberately destroy records to impede an investigation. That's not an excuse to be sloppy. HMRC takes a dim view of sloppy record keeping.
The bottom line is, you need to make sure you can justify your business income and expenditure, and the law requires that you maintain several years of records (six years for VAT and five for Self-Assessed Income Tax, for example).
Record keeping is dull but necessary. It is crucial, though, that you understand how the money is going in and out of your company otherwise your days in business are numbered.
So it's not so much the records themselves that are worthwhile, it's the information you get out of having them organised that's important.
Invoices
You need to maintain copies of all invoices you issue to your clients. This can be either as paper copies or electronically (either on your computer or online).
Ideally a tax inspector would prefer all your invoices to be numbered sequentially, with no suspicious gaps. However, as long as you have a consistent numbering method that works for you and can match up the income you receive against each invoice, you should have no problems.
Legally, each invoice needs to show your company name and address. If you are VAT-registered, the registration number should be shown and if you are a limited company, the company registration number should also be shown.
Expenditure
You should keep all receipts for business expenditure. If you can file these by tax year (or accounting year for limited companies) rather than all together in a plastic carrier bag, so much the better.
If you're using FreeAgent to track your expenditure against your bank account, and categorising each transaction as you go along, then these receipts will only be required in the event of an investigation.
Other Records
You'll need to have other records to justify the personal parts of your tax return, too. For example:
the P45s and P60s from your employer (whether you're still employed or are part-time/moonlighting), together with any payslips you've received,
personal bank and building society statements showing the interest received,
paper originals of dividend vouchers for any UK company dividends you were paid (especially, of course, your own limited company if you have one)
Record-Keeping in FreeAgent
FreeAgent provides a solution for money management which also ensures the appropriate business records are kept, and also shows you the big picture of what you own and what you owe.
You can download copies of invoices, dividend vouchers and complete accounting records anytime. Or you can give your accountant a login and password and they can see for themselves. This facility alone should help you save accountants time and fees because they can have access anytime you need them to check what's happening. In fact, we suggest it is a good idea to show your accountant what you're doing early on so they can get used to the system.
Useful Links