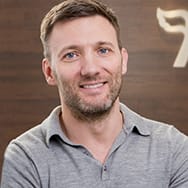 Roan Lavery
CEO, Co-founder
In this month's release we've implemented a slew of feature requests, as well as introducing some new views on project data and profitability.
Linking Expenses to Projects
You can now link Bills, Bank Account Entries and Expenses to projects without rebilling them. This means you can keep track of expenses incurred during a project without necessarily adding them to an invoice.

Also, you can now add a mark-up to your rebilled expenses and bills , and set this either as a percentage or simply choose the final rebilled amount.
Project Profitability
Linking and marking-up expenses and bills means we can start to analyse bottom-line profitability. The main Project screen has been redesigned to give you a better overview of key project data and show a simple profitability calculation.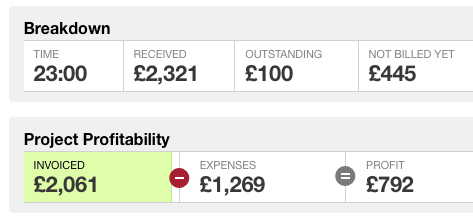 Currently this looks at Total Invoiced (Net) - Expenses (whether billable or unbillable) = Profit. In addition the Invoiced amount box fills up with green as payments are made against the invoice, so if a project has 50% payment then this will be half-full. Or half-empty, depending on your outlook in life.
This is very much a first step in a giving you a better understanding of project profitability. The next step will be introducing time into this equation allowing you to track active projected profitability on a timeslip basis. We think you'll like it.
Streamlined invoicing and estimates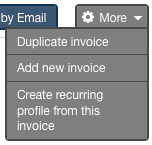 If you tend to send lots of similar invoices or estimates, you'll appreciate the new ability to duplicate these. Simply view an invoice and estimate and select duplicate from the drop down menu to make another one with identical invoice items and details.
The drop down on this page also lets you create a recurring invoice profile from the current invoice.
More morselettes
We've improved the display and printing of multi-page invoices
You can now filter Bills by Open or Overdue status
You can now collect Bills together onto invoices as you can with expenses
Support for Bills has been added to the API
We've added support for Oman Rials
We've fixed an issue where the wrong currency was being used for Paypal links in outbound emails
Until next time,
Roan & The Team at FreeAgent.