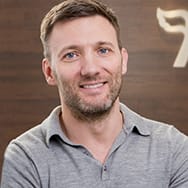 Roan Lavery
CEO, Co-founder
In the next few months we'll be launching a redesign of the FreeAgent interface. This isn't just a lick of paint; we're reworking the user interface to make it faster, more flexible and intuitive! But don't panic, we won't be pulling the rug out from under your feet.
Why redesign?
We've felt a need to address certain restrictions with the current layout for some time now. FreeAgent has developed a lot since it launched 4 years ago, but the core layout has stayed more or less the same.
Each new piece of functionality has been built in when required, and although we think really carefully (and usually debate endlessly) about the right approach to take, there are inevitably elements within FreeAgent that weren't planned for when we designed the interface back in 2007.
Additionally, we've got loads of ideas for improving the display of content and data, that just aren't possible with the current user interface.
So, our 3 key objectives for the new interface are:
Efficiency - the new design will make better use of screen real estate, with an even simpler, more intuitive and attractive interface.
Flexibility - the new design will allow us to introduce different layouts across the app, so we can provide richer data views, and work better across a range of screen sizes and devices.
Performance - the new design will improve performance which should result in a faster app for everyone.
Like with any redesign project, people are bound to have opinions, both positive and negative. We're keen to hear both, which is why we're talking about this now.
What's going to change?
In many ways if it ain't broke, don't fix it, so the way the app works will remain largely unchanged.
What will be different is how it looks, and the new layouts will give us the opportunity to provide better, faster views of your data.
New Overview
A big change will be the new Overview page. We'll be speeding it up and adding some amazing new functionality, which we're all really excited about. Here's a sneak peek: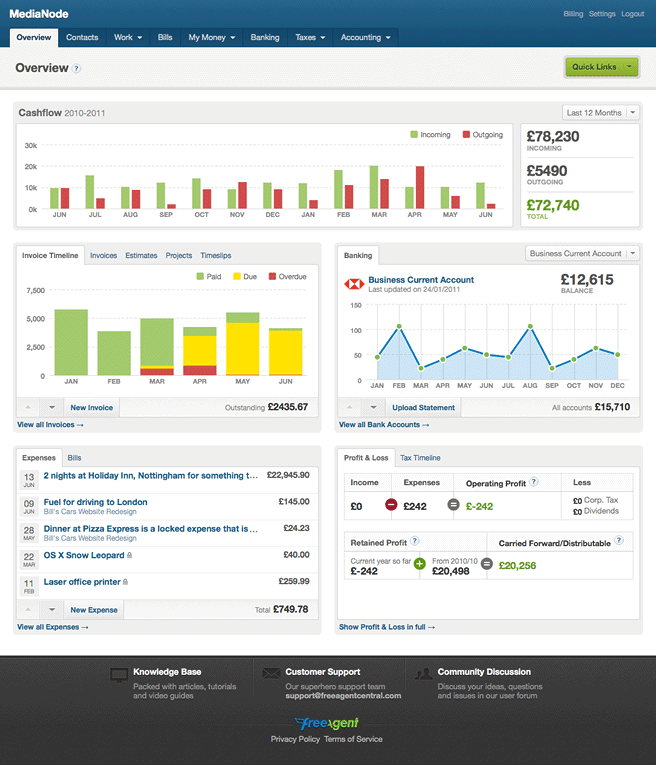 The new panel layout on the Overview screen and potential ideas for cashflow display.
It's very much a work in progress at present, and we'll talk more about this in an upcoming post, because it does deserve digging in to.
Streamlined header and navigation

The streamlined application header, main navigation and secondary navigation.
We've made the decision to remove the company logo from the header. It was a nice branding touch for some, but in practice these don't work well for many logos, the overall layout, and ultimately add nothing to the task in hand - doing your accounts! So, we've decided to axe them. Some people will no doubt feel strongly about this, but we believe it's the right move, and we'll stick by that.
Your logos will still be used on invoices and estimates of course!
Overall, the new header is more streamlined, meaning you get to the content quicker and with less distractions.
The omnipresent left hand column is gone, and the secondary navigation has been moved below the main tabs. This immediately frees up space, allowing for cleaner layouts, and the design will work better across a variety of screen sizes and devices.
New opportunities
With the often redundant left column gone we have the option of adding a supplementary column of information to enhance existing page views.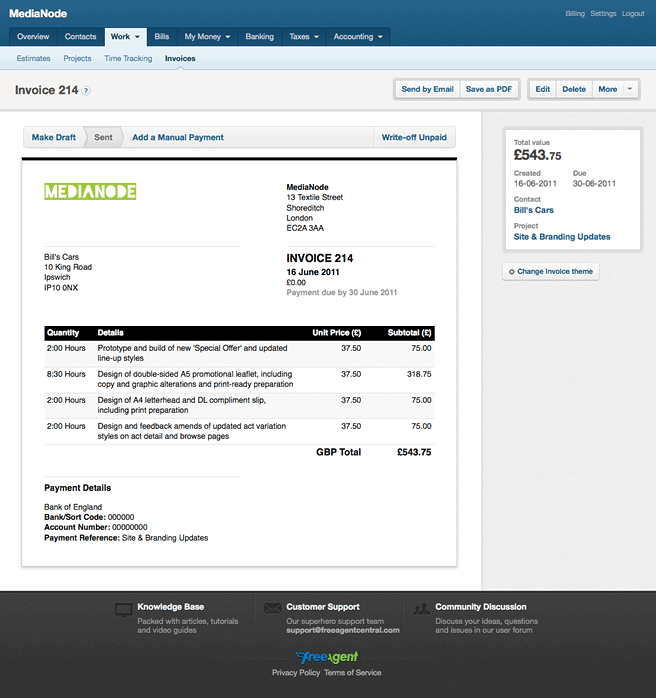 The new Invoice page with right hand column, which includes useful "meta" information.
This is one area we'll definitely utilise more in the future, but here's an example of how it might be useful on the new invoice page, where you'll now be able to see useful information about the invoice and select through to the associated Contact or Project.
Get involved
That's just a small teaser of what's coming with the new interface, but ultimately it's your app as much as it is ours, so we want to show you the new design as it comes together and get your input.
Over the coming weeks we'll be conducting beta testing with a small group of existing users. Initially we're restricting this to a manageable amount, but if you really want to get involved, and can commit to spending some time, then get in touch by emailing me at beta@freeagent.com.
We're also going to be running some hands on user testing sessions here in Edinburgh. If you're fairly local and would like to come to the FreeAgent offices to take part in a short user testing session, then email beta@freeagent.com. You'll get tea and biscuits, as well as a small fee for your time.