Our culture
Right from the very start, our founders Ed, Olly and Roan were uncompromising on their vision of creating the kind of workplace culture they'd always wanted for themselves - somewhere you can be yourself and do your best work.

Own it!
Be empowered to tackle big hairy audacious goals, while accepting that we're smarter together.
We relish accountability as our mandate for putting a dent in the Universe.

Enjoy it!
Life moves pretty fast. We work hard, and things get bumpy sometimes, but you should be enjoying the ride.
Stay curious, keep learning and be excellent to each other.

Be proud of it!
Sweat the details, be bold in your ambition and innovate by pushing the boundaries.
Above all, understand how you're helping the customer.
Somewhere you can be yourself
We want people to feel nurtured and at ease to be themselves, so they feel empowered and engaged to do their best work. We value our diverse team, and the variety of experiences and backgrounds only make us stronger.
How we work
We want to give everyone the opportunity to shape and influence where we are going. Open quarterly planning sessions keep us focussed on strategic objectives and our weekly Town Hall meeting means you always know what's going on across the company.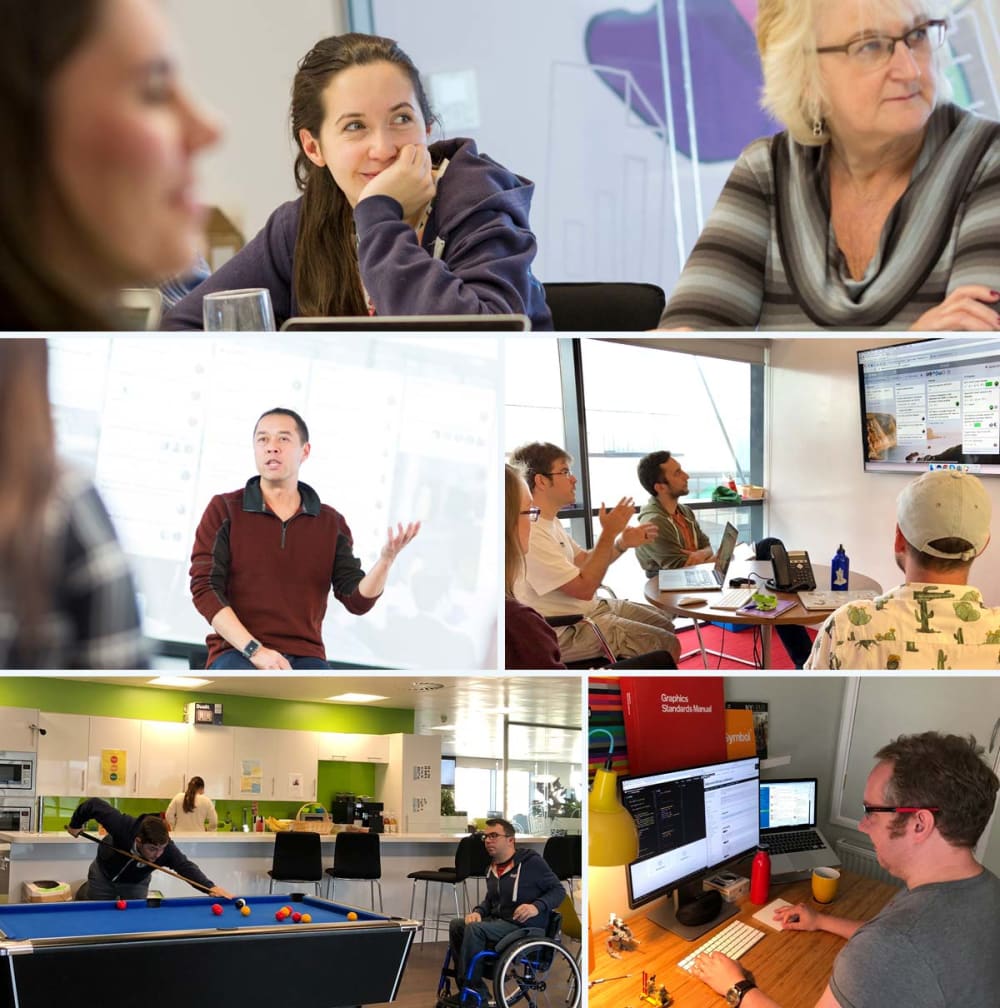 Where we work
If you work from our Edinburgh city centre office, you can enjoy our pool table, balcony, catered Friday lunches, drinks fridge, fresh fruit, coffee machine and much more! Our office is full of both social spaces and quiet places.
There are a range of FreeAgent clubs, activities (and Slack channels!) to help you get to know your colleagues better. From Monday running club and Wednesday yoga to our board games night and our #ot-cats Slack channel - there's plenty around here for you to get stuck into!
Remote working
Roughly 20% of our team work remotely and we make sure those colleagues feel really included. From daily video calls just for chit chat, to our huge variety of Slack channels - we make every effort to make everyone feel welcome.
Here's what the team have to say:

Janice Atherton
Head of Support
We genuinely believe in personal development and strive to help and encourage our people to be the best they can be.

Emily Coltman
Chief Accountant
Everyone who works here is so friendly and everyone's welcomed and accepted for exactly who they are.

Jessica Farmer
Managing Editor
FreeAgent's approach to career development has allowed me to build an amazing career and do things I'd never imagined I'd be able to when I first joined the company.