Our culture
Right from the very start, our founders were uncompromising on their vision of creating the kind of workplace culture they'd always wanted for themselves: somewhere you can be yourself and do your best work. Come and be a part of it!

Own it!
We relish accountability as the mandate for putting a dent in the universe.
Value impact over busywork. Focus on business goals but never lose sight of how you help our customers.

Enjoy it!
We're happier and more successful when we're collaborative, respectful and all voices are heard.
Enjoy the ride. Things get bumpy sometimes but be excellent to each other.

Be proud of it!
We stand out from the crowd through the quality of work we do.
Stay curious and don't settle for mediocrity. Sweat the details, keep learning and take pride in doing your best work.
Somewhere you can be yourself
Our values are the basis of our culture. We want people to feel nurtured and at ease so they can feel empowered to tackle those audacious goals.
We passionately embrace the diversity of our team, knowing the variety of our experiences and backgrounds only makes us stronger.
How we work
We want to give everyone the opportunity to shape and influence where we're going. Our approach is to communicate honestly and openly across the business. We like to trial new ideas, strive to learn from all of our mistakes and operate a no-blame culture in which we support each other at all times.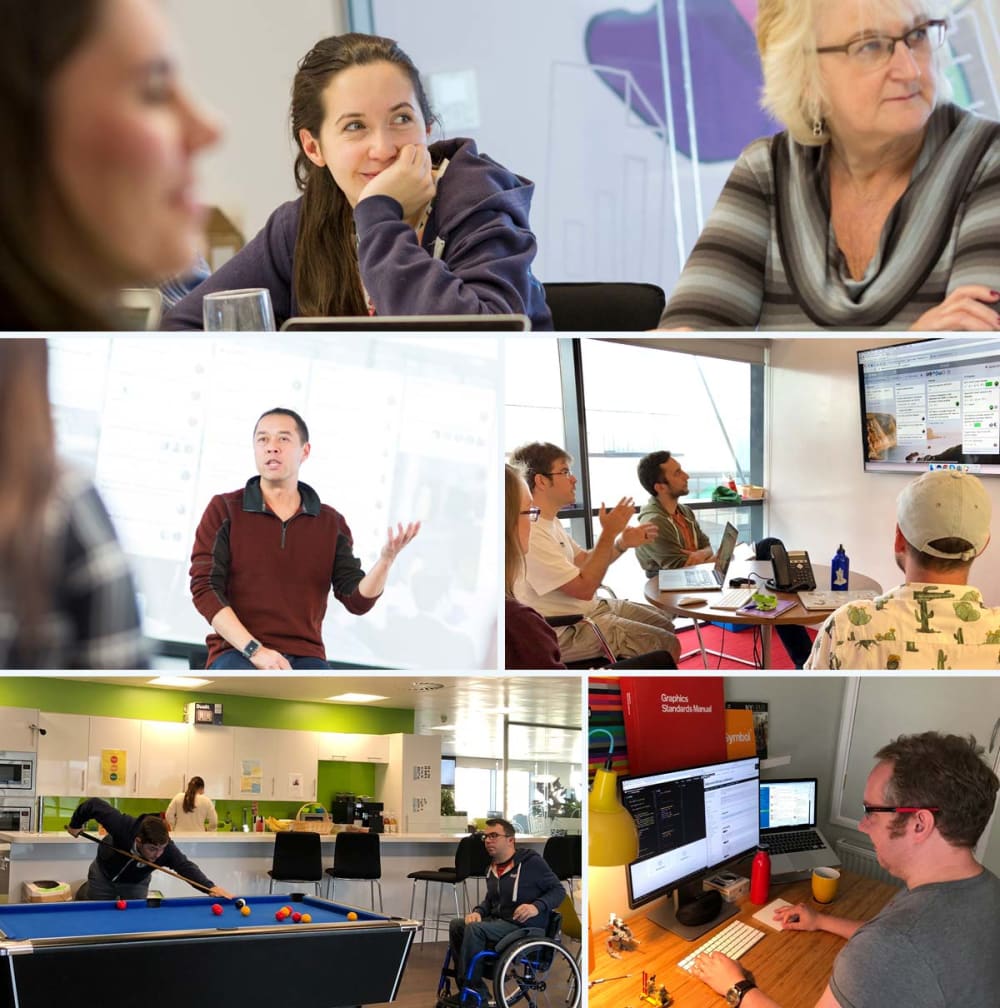 Our workplace
Our office is our hub and it looks great. But it's more than just pool tables, drink fridges and one of the best panoramic views in Edinburgh.
Our breakout areas help foster better teamwork and collaboration, while our wellness spaces provide a quiet place to chill out if you're having a busy day. We provide fruit and healthy snacks in the office, and run activities like board game nights and art sessions, if that's your thing.
We want everyone to feel looked after, in a space where they're comfortable.
Remote, but not 'remote'
Online connection and collaboration are built into FreeAgent's DNA. We embrace hybrid working and the flexibility this brings, and have people working remotely around the UK. If you're a remote worker, you'll be at the heart of your team through virtual catch ups, Slack chats and video meetings, so you should never feel isolated.
Here's what the team have to say:

Janice Atherton
Head of Support
We genuinely believe in personal development and strive to help and encourage our people to be the best they can be.

Emily Coltman
Chief Accountant
Everyone who works here is so friendly and everyone's welcomed and accepted for exactly who they are.

Ruth Mutasa
Account Manager
FreeAgent is a very inclusive and family-oriented business. Everyone is here to help each other out.