Client segmentation spreadsheet for Making Tax Digital (MTD) for VAT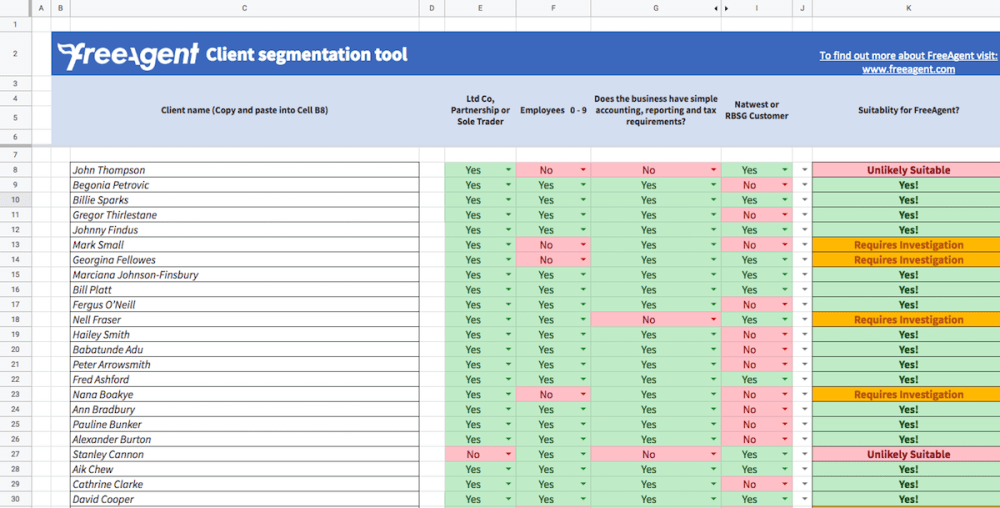 Looking to organise your clients for MTD for VAT? This handy spreadsheet template can help you to prepare by showing you which clients can be moved to FreeAgent's MTD-ready software and narrowing down the clients you need to take a closer look at.
Simply input a few basic details about each of your clients and the spreadsheet does the rest, saving you precious time and estimating how much work you need to do and how long it will take.
How to use the segmentation spreadsheet for Making Tax Digital
Step one: collate a list of all the client names that you want to categorise.
Step two: identify who they bank with.
Step three: on the 'Segmentation Tool' tab, copy the list into column B, starting at cell 8.
Step four: on the 'Segmentation Tool' tab, work through each client, selecting the appropriate response from the drop down in each of the columns E to I. If you are unsure, leave it as a yes.
Step five: click through to the 'Dashboard' tab. This will show you how many clients you still need to sort, an estimate of the time it will take and the resource required.
When the results are in, give your FreeAgent contact a call to put a plan and timeline in place or call us on: 0800 025 3800 to set up an MTD consultation.
Already segmented your clients? Take a closer look at how to set your practice and clients up for MTD for VAT using FreeAgent.