Take control of your career at FreeAgent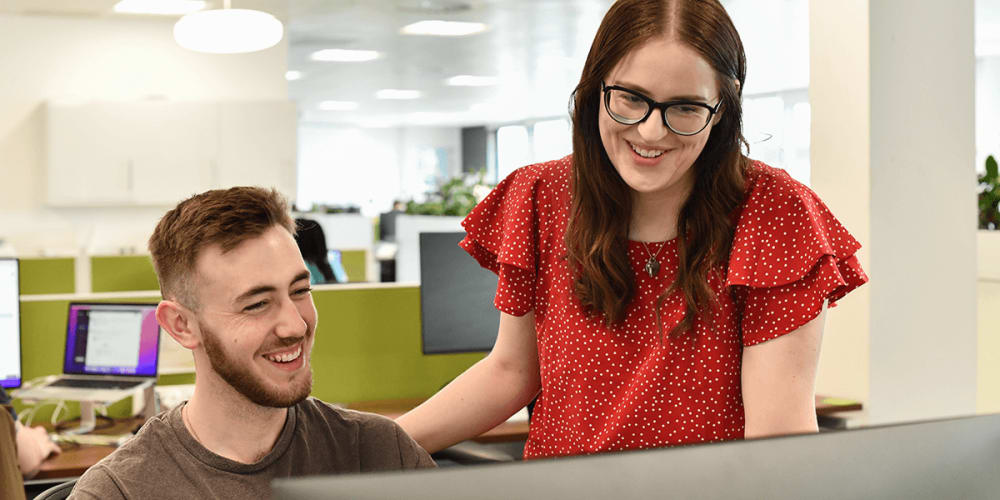 Each of us has our own picture of what a great career looks like. It could be hand-carving furniture in the depths of Wales, creating brand new dishes at a restaurant, or even writing blogs for a certain accounting software… But whatever it is we yearn for, we probably want to keep on learning and developing in our roles. 
Our mission is to make micro-businesses happier and more successful by putting them in control of their finances, and upskilling our people has a direct and positive impact on our customers. But we also know that great career progression actively makes FreeAgent a better place to work, because our people enjoy their roles and keep learning new things. 
Sound good to you? If you come to work at FreeAgent, here's how we can help you find and reach your career goals. 
The very beginning
When you join our team, we want to know how you'd like to grow from the very start. In your induction, you'll see lots of information about careers at FreeAgent - like what progression looks like for us and where you can learn more about your options. 
In your first couple of weeks, you'll also do a CliftonStrengths talent assessment. This questionnaire is really detailed and the results will give you some great insights into your strengths. As part of your onboarding, you'll have the time to do a little self-reflection on your specific strengths and how you can share these with your manager and your wider team.
"This is a really useful conversation to have with your manager, as you get to discuss what's going to make you happy in your role and where you do your best work," said Donald Lindsay, Chief People Officer. 
This is also a chance to start talking about your career goals - you might not have a five-year plan, but you'll have some ideas of what you enjoy doing and where you want to go. Share these with your manager - they can help! All FreeAgent managers are offered specific training to support their team members' development. They might put you forward for specific projects or suggest learning materials that will help you develop the areas you're interested in. 
You'll also know how much your salary will increase within your current role. All our salary bands are transparent and directly linked to performance, so you'll know what level you're expected to be working at. It also means you can see the scope for your pay to increase as your skills and knowledge grow. 
Personal development
Everyone's idea of their career looks different, and that's why it is so important to us that we can offer different paths for development. Not everyone wants to become a manager! We have dual career paths for our roles, letting people choose whether they want to manage people or focus on their individual contribution. Either way, they can find a place to shine. 
We use Personal Development Plans (PDPs) to help everyone set targets that they want to aim for. It can be tough to create a good PDP, but the People team provides templates and resources to inspire your ideas. Donald said: "We try to make sure these are living resources that are genuinely helpful - so many companies produce all these documents that no one uses, so we make sure we're getting feedback and updating these regularly." 
Each department has a 360 feedback process each year, to help you give and receive input from the people around you. This gives you a (hopefully positive) snapshot of how you're doing and the areas where people think you can grow. 
There are also many ways for you to take control of your development. Donald said: "Our aim is to give you the tools, opportunities and space to get where you want." If there's a particular skill you want to improve, you can set up peer learning sessions, get a mentor from within FreeAgent or explore videos and other materials gathered in our learning platform. It all depends on what suits your style of learning and goals the best. We even have six learning days a year where your work takes a backseat to help you pursue your development. 
Promotions and internal moves
One of your goals might be promotion - climbing the next rung and getting the chance to use all those skills you've developed. We review performance and promotions twice a year, so you'll know exactly when you can aim for that promotion. It gives you time to demonstrate that you're performing at the next level up, and your manager will help you gather examples that evidence this. 
Reviews can feel daunting, so we like to add reassurance with a clear structure. Your manager can use a review template to guide the conversations, normally by checking the levels and expectations set out for your role. 
Our review process is also about planning for the future. Managers will tell us their predicted timescales for promotions, so we'll know if you're looking to progress in the next six months. Donald said: "When a role opens up, we always look internally first to see who might be ready, or almost ready, for a new opportunity."
This isn't only within departments - we offer internal secondments to gain experience in alternative roles, and some permanent moves into new positions. For example, our Support team has had many people move to other departments over the years. 
Sometimes people need a little more support to make sure they have the same progression opportunities as everyone else, especially people returning from maternity leave or long-term illness. We offer internal coaching that aims to give confidence to anyone coming back to work after a long time away - and helps their managers welcome them back into the team smoothly. 
What's the next step in your career?
We aim to be a place that pushes people forward in their ideal career. As Donald said: "We're always trying to do better, investing in our workplace and our people." Maybe that's why people seem to stick around at FreeAgent - our turnover is consistently below industry average, but this is just a fancy way of saying that you'll meet people who have worked at FreeAgent for five, seven, or even 10 years!
Check out our vacancies to see if your next career move is waiting.