Change to FreeAgent emails - update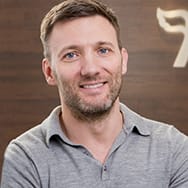 Roan Lavery
CEO, Co-founder
A few weeks back we announced some important changes to how the emails you send from your FreeAgent accounts are handled. Based on your feedback, we've introduced a new feature for those of you who want more control over emails.
As I explained previously we'll soon be switching the default behaviour of emails coming from FreeAgent so the From: address will be set to noreply@remailer.freeagentcentral.com. When your emails arrive in the client's inbox they'll look like:
From: Nathan Barley <noreply@remailer.freeagentcentral.com>
Reply-To: Nathan Barley <nathan@medianode.com>
To: Dan Ashcroft <dan@thecustomer.com>
Subject: Invoice for latest work
The Reply-To: address will be set to the user's email so any replies will still come straight to you.
We'll be making this change on Wednesday the 25th of May.
However, based on your feedback we've just introduced a new feature which allows you to continue sending emails from your own domain, if you have one.
How it works
Warning : the following feature should only be used if you're able (and confident!) enough to change the DNS settings on your domain. Getting this wrong will mean your emails are at risk of not being delivered!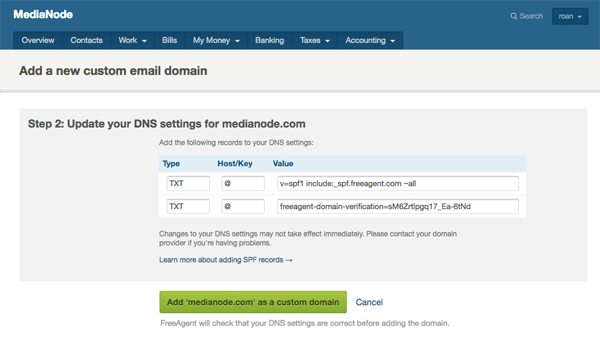 In the Settings > Sending Emails section you'll see a new "Custom Email Domains" tab. From here you can choose the domains you want to send emails from, and after you've added the correct DNS entries to your domain, check that everything has been set up correctly.
Once that's done you should be good to go!
We've written a comprehensive guide to sending emails using your own domain, so have a good read before getting stuck in.
Until next time,
Roan and the team at FreeAgent