3 reasons to fall in love with digital record keeping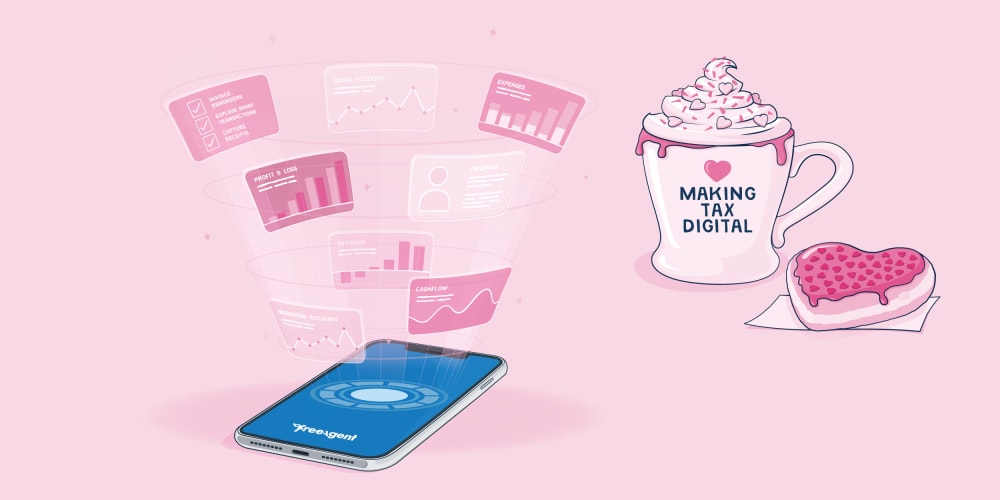 Valentine's Day is just around the corner and love is in the air. But if your business is one of the estimated 1.1 million affected by the upcoming changes to Making Tax Digital (MTD) for VAT, there will soon be a new love in your life: digital record keeping. 
On 1st April 2022, the government's MTD initiative will expand to require all VAT-registered businesses to keep digital records and file their VAT returns through MTD-compatible software like FreeAgent, regardless of their turnover.
If this change will mean a new way of working for you, it might feel daunting - but with a wide range of benefits for business owners, digital record keeping is something you may find yourself falling in love with. Here's why.
1. Less mess
MTD is the government's initiative to implement a fully digital tax system within the UK, which means saying goodbye to mountains of messy paperwork. 
HMRC says that in most cases it will accept scanned copies of receipts, and the FreeAgent mobile app is full of features designed to make it easy for our customers to capture and store images of receipts and record the data in their accounts.
2. Less stress
The government's aim is for MTD to "make it easier for individuals and businesses to get their tax right and keep on top of their affairs". In an evaluation of the initiative's rollout in March 2020, HMRC identified "fewer errors, increased productivity and better financial planning" among the benefits reported by those who had started using dedicated MTD software. 
If you work with an accountant, giving them access to your digital records through your accounting software lets them see your most up-to-date financial data in real time. This allows them to give you advice and guidance throughout the quarter - not just at VAT return time - and to work with you to address any issues as they arise.
3. More time
HMRC has reported that the most "digitally engaged" people save a day a week in administration. If you're tired of losing huge amounts of time on preparing your VAT returns, keeping your business records digitally will give you more opportunity to keep on top of your financial admin throughout the quarter. 
The FreeAgent mobile app allows you to complete many business admin tasks - such as recording expenses, creating and sending invoices and explaining bank transactions - while you're on the move. 
And when it comes to submitting VAT returns, FreeAgent takes the data you've entered throughout the quarter and populates your return automatically within the software. All you have to do is check the information over and then file the VAT return directly to HMRC with the press of a button.
Ready to fall in love? 
You don't need to be VAT registered to enjoy the benefits of digital record keeping. FreeAgent's accounting software is designed with all small businesses in mind, and many have shared their stories of falling in love with this way of working. 
It's also worth bearing in mind that the government's MTD initiative will soon expand again to require even more business owners to keep digital records. 
Making Tax Digital for ITSA (MTD for ITSA) will come into effect on 1st April 2024 and will require all self-employed business owners and landlords with a total business and/or property income above £10,000 per year to:
use MTD-compatible software to keep digital records 
make quarterly business income and expenses updates to HMRC
finalise the business's income in a final declaration, which will replace the annual Self Assessment tax return
Find out more about MTD for Income Tax.
VAT registered? Here's what you need to do before 1st April
If you're VAT registered and don't currently submit MTD VAT returns, you will need to register for MTD and then use MTD-compatible software, like FreeAgent, to submit the VAT return for your first VAT period starting on or after 1st April 2022. You will need to connect the software to HMRC and prepare your accounts before making this submission. 
Find out more about HMRC's Making Tax Digital initiative and how FreeAgent can help.
Disclaimer: The content included in this blog post is based on our understanding of tax law at the time of publication. It may be subject to change and may not be applicable to your circumstances, so should not be relied upon. You are responsible for complying with tax law and should seek independent advice if you require further information about the content included in this blog post. If you don't have an accountant, take a look at our directory to find a FreeAgent Practice Partner based in your local area.