5 key soft skills for accountants and bookkeepers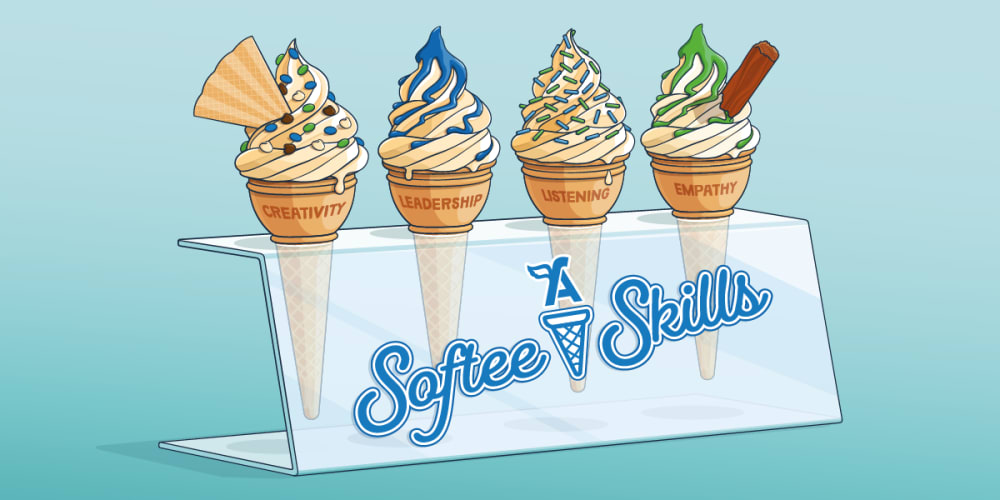 Soft skills could be the secret ingredient to your success as an accountant or bookkeeper. While technical knowledge is important, it's your ability to communicate, problem-solve and manage your time that could make all the difference for your practice. If you want to gain the edge over your competition, then read on to discover some must-have soft skills. 
What are soft skills?
Soft skills are personal characteristics, such as empathy, creativity and positivity, which can help you to work individually or in a team. These attributes can usually be strengthened with experience. 
On the other hand, hard skills are those typically obtained through education - for example, accounting, computer programming or learning another language. 
As automation rises in prominence in the industry, and accountants and bookkeepers increasingly focus on advisory services, you'll benefit from a strong set of soft skills to balance your technical abilities. Here are five to focus on.  
1. Communication
Whether you're discussing strategy with your colleagues or speaking to your clients about their finances, communication plays an essential role in being a successful accountant or bookkeeper. Think about the kinds of messages you want to share and whether they would be best suited to emails, phone calls, face-to-face meetings or virtual events like webinars. You could ask your clients how they prefer to be contacted as part of your onboarding process. 
While it's important to demonstrate excellent technical knowledge, it's just as important to have the knack for explaining finance or legislation in plain English. You can provide your clients with plenty of notice about important legislative changes, like Making Tax Digital for Income Tax Self Assessment (MTD for ITSA), to avoid any last-minute confusion. By setting out an efficient communication strategy, you can ensure they're well prepared for the transition.
With clear and open dialogue, your clients are likely to see you as trustworthy and approachable, enabling you to provide deeper insights and support for their business. 
2. Organisation
It may feel like there aren't enough hours in the day, with multiple clients to manage and tight deadlines to meet. That's why organisational skills are integral to being an accountant or bookkeeper - you'll need to prioritise, delegate and think ahead. 
One way to get organised and offer a better service to your clients is to break down your projects into clear, manageable steps. You can do this by creating a workflow to help you to automate repeatable tasks, giving you a bird's-eye view of your practice workload. It could be useful to set up alerts to keep on top of key client deadlines with cloud accounting software like FreeAgent. 
You'll also need to get organised for the introduction of MTD for ITSA, which will bring some significant changes to the way many of your clients store and submit their financial records. It could be useful to group your clients into segments based on their individual requirements. You can also book a free consultation with one of our experts, who will help you create an MTD plan that's tailored to your practice.
3. Problem-solving
With changes in legislation requiring new ways of working - and issues in the wider economy affecting clients' businesses - accountants and bookkeepers are facing some complex challenges at the moment. Good problem-solving skills will enable you to identify these problems, explore potential solutions and take action. 
This may involve a degree of creativity and the ability to look at a problem from different angles. You'll need to be equipped to pick up on anomalies and trends and advise your clients on how to proceed, whether it's helping them with their cashflow or improving their record keeping. A good problem solver will also look back at their solutions and consider what they need to repeat or adjust for next time. 
4. Active listening
If you want to build a good rapport and credibility with your clients, then the ability to listen to them effectively could make the difference in addressing their needs. Listening is a skill we often take for granted, but fully grasping your client's expectations and not asking them to repeat themselves further down the line could build a sense of trust.
Try to make eye contact and pay attention to your client's body language as well as your own, whether during an in-person discussion or on a video call. You can also indicate that you're paying close attention by rephrasing what you hear and asking questions to approach the subject from different perspectives. 
5. Adaptability
The accounting and bookkeeping industry is constantly evolving, so the ability to adapt quickly and calmly to any changes is an important skill to have. Being comfortable with taking on new things will give you the edge, whether it's getting to grips with legislation or keeping up with developments in accounting software. 
You might want to consider reviewing the tools you use in your practice and ensuring that you're making use of the latest technology. Automating your admin could give you more time to focus on advising your clients and growing your business.