FreeAgent Update - Second Sales Tax! Inline Timeslip Edit! More!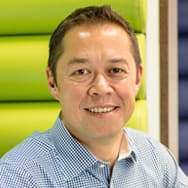 This week brings the post-prandial relaxation of release 'Vin Santo'.
Cantucci, anyone?
Universal Accounts: Second Sales Tax
We thought it was about time our Canadian cousins got a little attention.
We now support a second sales tax, so you can have both GST and PST handled correctly.
As with the Main Sales Tax, it's configured at Settings > Country Options , and you can set a number of rates (of which the first is selected by default on both invoices and purchases).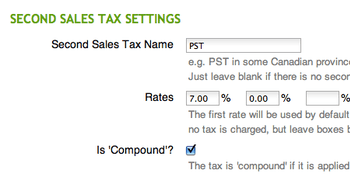 You can of course set the rates to be charged on invoice items, and also the rate paid on purchases. Although in that case the PST (for example) is not reclaimed, it is needed to work out the correct value for GST which is reclaimed.
The Sales Tax screen has been updated to show both GST and PST charged on Sales, and includes a reclaim figure for any PST charged on an invoice that was subsequently written-off.
FreeAgent also allows a Second Sales Tax to be 'compound' (i.e. applied on top of the GST-inclusive price) as is true for Quebec Sales Tax for example.
As with all our new stuff, do let us know at our customer service site Satisfaction if you have any feedback.
UK Accounts: Still using .co.uk?
If you're still using an address like nosteptwo.freeagentcentral.co.uk to access FreeAgent , you should to update your bookmarks to use nosteptwo.freeagent.com instead, otherwise you'll see a warning when you log on that the security certificate cannot be validated.
This relates to the encryption of data between your web browser and our servers, and just reflects the fact that the .com address ending is the one we're now using for all accounts.
Adding and Editing on the Timesheet
You can now add and edit timeslips on the timesheet page itself rather than being taken to another form page.
We think this is a much neater way of doing things, and we'll be rolling this out across other parts of FreeAgent over the coming weeks.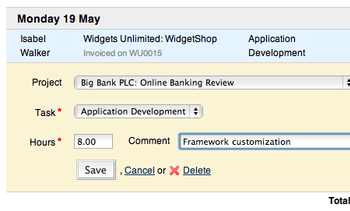 Give it a go - it's pretty cool!
UK Accounts: Zero Reclaim Rate for Mileage
If your company pays directly for motor expenses, you may not be able to reclaim mileage as an out-of-pocket expense.
However if you still want to rebill mileage to a client, you previously could not enter mileage just for that purpose.
No longer. Just select "Don't Reclaim, just Rebill" from the new Reclaim Mileage Rate bit on the form.

(Our Universal users have always been able to set a zero reclaim rate here, but UK mileage expenses are more complex than most).
New 'Commission Paid' Category
You can now assign a 'Commission Paid' category for your explanations and expenses, which will be reflected in the 'Cost of Sales' section in your accounts.
UK Accounts: New Tax Bands
We know nobody's perfect. But, honestly. Anyway, we've altered the UK Income Tax bands to reflect the latest shenanigans in Numbers 10/11.
You'll get accurate forecasts of income tax now, but if you run a payroll you're apparently advised not to change any tax codes or anything just yet.
We'll keep you up to date right here.
UK Accounts: Payroll for Everyone
Previously only UK Limited Company accounts had access to our simple Payslip calculator.
Now all company types can use it - payroll is setup under in Income > Payroll , the salary account is tracked in Income > Salary , and the PAYE/NI account in Taxes > PAYE/NI.
If your payroll needs are more complex than our simple calculator supports, you can as always use another payroll calculator (loads of which are available online, and some of which can also handle HMRC online submissions for you, too) and then edit your FreeAgent payslips to match.
Universal Accounts: Swedish Kronor
You can now use Swedish Kronor (SEK) as your native currency. Multi-currency invoicing is still slated for later in the summer.
Other Stuff.
Removed a spurious page title which was appearing on PDF Dividend vouchers.
Made some missing overview panel numbers reappear in that last-picked wheezy-boy of the browser world - Internet Explorer 6. Please upgrade!
Fixed some unreliability when dragging overview panels between columns.
Fixed a problem which sometimes arose when switching between Balance Sheet and Profit and Loss screens.