Top tips for growing your practice from Gorilla Accounting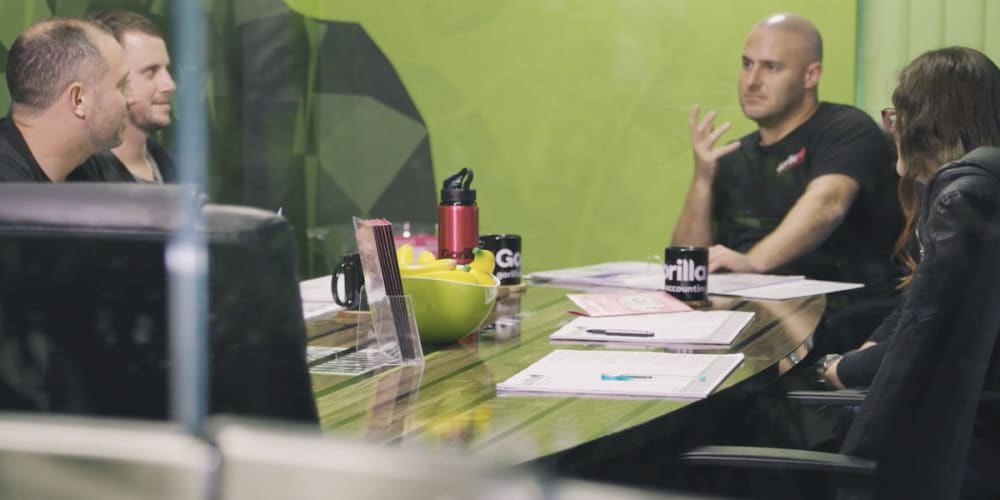 Dan Fallows and his business partners, Tim Murphy and Richard Manley, founded Gorilla Accounting in 2015 after they spotted a gap in the market for a modern, technology-driven accountancy firm in the freelance and contractor market. 
Seven years on, Gorilla Accounting has grown organically to around 3,500 customers and just under 60 members of staff, and generates 300-400 new enquiries every month. 
So how exactly did they do it? We caught up with Dan, now Gorilla's Managing Director, to find out the secrets to his firm's success and get his top tips for growing your practice.
Make digital marketing the cornerstone of your growth strategy 
According to Dan, the main reason for Gorilla's rapid growth is the focus they gave their digital marketing strategy. 
He says: "If you're looking to grow or generate leads, you need to make sure you have a strong digital footprint." That footprint needs to be made up of a mix of channels that help you target prospective clients through 'pay per click' (PPC) advertising and organic social media and SEO activity. 
If you're new to the world of digital marketing, Dan suggests recruiting a marketing executive or local agency. 
He says: "If you don't know where to start, there's a lot of help out there. Google local agencies who will understand your market. They can help pull some relevant strategies together for you based on your goals and your budget. You might decide to start with just one or two channels."
Dan also identified that Gorilla would be able to keep some marketing activity in-house. They use their social media channels to promote a softer side of the business, sharing profiles of employees and using it as a place to have fun with the brand. 
He says: "Even if you aren't able to hire an agency or permanent member of staff, there are freelancers who will be able to help with creating assets for social channels. As a minimum, every business should be on LinkedIn."
However, Dan warns that it isn't simply a case of handing money over to an agency and expecting to see results overnight. 
He says: "Early on I was guilty of thinking that you simply needed to put money in the Google machine and the leads would come. In reality, it doesn't work like that. It's taken time to refine our strategies and get the right people on board. I now make a point of asking to speak to their existing clients and see KPIs before I sign on with any agency." 
Create a watertight brand 
Gorilla gave careful consideration to their branding right from the outset. 
Dan says: "As a new business entering an established and saturated industry, we knew we needed a brand that would stand out. When you're selling professional services, there are only two ways to differentiate yourself: service delivery and your brand." 
Having a clear identity across every element of its business meant Gorilla was able to foster loyalty with its existing clients and be remembered by prospective ones. The team also frequently revisit Gorilla's branding to refine and improve it. 
Dan says: "Every year we review our brand guidelines and assess whether we need to change or update. This has helped us mature the brand over the years to what it is today."
Leave no stone unturned 
Another large part of Gorilla's success is down to what Dan describes as their 'aggressive' mindset when it comes to growth. The team aren't scared to take (highly calculated) risks with Gorilla's marketing and jump at any opportunity to grow the business. 
One of the most effective ways they do this is their approach to engaging with new leads. Gorilla's structure allows any prospects to speak to a dedicated member of the team within an hour of making an enquiry, which ensures no momentum is lost and the onboarding process can start as quickly as possible. 
Dan also monitors their online review platforms (Trustpilot, Feefo, and Google reviews) daily to spot opportunities for improvement to their own services. 
He says: "For me, you shape your offering and your business around what the client needs. It's amazing what we learn from our review platforms - we get so much value from them. Don't be scared of the bad reviews. Those are the important ones."
Ensure your business can adapt with the times 
Dan points to a recent shift within the industry, with clients now expecting more flexible and even higher levels of service from their accountants. While Gorilla is strictly a B2B (business to business) firm, Dan credits their B2C (business to consumer) mentality for their success in being able to meet these changing demands and grow their client base as a result. 
He says: "Over the last ten years, there's been a huge shift towards the commoditisation of professional services. Everything has become much more consumer focussed, so that customer journey has been key to growing Gorilla - and it still is."
Gorilla puts the customer at the heart of many of their business decisions. Gorilla spotted a growing number of social media influencers amongst their clients and appointed an in-house specialist to look after them. This service led to further word-of-mouth recommendations as well as free promotion on social channels, sometimes from clients with hundreds of thousands of followers.  
In 2018, after identifying that 80% of their client based worked in the IT industry, Gorilla launched a campaign to enter every new client that joined them into a draw to win one unit of the cryptocurrency, Ethereum. Whatever that unit was worth on 1st January 2019 would be given to the winner. Not only did this campaign help them stand out from competitors, it also generated a huge amount of marketing value. 
Making sure you have a clear understanding of your target audience - as well as their current and future challenges - will help you tailor and evolve your services to attract more clients and ultimately grow your practice. 
Partner with businesses that are digitally minded
Finally, when it comes to partnering with software providers and suppliers, Dan recommends making sure you choose ones that are digitally minded. 
He says: "Our first-ever full partnership was with FreeAgent. They pitched to us on Christmas Eve and we did the deal there and then and have never looked back. FreeAgent has been an enormous factor in the growth of Gorilla. A lot of the ideas I have - particularly around marketing and what's going on in the wider market - I'll discuss with our account manager at FreeAgent."