7 portfolio tips for designers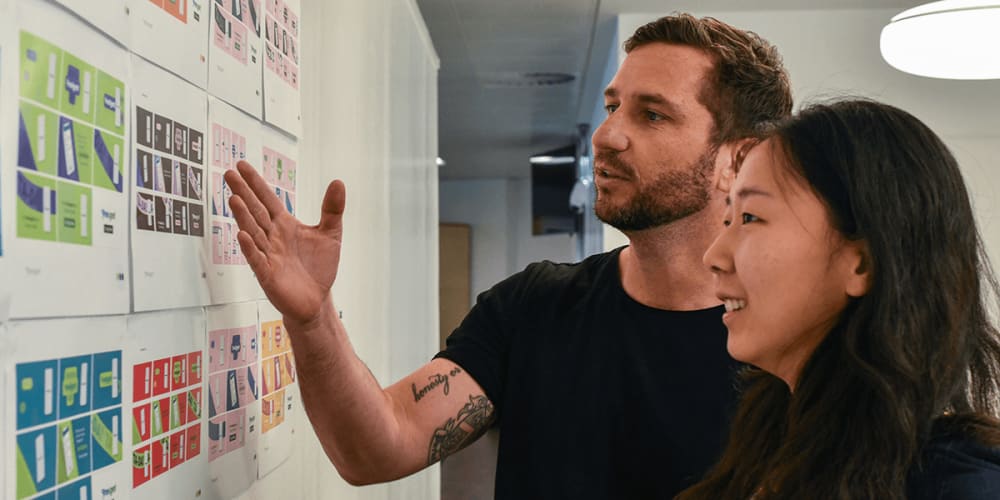 FreeAgent's award-winning accounting software wouldn't be where it is today without our super-talented team of designers.
As we continue to grow and develop our software, our design team grows with us. With this in mind, we sat down with Head of Product Design, Vicky Sinclair, and former Head of Creative Design, Alan Ainsley, to learn what top tips they have for designers on the job hunt - whether you're looking at a role at FreeAgent or elsewhere.
1. Never underestimate the importance of portfolios
A portfolio is invaluable for demonstrating your experience and design thinking skills to potential employers. It celebrates all the great work you've accomplished in your career to date. Portfolios help employers to see your process, design skills and potential. In many cases hiring managers won't progress an application without a portfolio. We're excited to see your work.
2. Update your portfolio regularly
Creating a portfolio can take a lot of time. Where possible, try to document case studies regularly or, at the very least, keep screenshots of your process so you can easily add to your portfolio as and when you need to.
3. Tailor your case studies to the role
Focus on quality over quantity and tailor your portfolio to the role you are applying for, ideally featuring at least two or three case studies. Edit it, keep it brief and think of the person that you're presenting it to.
If you apply for a Product Design role but your folio showcases your amazing illustration skills front and centre, it's probably not going to make the best first impression (even if they are blown away by your awesome illustrations). Hiring managers will assess your work against the role requirements, so keep it relevant.
4. Showcase your passion projects
Where possible, try to include work you feel passionate about and are proud of. It's a reflection of you and you're likely to speak more confidently about these projects during the interview process. 
Also - try not to mistake passion for flashy. Sometimes the most interesting case studies aren't necessarily the most glamorous high-profile projects but are instead the gnarly problems that resulted in better brand recognition, improved retention or increased usage (we love solving gnarly problems here at FreeAgent). 
5. Substance over style
Unless stated, most employers don't mind whether you attach a PDF or send a link to your personal website or portfolio site. Make sure you don't get too hung up on the file type. Instead, focus on the content and structure.
Try to think of your portfolio as your own personal product. How might users find content quickly and easily and how do you want them to feel? Make your portfolio easy to navigate and keep things simple - let your case studies do the talking.
For example, sending a structured PDF that clearly introduces each case study and follows a consistent format will ensure potential employers can quickly get into the work and focus on the content. We look for people who are creatively original and people that we can work with. Yes, we want great talent but we want people with brilliant attitudes too.
6. Tell compelling stories
Potential employers are interested in how you go about solving problems, as well as your UI or creative chops. Where possible, try to tell a compelling story using supporting images alongside text. Be prepared to talk through it, and let's see a bit of you in how you tell the story - for example, have an opinion on what things could and should be like. 
Each case study will differ depending on the project timelines, priorities, budgets, and goals. Hiring managers are designers too. We know things don't always go to plan but we're interested in the way you navigate these challenges. 
7. Review this handy case study checklist
We don't expect cookie-cutter case studies, but the following is a useful guide to make sure you're heading in the right direction.
Vic & Al's case study checklist:
Context
What was the product/service/client and who were the users?
Your role
What was your role?
Who did you work with?
The problem
What was the problem or opportunity (for the business and/or the user)?
Goals
What did success look like - do you have any metrics or KPIs to share?
What were the intended benefits to the user or business?
Process
What was your process? How did you arrive at the proposed solution?
What did you do, how did you do it and why?
What data and user insights informed your approach?
Did you experience any challenges and how did you overcome these?
Outcomes
How did the solution solve the problem?
Did you achieve your goals?
Reflections
What did you learn?
What might you do differently going forward?
Thanks for reading. If you're interested in joining FreeAgent's Product Design or Comms Design teams, check out our current vacancies to find out more.