Making Tax Digital (MTD) jargon buster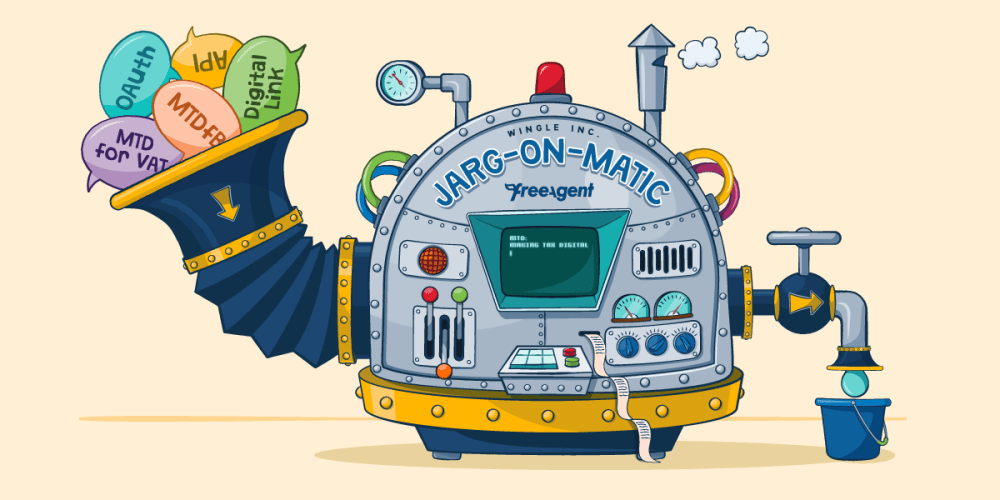 Confused about Making Tax Digital (MTD)? Good news: we're on a mission to make MTD as simple as possible for everyone, with our easy-to-use accounting software and our collection of Making Tax Digital guides.
Before you dive into the world of digital tax legislation, it's helpful to learn the lingo. Here are some choice words and phrases from the emerging MTD lexicon with an explanation of what they really mean.
Agent
If you've received communications about the forthcoming MTD for VAT requirements, you may have noticed HMRC referring to "agents" and wondered what on earth they are. An agent is simply a professional who submits VAT returns on your behalf – in most cases this is an accountant.
Still need to find an agent to help file your MTD VAT returns? Head to our directory of accountants where you'll find someone who can help you get set up with FreeAgent's MTD for VAT-compatible software.
Application Programming Interface (API)
An API enables two digital systems to talk to each other – in the case of MTD, for example, an API enables your accounting software to send and receive information to and from HMRC.
Bridging software
Bridging software is a tool that links data stored in spreadsheets with HMRC, enabling VAT data to be submitted digitally. Be aware that bridging software does not fulfil all the requirements of MTD legislation, such as digital record keeping and maintaining digital links between data. Make sure you check with your accountant before committing to bridging software as a long-term MTD solution.
Business Tax Account (BTA)
A Business Tax Account is an online account with HMRC where limited companies, partnerships, sole traders and landlords are able to view all their tax information online. You can already access your account, but HMRC will add more features to this service as MTD rolls out.
Client
If you use an agent (see above) to manage your tax affairs, you are their client. Simply put, a client is a person or business who uses an accountant or bookkeeper.
Digital tax account
"Digital tax account" is the collective term for online accounts with HMRC. The term covers both Business Tax Accounts (see above) and Personal Tax Accounts (see below).
Digital link
A digital link is the connection from one piece of software to another. In the case of MTD, this is the connection between the software where you keep your accounts and HMRC. Under the rules of MTD for VAT, you must maintain the digital link so you can submit regular updates. This means that copying and pasting data from a spreadsheet will no longer be an option.
MTD-compatible
"MTD-compatible" means that a piece of software is able to meet all the demands of HMRC's MTD rules. While MTD has not yet started for Income Tax or Corporation Tax, an MTD-compatible status means that the software is compatible with the current MTD requirements – at the moment that's MTD for VAT (see below).
MTDfB
MTDfB stands for Making Tax Digital for Business. MTDfB concerns all parts of the MTD initiative that affects limited companies, partnerships, sole traders and landlords.
MTDfI
MTDfI stands for Making Tax Digital for Individuals. MTDfI concerns digitisation of the tax system for individuals taxpayers, who usually pay tax through PAYE.
MTD for VAT
Making Tax Digital (MTD) for VAT is the first major phase in the Making Tax Digital initiative. From 1st April 2019, VAT-registered businesses with turnover above the VAT threshold will be required to store digital records and submit VAT returns via accounting software that meets HMRC's requirements.
Even if you already submit VAT returns digitally - through FreeAgent, for example - you still need to:
sign up for MTD
connect your FreeAgent account to HMRC
follow a slightly different process to file your VAT return
Here's a complete guide on how to get ready for your first MTD VAT return from FreeAgent.
OAuth
With open authorisation, or "OAuth", technology you can securely grant websites and applications access to information that's held in an online account without the need for a password. OAuth 2.0 is the technology that will enable your accounting software to access the information in your HMRC online account.
Personal Tax Account (PTA)
A Personal Tax Account (PTA) is an online account with HMRC from which individuals can access information about their tax liabilities. This includes information like tax codes, benefits payments and tax paid through PAYE.
Two-step verification (2SV)
Two-step verification (2SV) is a system used to make logging into an online account more secure. In order to log into a system with 2SV you'll require an additional piece of information after you're entered your user name and password – often a code generated by an app or sent to your mobile phone.
2SV is used to confirm your identity when you connect your MTD-compatible software with your HMRC account. HMRC will send a six-digit code to your mobile or landline which you'll have to enter to grant the software permission to interact with HMRC on your behalf. You may also need to confirm your identity by answering some security questions.
Form 64-8
Form 64-8 is another catchy name for an HMRC tax form. This is the form that authorises an agent (see above) to act on your behalf, for example, to submit your MTD VAT returns.
That covers the majority of the jargon you're likely to hear. Now that you're fluent in MTD-speak, it's time to get your business sorted! Take a look at how signing up to FreeAgent can make the transition to digital tax as painless as possible.